One thing knitters understand is the difference between knits that are October-warm and January-warm. With its two super cozy yarns and its double-layer hemmed cuff, there's no question that Tayler Harris's new Purl-Side Hat is the latter, a true depths-of-winter knit!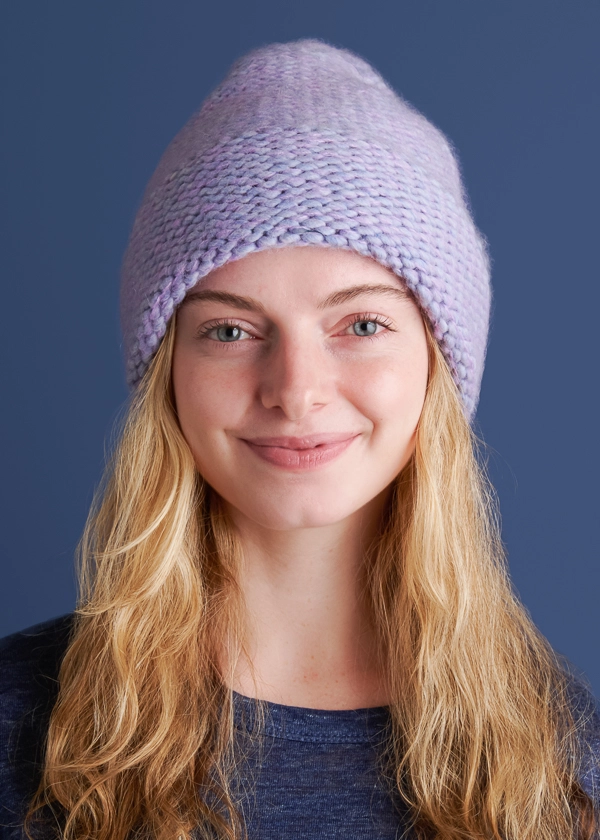 Tayler starts this pattern with a provisional cast on that you later join to your working stitches for a hemmed cuff. From cast on to crown decreases, you work the entire hat in reverse stockinette, giving the surface of the fabric that wonderful purl-bump texture.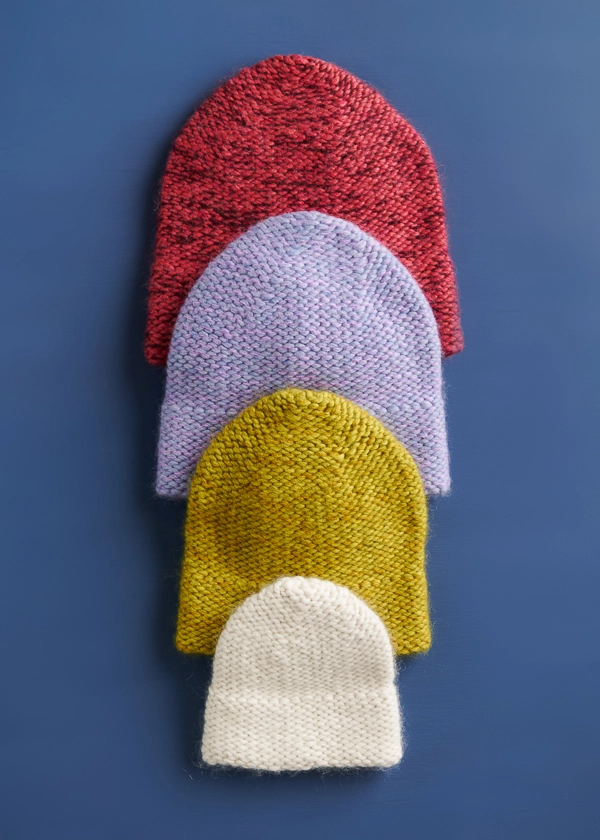 Sized for babies, toddlers, kids, and adults, everyone gets a hat and no one gets left in the cold!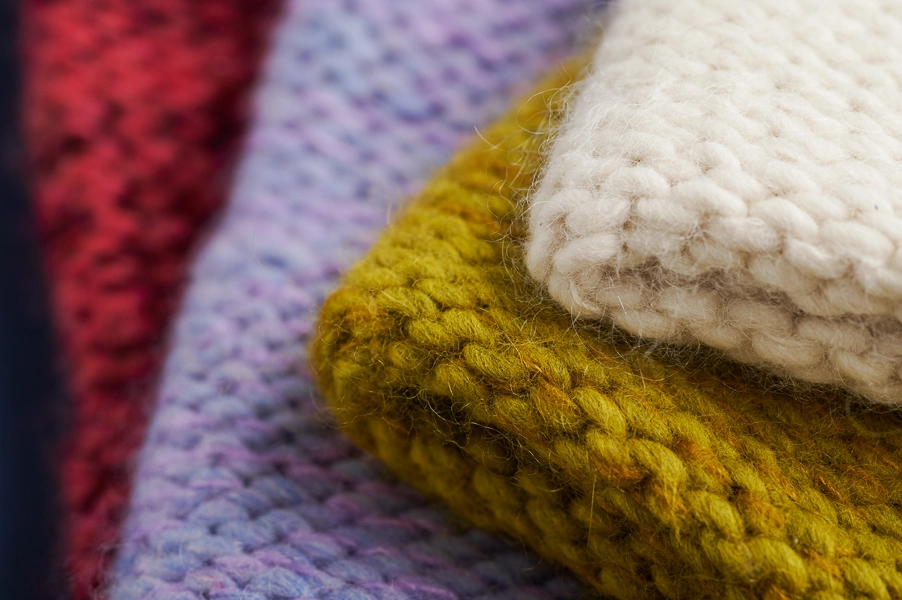 The gorgeous depth of color comes from holding our Super Soft Merino together with our mohair-wool-silk Brume. Each soft and cozy on its own, together these two yarns create an exquisite velvety, warm fabric.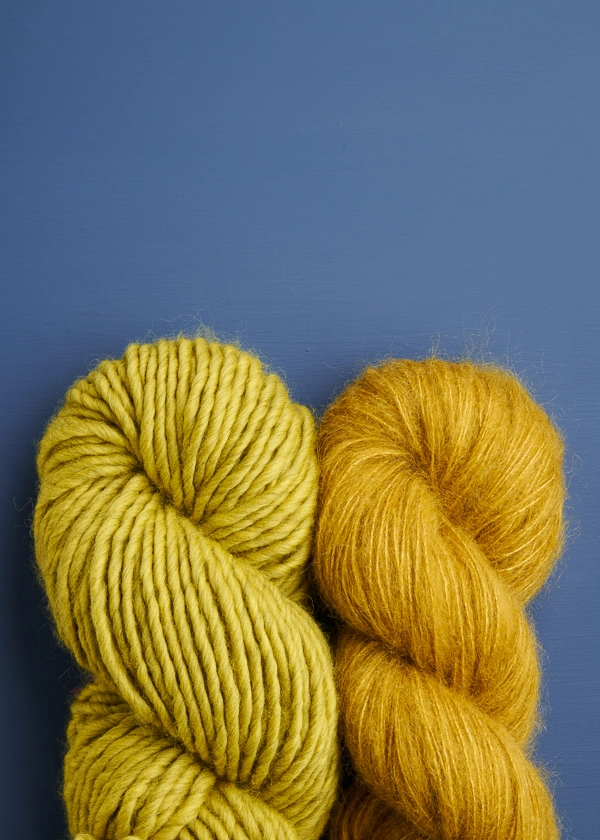 Super Soft Merino is, well, a super soft 100% merino. Its loose single ply is wonderful at trapping and holding air to insulate from the winter chill.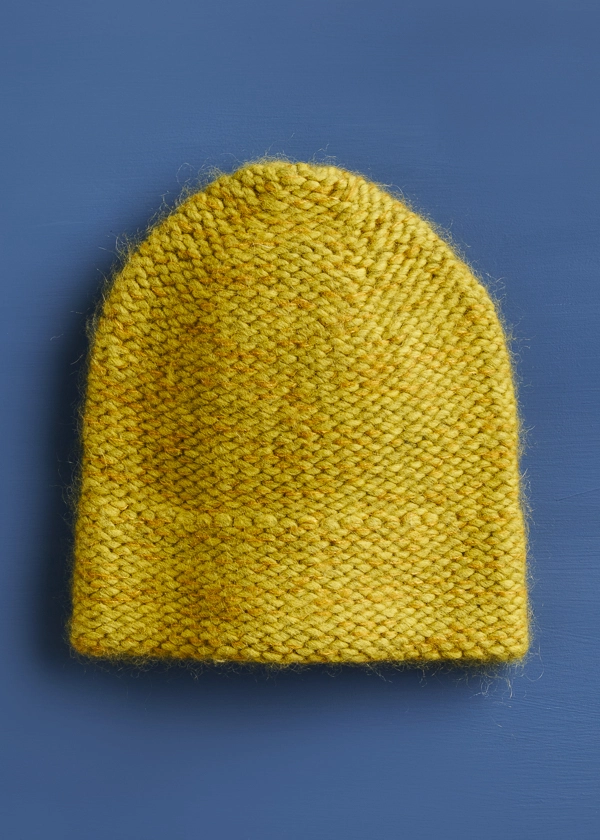 And Brume is a true beauty. Fifty-eight percent mohair, 25% wool, and 17% silk, this yarn has an amazing sheen and a misty halo that's over-the-top soft!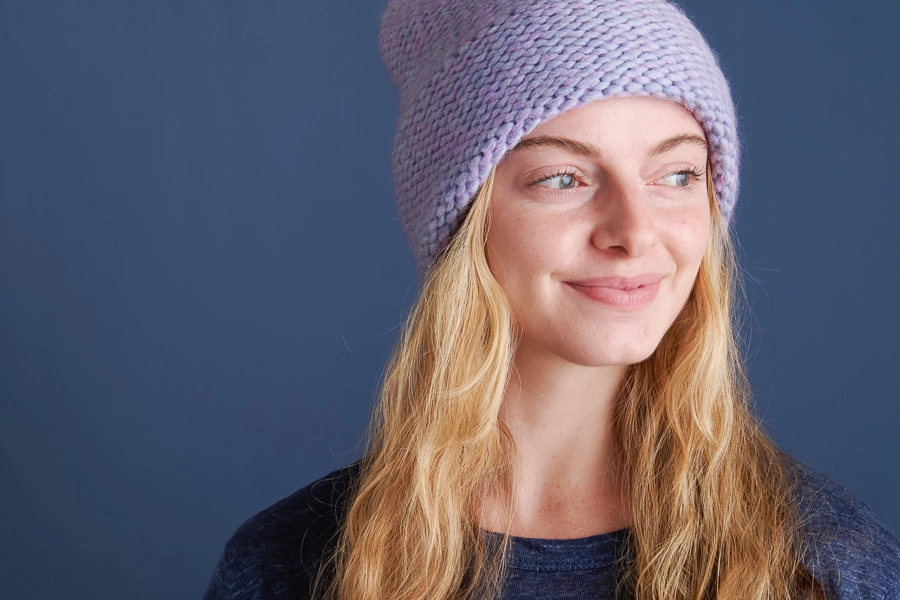 We've made four samples to show some of our favorite colors together, and still feeling inspired, we couldn't resist coming up with a host of other palettes for you as well. Scroll down, pick yours, and cast on for this fun chunky knit that will be off your needles at the drop of a (very warm) hat!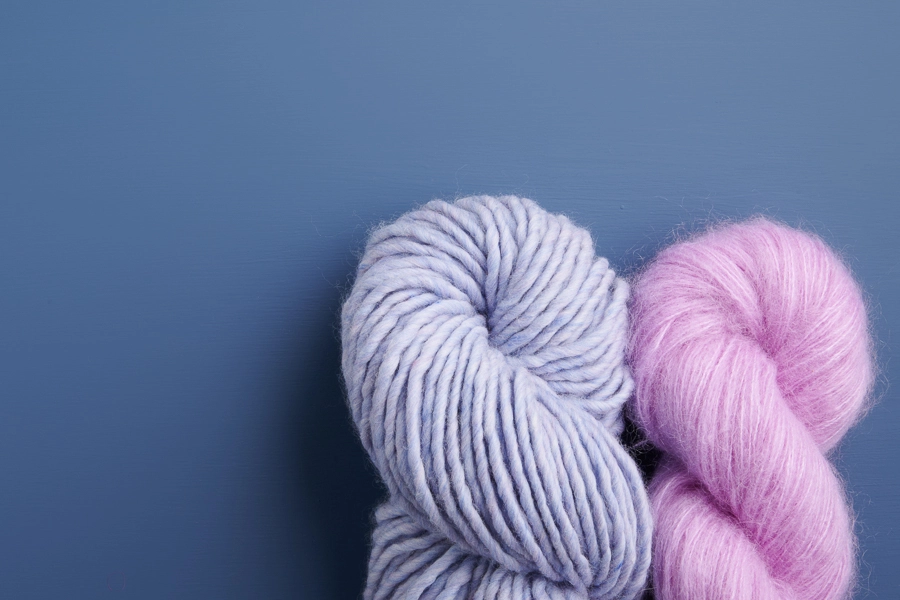 Designed for Purl Soho by Tayler Harris. Based in Utah, Tayler finds inspiration for her designs from the unique landscapes of her home state. From the beautiful mountains and canyons to the national parks and natural landscapes, she loves to incorporate the colors, textures, and shapes of her favorite places.
Share your progress and connect with the community by tagging your pics with #PurlSoho, #PurlSohoBusyHands, #PurlSohoPurlSideHat, #PurlSohoSuperSoftMerino, and #PurlSohoBrume. We can't wait to see what you make!
Materials
Yarn A: 1 (1, 1, 2, 2) skein(s) of Purl Soho's Super Soft Merino, 100% merino wool. Each skein is approximately 87 yards/ 100 grams; approximately 55 (75, 87, 105, 120) total yards required.
Yarn B: 1 skein of Purl Soho's Brume, 58% mohair, 25% wool, and 17% silk. Each skein is approximately 273 yards/ 50 grams; approximately 55 (75, 87, 105, 120) total yards required.
US 11 (8 mm), 16-inch circular needles (for Kid + Adult sizes)
A set of US 11 double pointed needles
Jumbo stitch markers, including one unique
A few yards of smooth scrap yarn and crochet hook to match, for Provisional Cast On
Spare 16-inch circular needles or double pointed needles, US 11 (8 mm) or smaller
We knit our samples in the following sizes and colors, above…
Top Row: Baby size; Yarn A Heirloom White + Yarn B Heirloom White
Second Row: Kid size, Yarn A Golden Green + Yarn B Golden Lichen
Third Row: Adult Small, Yarn A Berry Blue + Yarn B Alpine Phlox (on model)
Bottom Row: Adult Large, Yarn A Rose Hip + Yarn B Ripe Boysenberry
Need more color ideas? Here are 15 more inspiring palettes…
Yarn A: Sea Salt; Yarn B: Beach Stone
Yarn A: Pink Starfish; Yarn B: Pink Fog
Yarn A: Peachy Pink; Yarn B: Alizarin Orange
Yarn A: Red Gingham; Yarn B: Anjou Pear
Yarn A: Alizarin Crimson; Yarn B: Claret Pink
Yarn A: Pale Thistle; Yarn B: Bright Thistle
Yarn A: Mountain Blue; Yarn B: Deep Sea Blue
Yarn A: Blue Pansy; Yarn B: Amethyst Purple
Yarn A: High Tide; Yarn B: Cerulean Sea
Yarn A: Reef Green; Yarn B: Blue Lagoon
Yarn A: Clover Green; Yarn B: Lucky Green
Yarn A: Fresh Pickle; Yarn B: Cypress Green
Yarn A: Oyster Gray; Yarn B: Silver Needle
Yarn A: Gray Denim; Yarn B: Gray Quartz
Yarn A: Soft Black; Yarn B: Blue Black
GAUGE
10½ stitches and 18 rounds = 4 inches in reverse stockinette stitch
SIZES
Baby (Toddler, Kid, Adult Small, Adult Large)
Finished Circumference: 13¼ (15¼, 17¼, 19, 21) inches
Finished Height: 6¾ (8¼, 9, 10, 10¾) inches
PATTERN
CAST ON
NOTE: For help with Provisional Cast On, including how to put live stitches back onto needles, please visit our Provisional Cast-On: A Two-Step Method Tutorial.
With crochet hook and scrap yarn, use a Provisional Cast On (see Notes) to cast on 35 (40, 45, 50, 55) stitches.
Place unique marker and join for working in the round, being careful not to twist the stitches.
HEMMED CUFF
NOTE: For step-by-step photos of this cuff technique, check out our Knit Hem Tutorial!
Holding one strand each of Yarns A and B together, work in reverse stockinette stitch, purling every round, until piece measures approximately 4½ (4½, 5, 6, 6) inches from cast-on edge.
Carefully remove scrap yarn from Provisional Cast On, slipping stitches onto spare needles as you go.
Fold piece in half so wrong (stockinette) sides are facing each other and needles are parallel, with working needles in front and spare needles in back.
Next Round: *Purl first stitch on spare needle together with first stitch on working needle, repeat from * to end of round.
BODY
Continue working in reverse stockinette stitch until piece measures approximately 4½ (5½, 6, 6½, 6¾) inches from bottom edge of Cuff.
CROWN
NOTE: If using circular needles, change to double pointed needles when necessary.
Set-Up Round: [P7 (8, 9, 10, 11), place marker] 4 times, purl to end of round.
Decrease Round: [Purl to 2 stitches before next marker, purl two together (p2tog), slip marker] 4 times. [5 stitches decreased]
Working in pattern as established, repeat Decrease Round every other round 4 (5, 6, 7, 8) more times. [10 stitches remain]
Cut yarn and thread tail onto a tapestry needle. Draw twice through remaining stitches and pull tightly to secure. Bring tail to inside of hat to weave in.
FINISHING
Weave in all ends and gently steam block, if desired.