Most often stitch patterns suggest rather than depict, and to us, this one suggests a dense field of breezy blossoms. We can't help but imagine the Brooklyn Botanic Garden's much loved Bluebell Wood, whose explosion of blooms we all just missed. Perhaps our lovely Floret Wrap will help fill the void!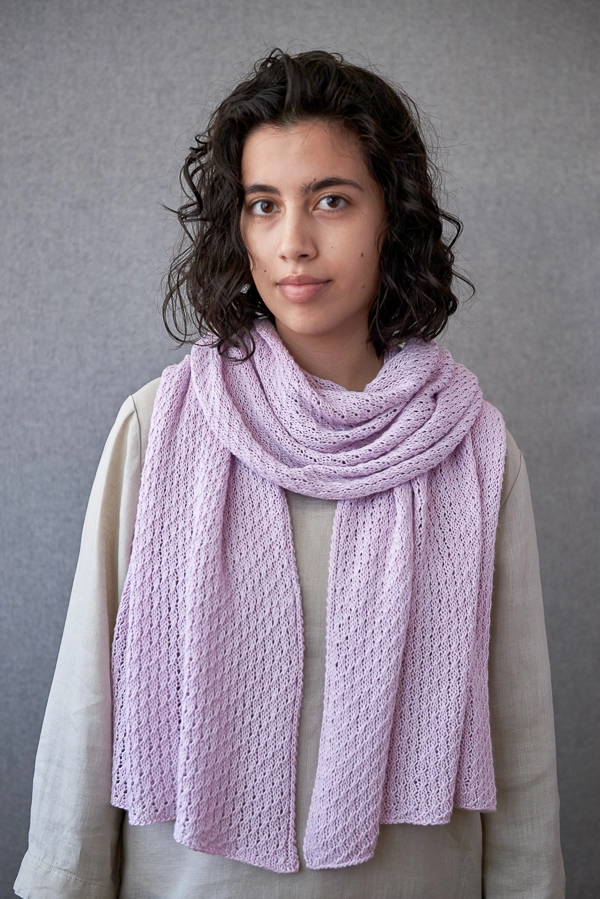 The trick for achieving all this charming texture is a simple right twist. Kind of like a one-stitch cable but without the fuss of putting stitches on hold, this technique creates a gentle diagonal sweep, like flowers bowing under the wind.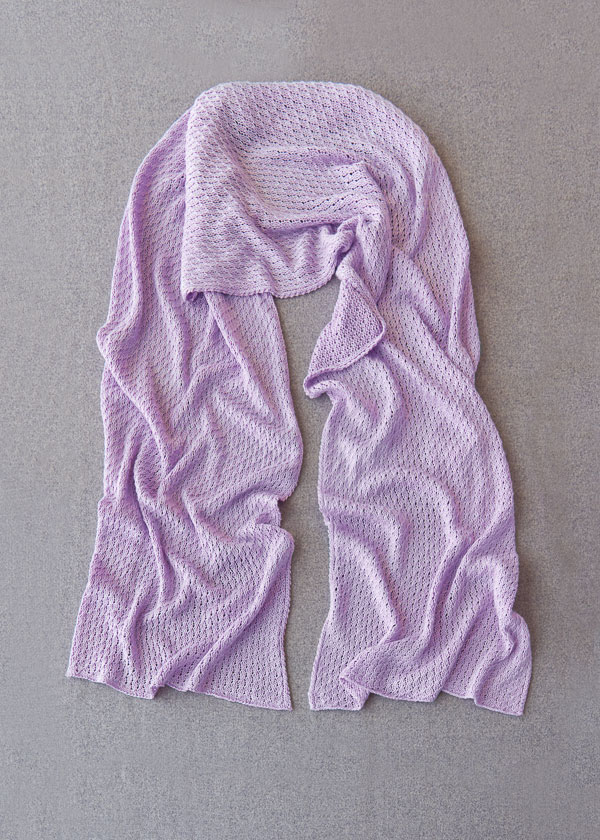 For our Floret Wrap we used Purl Soho's Burnish. A rayon made from bamboo, it is soft, slightly shiny, and wonderfully drape-y, like silk but super durable and… a bonus for some, a must for others… 100% vegan!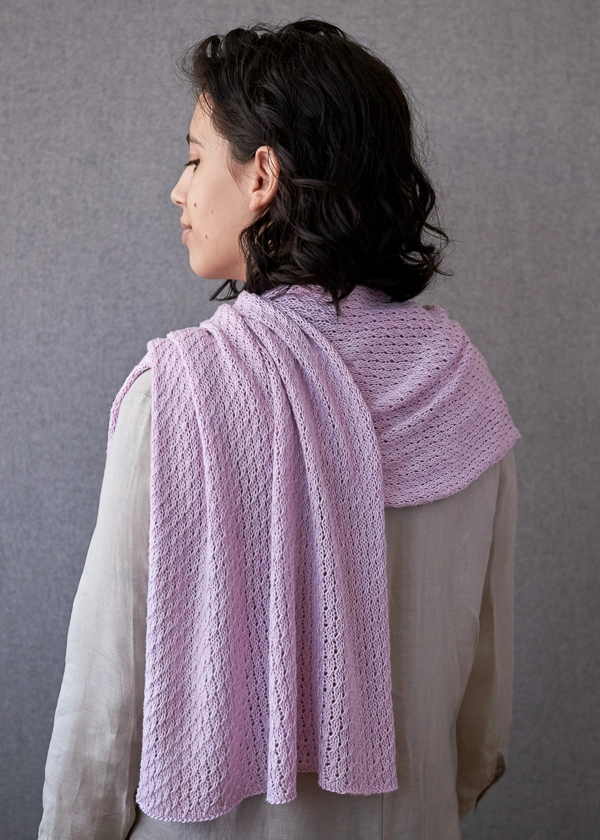 It's easy to conjure spring blossoms when you choose a soft lavender, like this sweet Sweet Pea, but feel free to follow your own path: Midnight Blue for a rippling sea, River Rock for the bark of an ash tree, or how about Pale Celery for young tendrils crawling up the garden wall? Lovely!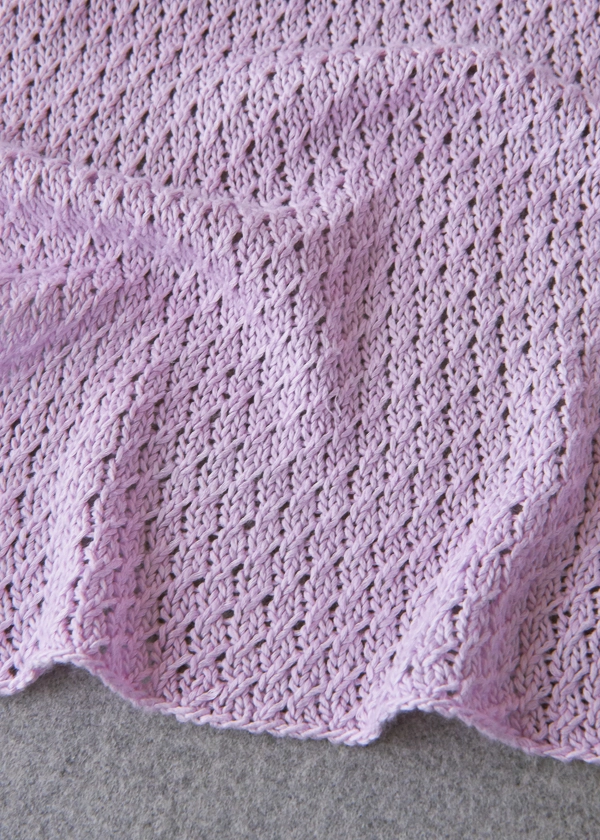 Designed for Purl Soho by Jake Canton.
Share your progress + connect with the community by tagging your pics with #PurlSoho, #PurlSohoBusyHands, #PurlSohoFloretWrap, and #PurlSohoBurnish. We can't wait to see what you make!
Materials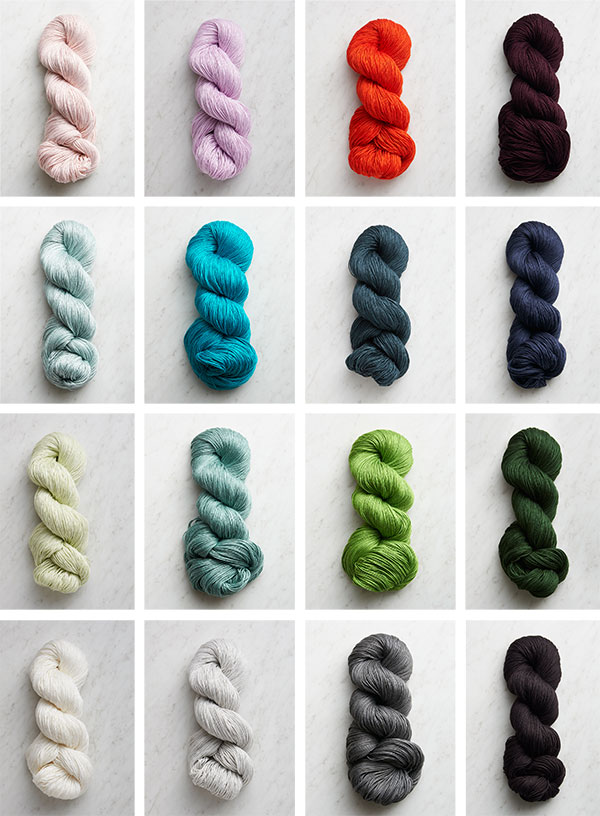 4 skeins of Purl Soho's Burnish, 100% rayon from bamboo. Each skein is 339 yards / 100 grams; approximately 1,306 yards required. We used the color Sweet Pea. (NOTE: We no longer offer Burnish, but choose from one of our other fingering weight yarns.)
US 5 (3.75 mm) circular or straight needles
Gauge
24 stitches and 36 rows = 4 inches in stitch pattern
Size
Finished Dimensions: 18 inches wide x 72 inches long
Notes
Stitch Multiple
This stitch pattern works over a multiple of 4 stitches of stitches.
RT (Right Twist)
Knit 2 stitches together, leaving both stitches on the left needle; knit into the first stitch again and let both stitches fall of the left needle. There are two new stitches on the right needle.
For a step-by-step video tutorial of how to work this stitch pattern, please visit our Mock Cable Rib Tutorial.
Pattern
Cast on 108 stitches. We used a basic Long Tail Cast On.
Row 1 (wrong side): K1, p1, k1, purl to last 3 stitches, k1, p1, k1.
Row 2 (right side): K2, p1, *RT (see Notes), k2, repeat from * to last 5 stitches, RT, p1, k2.
Row 3: Repeat Row 1.
Row 4: K2, p1, *k2, RT, repeat from * to last 5 stitches, k2, p1, k2.
Repeat Rows 1-4 until piece measures 72 inches from cast-on edge, ending with Row 3.
With the right side facing you, bind off knitwise.
Weave in the ends and wet block.