An ode to the tenacity of wildflowers, Geninne D Zlatkis's Blooms + Roots Embroidery celebrates "taking root in unlikely places." Widely admired for her charming illustrations, Geninne creates a beautiful and inspiring world humming with vibrant light and delightful creatures that capture the untamable wonder of her Santa Fe deserts. In this piece, we love Geninne's glimpse below the surface, the idiosyncratic beauty, and the spirit of thriving!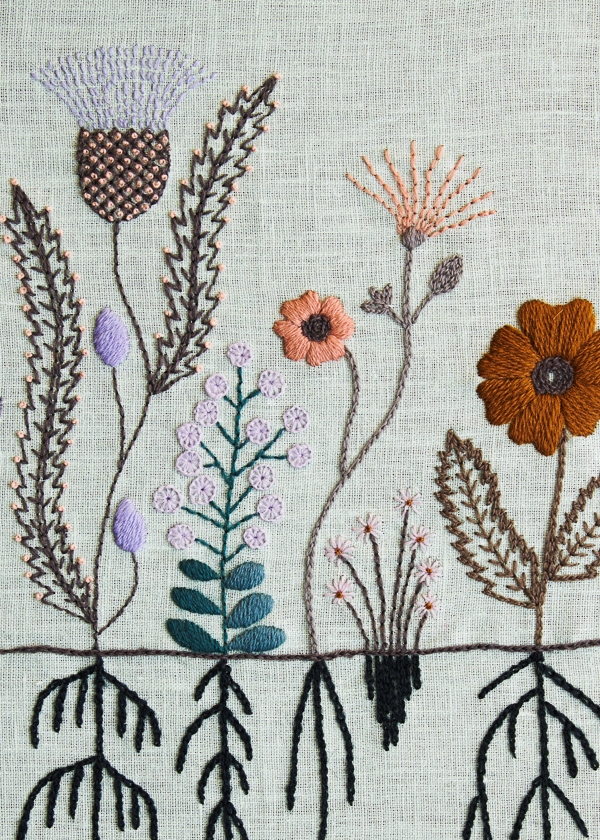 In her design, a blaze of lively flowers do an open-air line dance in an array of stitches and colors, while below ground, life-giving roots supply the energy.
Geninne stitched up her design using Appleton's traditional Crewel Skeins, an exceptional embroidery yarn spun from pure new British wool. In a vast range of gorgeous colors, Appleton is a real embroiderer's choice, with its lush and vivid stitches that fill in beautifully.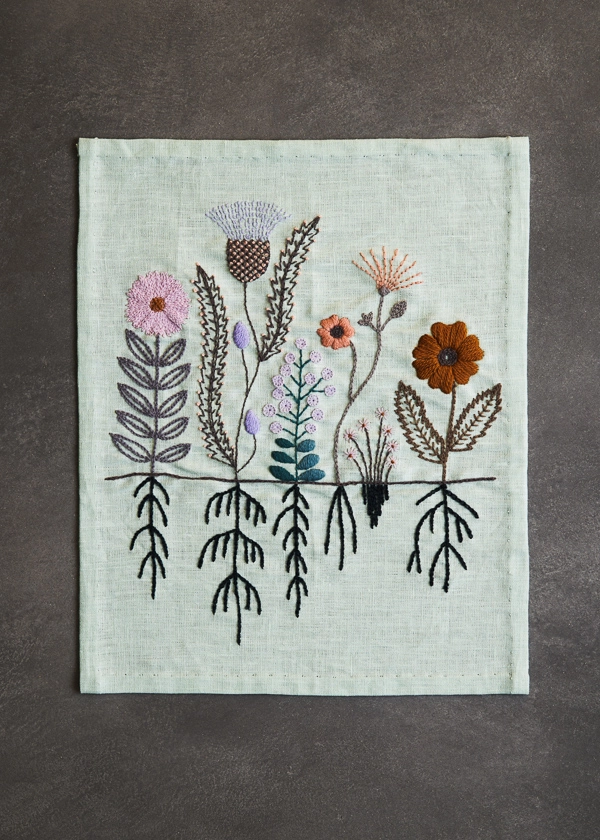 Inspired by this world of color, we've put together four Blooms + Roots Bundles. Each one includes 14 colors of Appleton's Crewel Skeins, plus a half a yard of Daily Linen, a skein of DMC's Embroidery Floss (for hemming and hanging), and a Blooms + Roots Pattern and Transfer. Each item is also available separately!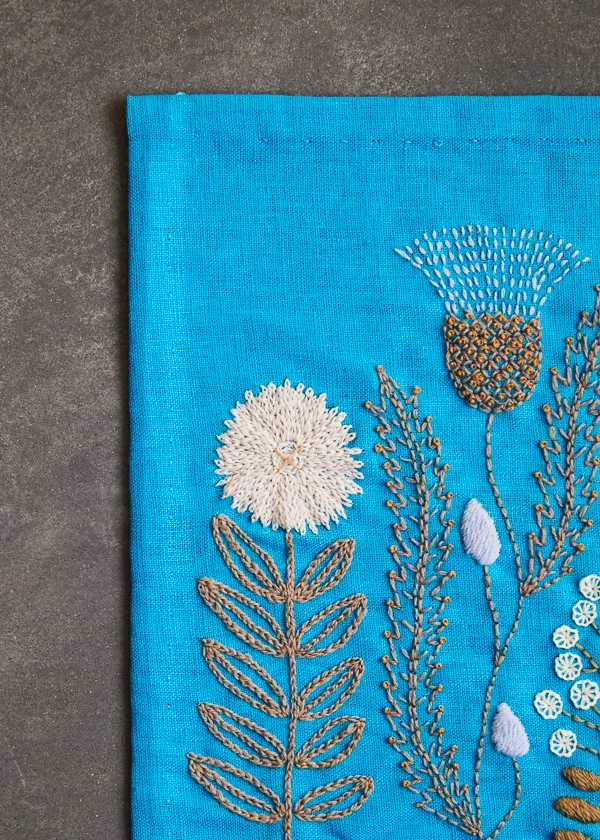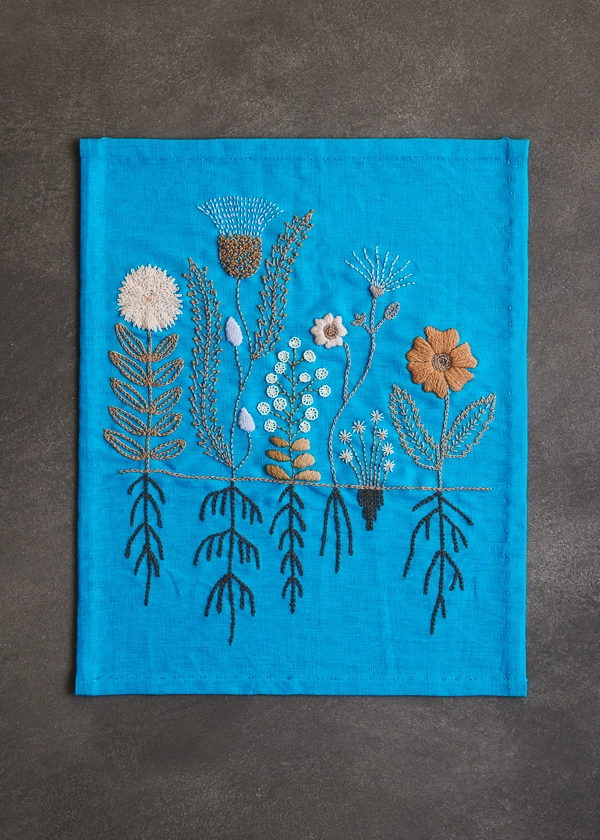 Sundown, Winter Garden, Beach Walk, or Harvest, whichever palette calls your name, may every stitch be a reminder to aspire to the resilience of wildflowers… Putting down roots and bringing beauty to the world around us!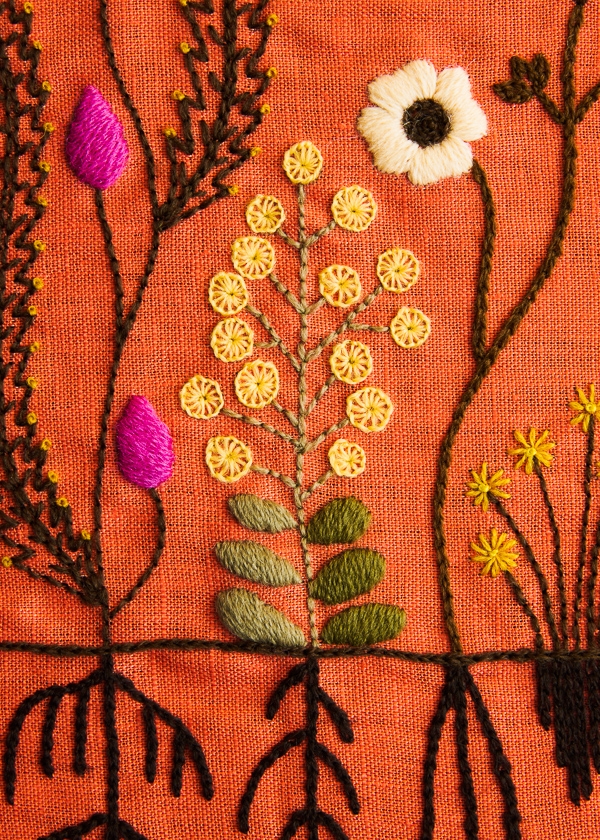 Designed for Purl Soho by Geninne D Zlatkis, @geninne on Instagram
Share your progress and connect with the community by tagging your pics with #PurlSoho, #PurlSohoBusyHands and #PurlSohoBloomsAndRootsEmbroidery. We can't wait to see what you make!
KIT
Our Blooms + Roots Embroidery Bundle includes materials to make one 12 x 15-inch sampler…
Choose from four palettes…
SUNDOWN (top left, above)
Daily Linen in Lilac Bloom; DMC Embroidery Floss in 3743; and Appleton's Crewel Skeins in 708, 441, 443, 445, 803, 478, 475, 767, 914, 957, 316, 304, 976, and 588
HARVEST (top right, above)
Daily Linen in Autumn Russet; DMC Embroidery Floss in 758; and Appleton's Crewel Skeins in 841, 552, 844, 312, 997, 253, 343, 345, 801, 314, 316, 348, 338, and 588
WINTER GARDEN (bottom left, above)
Daily Linen in Sea Glass; DMC Embroidery Floss in 928; Appleton's Crewel Skeins in 202, 204, 302, 698, 974, 156, 155, 884, 891, 892, 965, 964, 967, and 998
BEACH WALK (bottom right, above)
Daily Linen in Clear Aqua; DMC Embroidery Floss in 3845; and Appleton's Crewel Skeins in 992, 989, 988, 987, 963, 763, 301, 952, 983, 982, 972, 461, 951, and 966
You will also need…
A 12-inch wood dowel, ¼ inch in diameter, for hanging
An iron
PATTERN + TRANSFERS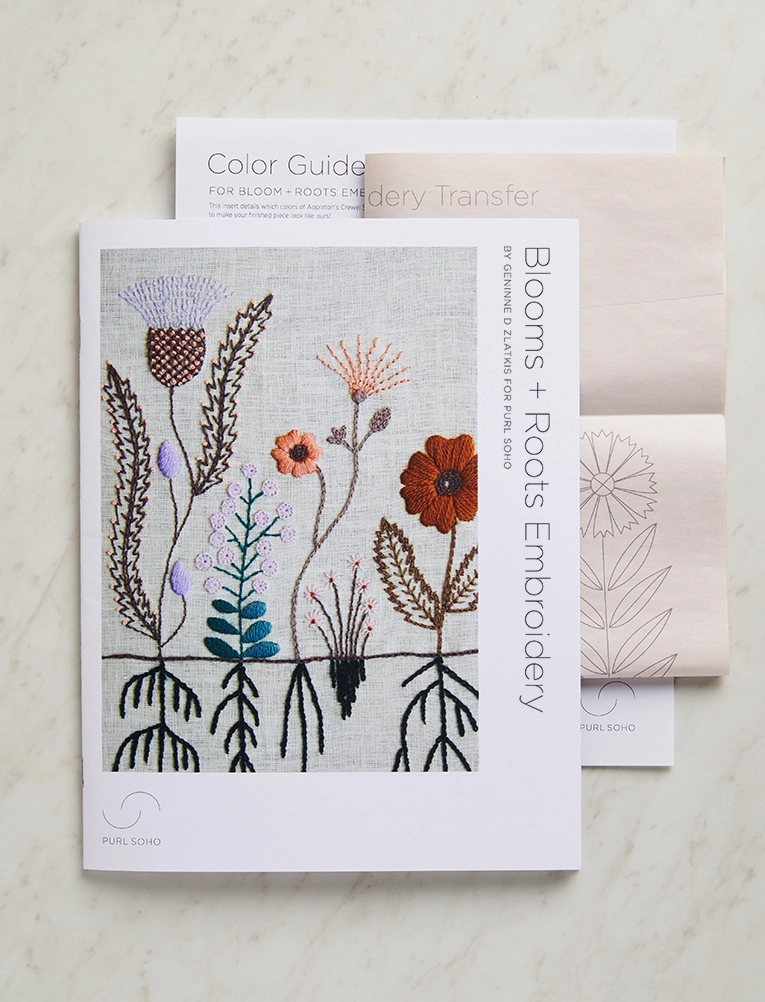 If you already have what you need to create your own color story, pick up just the Blooms + Roots Embroidery Pattern + Transfer, which includes thorough how-to instructions and an iron-on transfer.
OTHER MATERIALS
The materials here are included in the Bundle, but if you're going á la carte, they may come in handy!
Pick up one of our Blooms + Roots Crewel Bundles, or create your own Bundle by buying individual Appleton's Crewel Skeins. You'll need fourteen skeins total.
If you plan to hem and hang your sampler, don't forget a skein of DMC 100% cotton Embroidery Floss.
And to choose your own color fabric, look through our collection of Daily Linen and pick your favorite!