Maybe, like us, you live in the city and have been witnessing spring from your windows this year, lifting them wide open to gulp in fresh air, peering around the edges of your view to glimpse the flowering tree down the block. Sounds like time to bring spring in!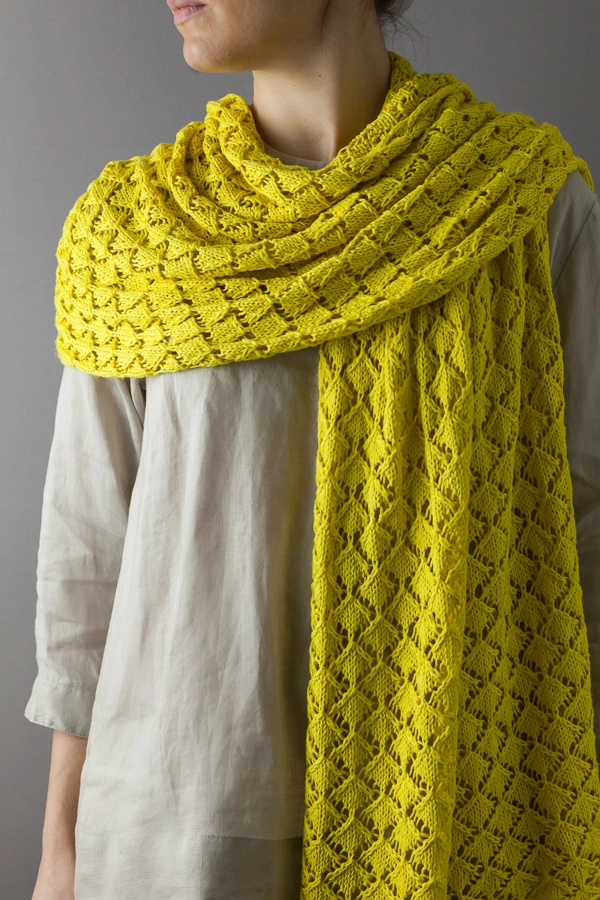 Our Daffodil Lace Wrap is just the ticket for an uplifting feeling of sunshine, blossoms, and possibilities! Its simple lace pattern evokes the new growth of petals and leaves, while its color shines like the midday sun.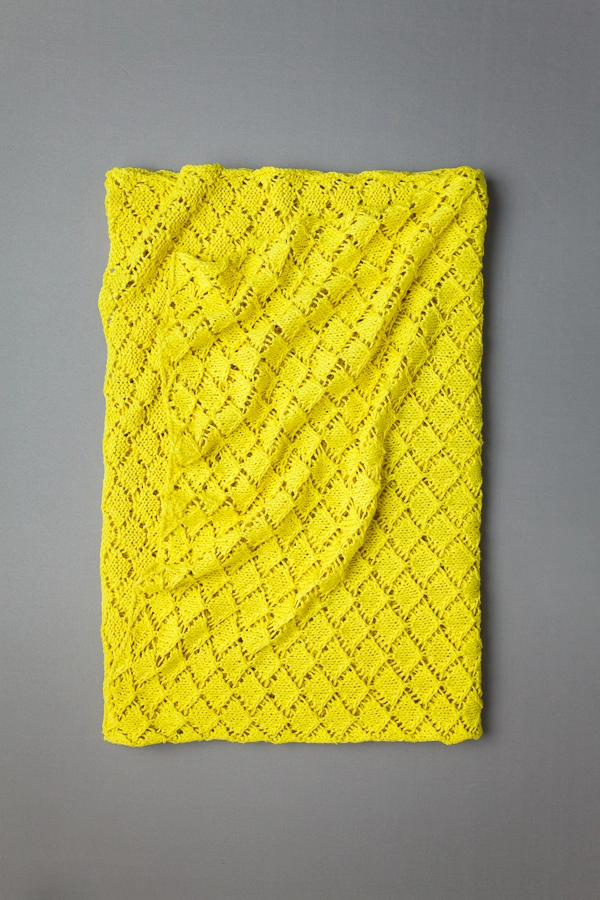 All this brilliance comes from our new Spectrum Silk, a one hundred percent silk fingering or sportweight yarn with a natural talent for absorbing color. Spectrum Silk's distinctive palette comes in 26 truly inspiring colors, including this vibrant blast of yellow we call Lemon Drop.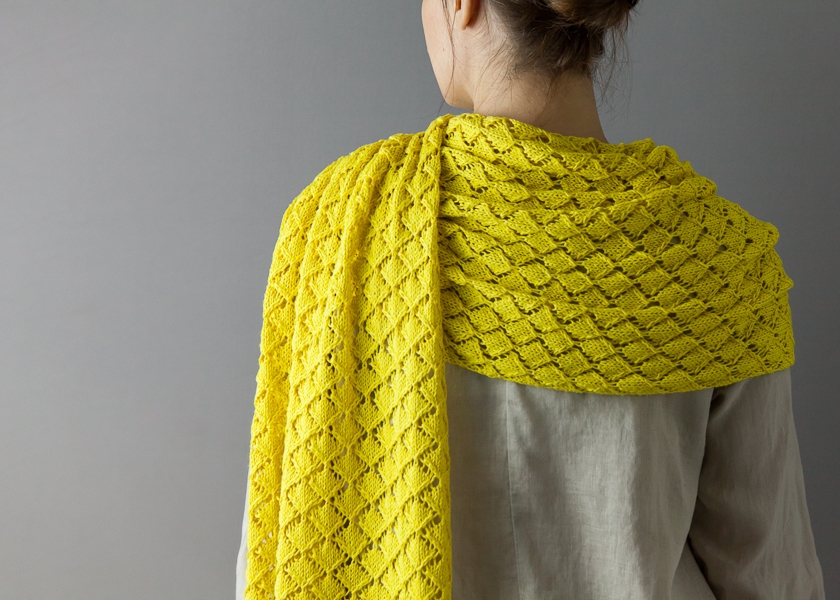 The elegance of silk but with a soft, matte finish, Spectrum Silk bridges the everyday to the special, while our Daffodil Lace Wrap brings the feeling of spring right through your window!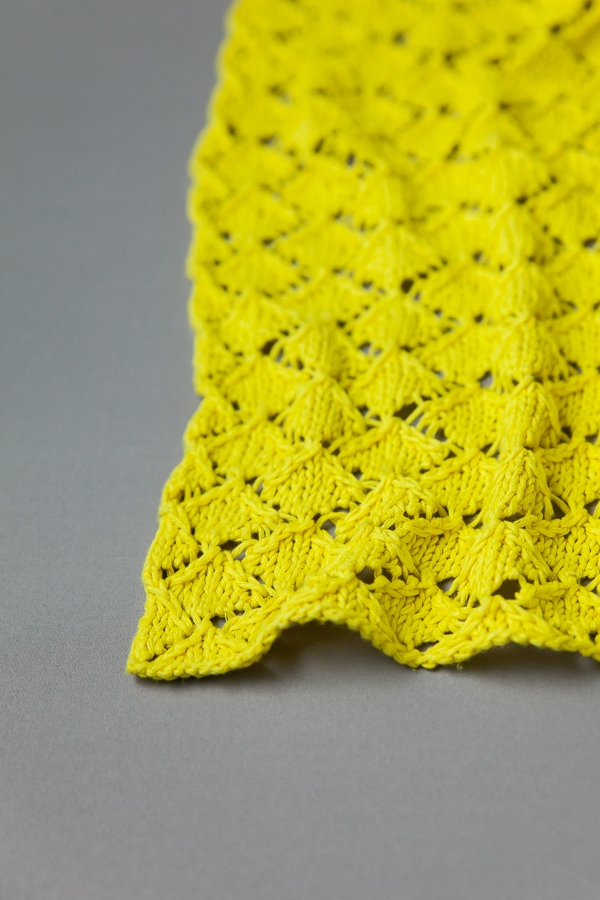 Designed for Purl Soho by Jake Canton.
Share your progress + connect with the community by tagging your pics with #PurlSoho, #PurlSohoBusyHands, #PurlSohoDaffodilLaceWrap, and #PurlSohoSpectrumSilk. We can't wait to see what you make!
Materials
4 (8) skeins of Purl Soho's Spectrum Silk, 100% silk. Each skein is 153 yards/ 50 grams; we used approximately 600 (1,216) total yards. We used the color Lemon Drop. (NOTE: We no longer offer Spectrum Silk, but choose from one of our other sport weight yarns.)
US 5 (3.75 mm) circular or straight needles
Gauge
22 stitches and 32 rows = 4 inches in stitch pattern
Sizes
Scarf (Wrap)
Finished Dimensions: Approximately 9¾ (18¾) inches wide x 70 inches long
SAMPLE: The piece shown here is the Wrap size.
Note
Stitch Multiple
This stitch pattern is worked over a multiple of 10 + 3 stitches.
Pattern
Cast on 53 (103) stitches. We used a basic Long Tail Cast On.
Set-Up Row (wrong side): Purl to end of row.
Now follow either the Stitch Pattern Chart or Written Instructions below…
Stitch Pattern Chart
NOTE Begin this chart in the bottom right corner. Right-side rows are odd numbered and read right to left. Wrong-side rows are even numbered and read left to right. Work your way up the chart to the top line.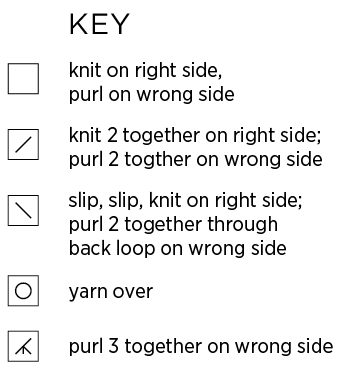 (Want to see it bigger? Click here and view the chart as a PDF!)
Written Instructions
Row 1 (right side): K2, *yarn over (yo), slip slip knit (ssk), k5, knit 2 together (k2tog), yo, k1, repeat from * to last stitch, k1.
Row 2 (wrong side): P3, *yo, purl 2 together (p2tog), p3, purl 2 together through back loop (p2tog tbl), yo, p3, repeat from * to end of row.
Row 3: *K4, yo, ssk, k1, k2tog, yo, k1, repeat from * to last 3 stitches, k3.
Row 4: *P5, yo, purl 3 together (p3tog), yo, p2, repeat from * to last 3 stitches, p3.
Row 5: *K4, k2tog, yo, k1, yo, ssk, k1, repeat from * to last 3 stitches, k3.
Row 6: *P3, p2tog tbl, yo, p3, yo, p2tog, repeat from * to last 3 stitches, p3.
Row 7: K2, *k2tog, yo, k5, yo, ssk, k1, repeat from * to last stitch, k1.
Row 8: P1, p2tog tbl, *yo, p7, yo, p3tog, repeat from * to last 10 stitches, yo, p7, yo, p2tog, p1.
Repeat Rows 1-8 until piece measures 70 inches from cast-on edge, ending with Row 8.
With right side facing you, bind off knitwise.
Weave in the ends and wet block to finish!