Our Checkboard Lace Scarf is nothing you can't handle. Feather light and dreamy soft, it rewards the little bit of extra effort!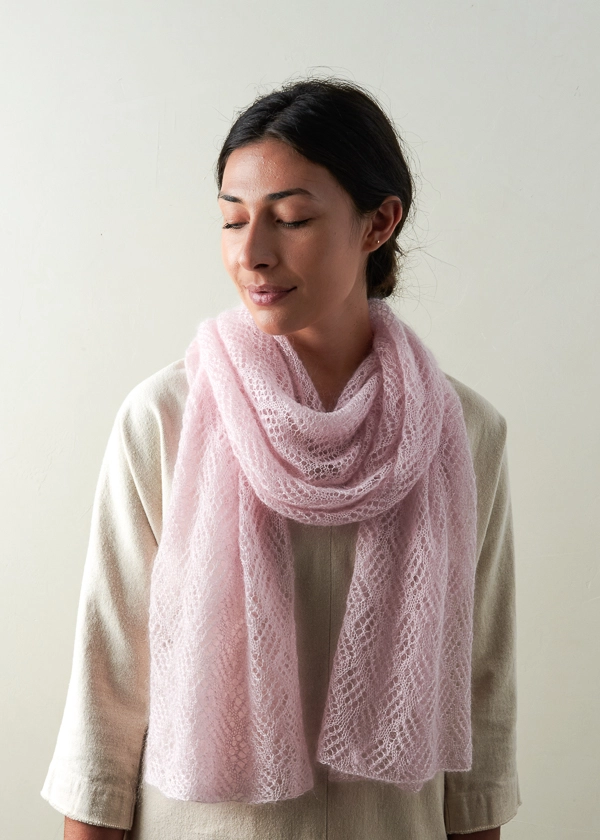 This pattern is really no more than a combo of yarn overs and standard issue decreases, all guided by one simple rule: every yarn-over hole makes a stitch and so requires a corresponding decrease to keep the stitch score even. Make a stitch here, take a stitch there, and watch a field of little diamond-shaped checkerboards grow!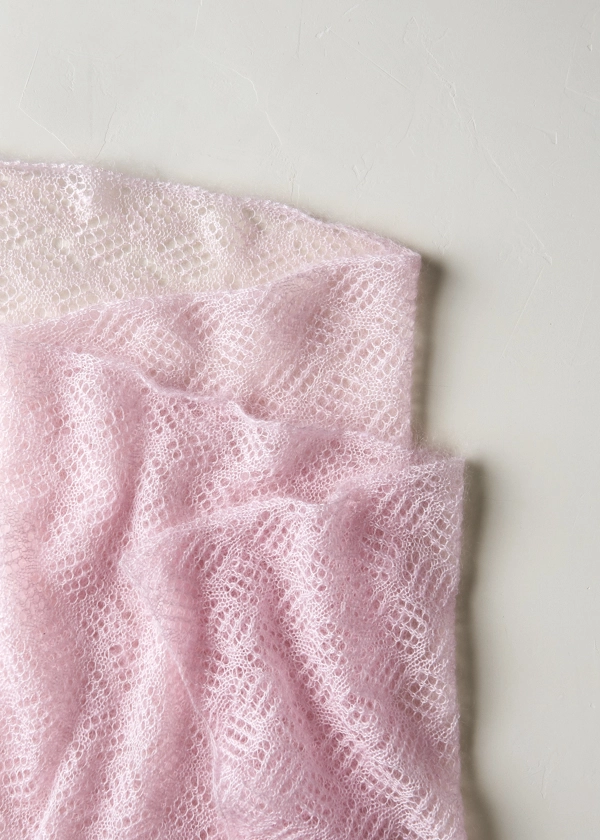 In our mohair-silk Tussock, our Checkerboard Lace Scarf is magically voluminous and downy soft. It's also just the color you want now that we've added 17 new ones to the palette! Sweet and misty like the Apple Blossom pink we used here, or maybe deep and clear like our new Cerulean Sea, you'll need just three skeins, some pointy needles, and some nice, quiet lace-making time!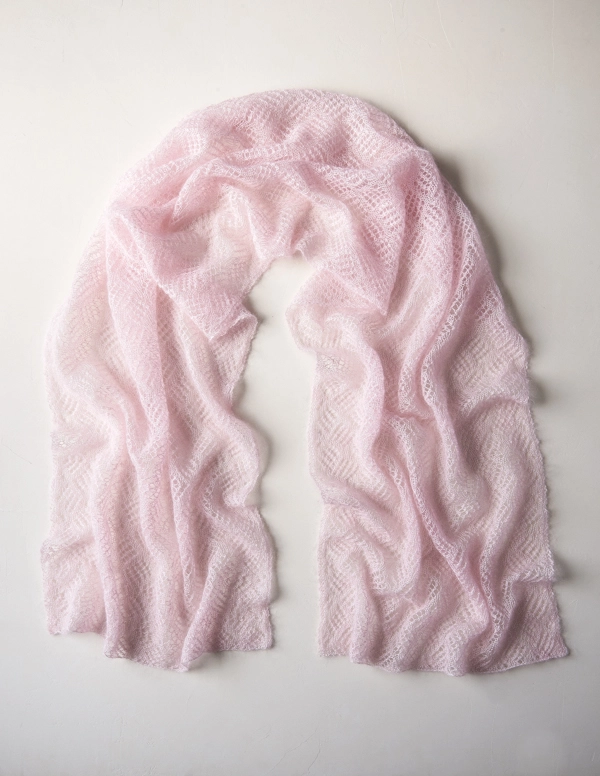 Designed by Purl Soho designer, Jake Canton. Click here to see even more of Jake's designs!
Share your progress + connect with the community by tagging your pics with #PurlSoho, #PurlSohoBusyHands, #PurlSohoCheckerboardLaceScarf, and #PurlSohoTussock. We can't wait to see what you make!
Materials

3 skeins of Purl Soho's Tussock, 60% super fine kid mohair and 40% silk. Each skein is 328 yards/ 25 grams; approximately 984 yards required. We used the color Apple Blossom.
US 4 (3.5 mm) circular or straight needles
Gauge
21¼ stitches and 41 rows = 4 inches in stitch pattern
Size
Finished Dimensions: 18½ inches wide x 71 inches long
Note
Stitch Multiple
This pattern works over a multiple of 10 + 8 stitches.
Pattern
Cast on 98 stitches, we used a Basic Long Tail Cast-On.
Row 1 (wrong side) and every odd numbered row: K2, purl to last 2 stitches, k2.
Row 2 (right side): K6, *yo, ssk, k1, [k2tog, yo] 2 times, k3, repeat from * to last 2 stitches, k2.
Row 4: K2, *k3, [yo, ssk] 2 times, k1, k2tog, yo, repeat from * to last 6 stitches, k6.
Row 6: K4, *[yo, ssk] 3 times, k4, repeat from * to last 4 stitches, yo, ssk, k2.
Row 8: K3, *[yo, ssk] 4 times, k2, repeat from * to last 5 stitches, yo, ssk, k3.
Row 10: Repeat Row 6.
Row 12: Repeat Row 4.
Row 14: Repeat Row 2.
Row 16: K2, k2tog, yo, *k4, [k2tog, yo] 3 times, repeat from * to last 4 stitches, k4.
Row 18: K3, k2tog, yo, *k2, [k2tog, yo] 4 times, repeat from * to last 3 stitches, k3.
Row 20: Repeat Row 16.
Repeat Rows 1-20 until piece measures 70 inches from cast-on edge, ending with Row 5.
With right side facing you, loosely bind off knitwise.
Weave in the ends and gently wet block.