Like a sweet bouquet of colorful flowers, our Striped Crew Socks In Pocket Posy are a lovely pick-me-up during the gray days of winter. To make these beauties, we've reprised our classic (and free!) top-down sock pattern, but now in sweet Pocket Posy.
NOTE: We no longer offer Pocket Posy, but the materials below have been modified to reflect our Posy in new 50-gram skeins!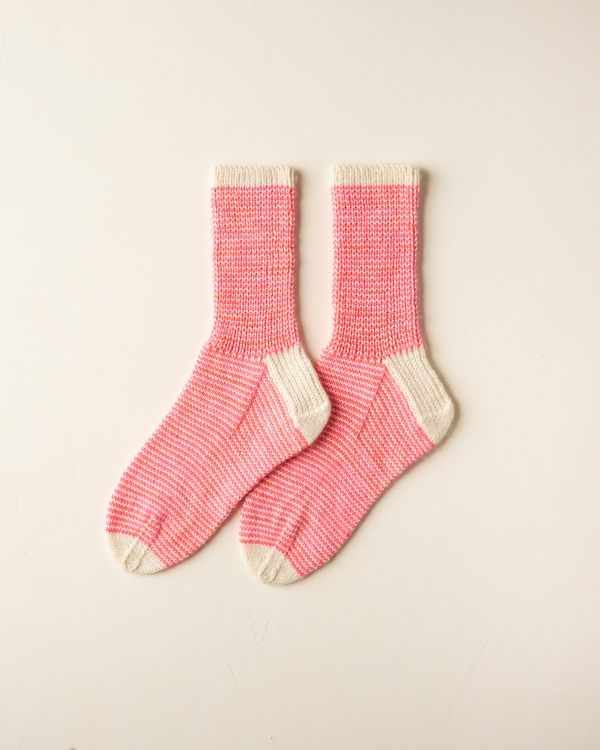 The pattern is basic but thoughtful. Single row stripes in a 1 x 1 rib pattern keep these socks secure around your leg… no slouching! A slip stitch pattern at the heel serves as a nice cushion where you need it, and a stockinette stitch gusset and foot slip right into your shoes.
Pocket Posy's blend of 75 percent superwash merino, 15 percent cashmere, and 10 percent nylon creates a soft, machine washable, and durable fabric. Hand-dyed colors add dimension and a dreamy, watercolor flow. Comfy and practical, check; fun and easy, yup; beautiful, definitely!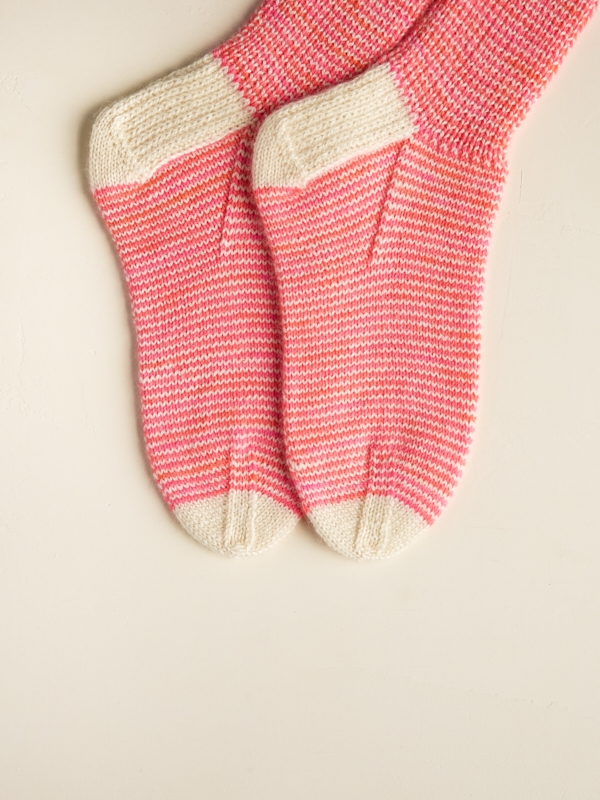 Designed by Purl Soho designer, Whitney Van Nes.
Share your progress and connect with the community by tagging your pics with #PurlSoho, #PurlSohoBusyHands, #PurlSohoStripedCrewSocks, and #PurlSohoPosy. We can't wait to see what you make!
Materials
Contrast Color 1 (CC1): 2 skeins of Purl Soho's Posy, 75% superwash merino, 15% cashmere, and 10% nylon. Each skein is 159 yards/ 50 grams; approximately 178 yards required. We used Heirloom White. (NOTE: We no longer offer Posy, but choose from one of our other fingering weight yarns.)
Contrast Color 2 (CC2): 1 skein of Posy; approximately 124 yards required. We used Pink Papaya.
A set of US 2 (3 mm) double pointed needles
NOTE: For a one-color pair of socks, you'll need just about exactly 2 skeins of Purl Soho's 50-gram Posy. Maybe make the leg height 6 inches, just to be safe!
GAUGE
33 stitches = 4 inches in stockinette stitch
SIZE
To fit most women
Finished Circumference: 7 3/4 inches
Finished Leg Height: 6 1/2 inches (adjustable)
Finished Foot Length: 9 1/4 inches (adjustable)
PATTERN
For the free pattern, please visit our original Striped Crew Socks story!