Pom poms are universally irresistible little, springy, soft spheres of good cheer… And who in this world isn't seeking a bit of joy? Let the merry making begin with our new Pom Pom Kit!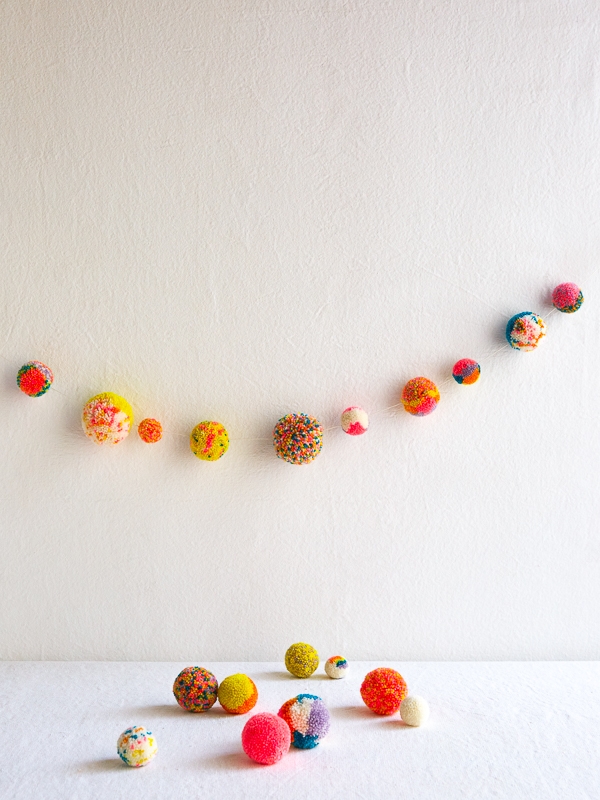 Our step-by-step instructions dispel the mystery of making the perfect pom pom, not just a one-color classic, but special designs, too, like all-over sprinkles, patches of color blocks, and scattered polka dots. You'll also learn how to combine designs for your own custom remixes.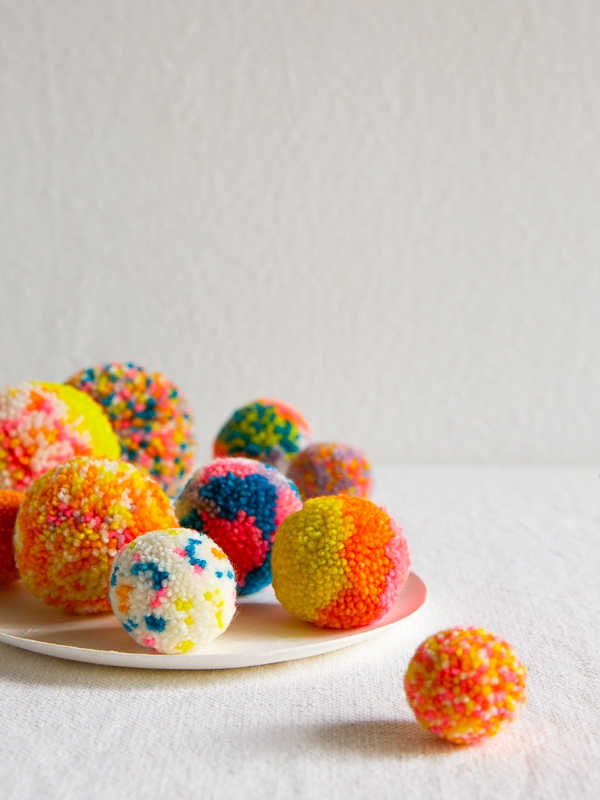 Each kit includes a fun bouquet of six skeins of our Pocket Posy, a great yarn for long-lasting fluffiness. You'll also find our new Pom Pom Maker Set, a brightly colored and hardy Plexiglass tool set that includes two U-shaped makers, plus six trim guides for giving tidy pom pom haircuts!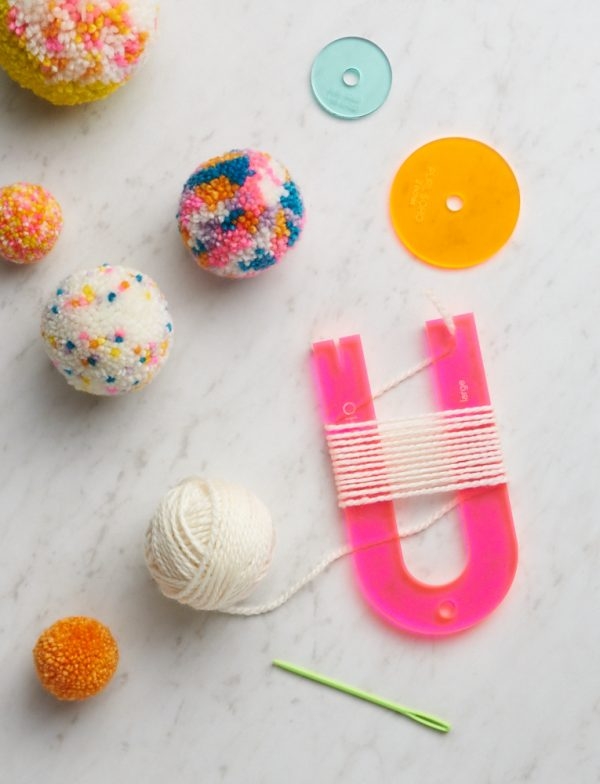 Fully equipped, you're now free to whip up a mind-boggling variety of pom poms, and then to follow our simple directions to put them to good use…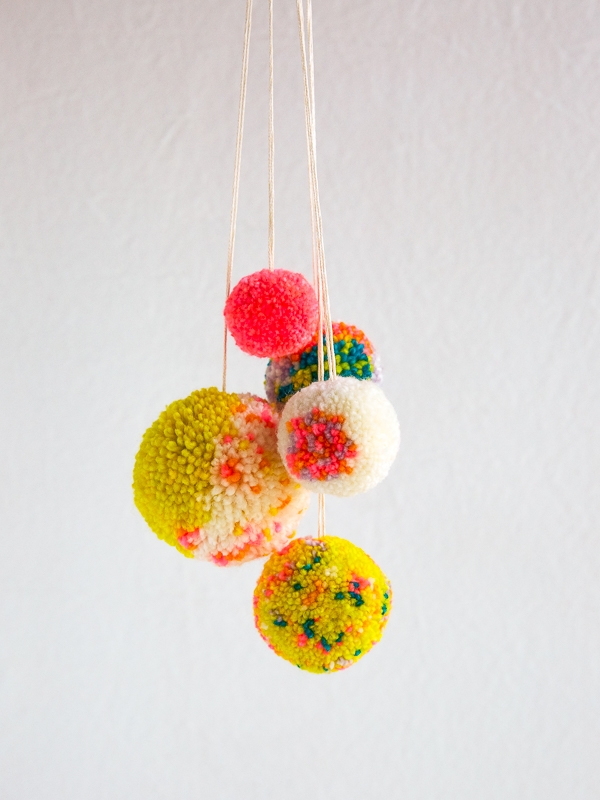 String them onto garlands and necklaces, hang them as charms and ornaments, or place your pom poms on top of hats and gifts, at the ends of zippers and scarves, or in piles of fun on the holiday table!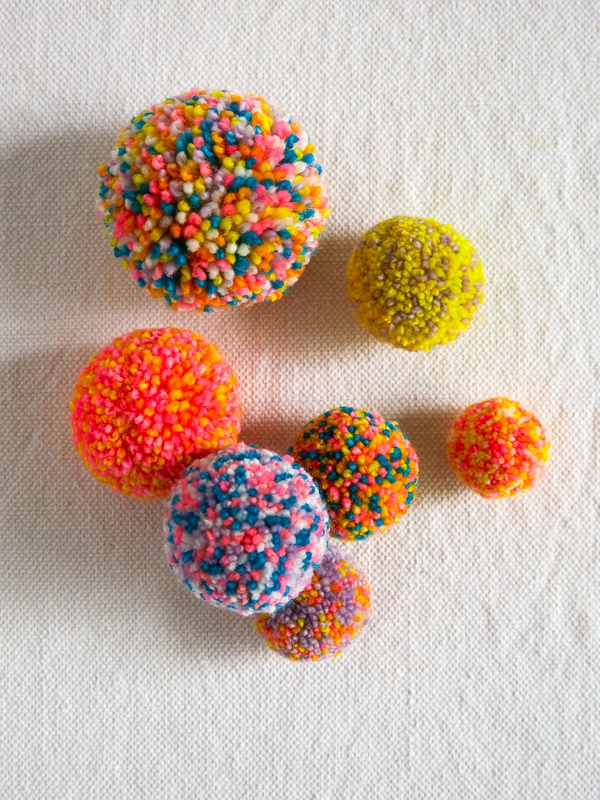 No one has ever met a mean or sulky pom pom, and no one will ever be upset to find one where they least expect it. We say, bring pom poms to the party… And the more the merrier!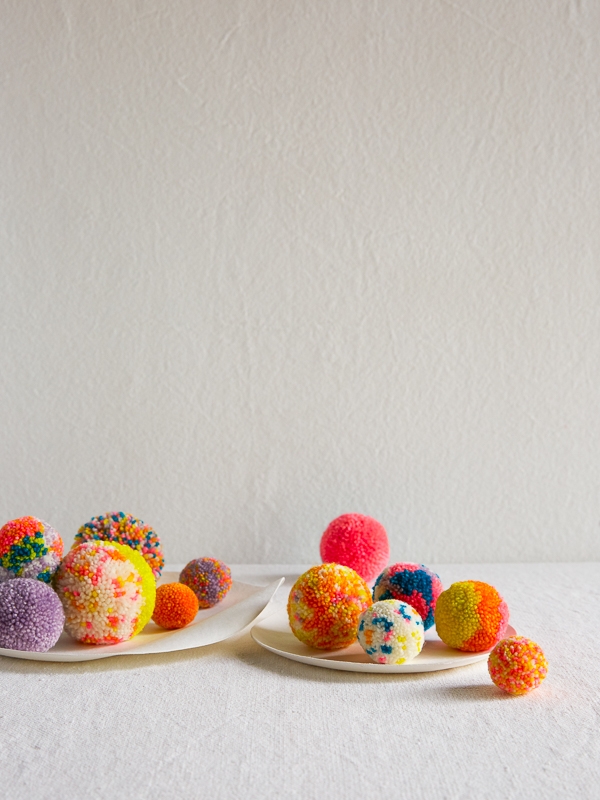 Created in collaboration with Marisa Morrison of The Neon Tea Party. Thank you, Marisa, for your boundless creativity and amazing pom pom vision! Check here for upcoming workshops with Marisa at Purl Soho.
Materials
Each Pom Pom Kit comes with enough materials to make 9 to 25 pom poms, depending on size  (NOTE: the Pom Pom Kit is no longer available.)…
6 skeins of Purl Soho's Pocket Posy (75% superwash merino, 15% cashmere, 10% nylon) in the colors Heirloom White, Sour Gooseberry, Marigold Orange, Pink Papaya, Winter Heath, and Beetle Blue.
Purl Soho's Pom Pom Maker Set, which includes two makers (1¾ and 2½ inches wide) and six trim guides (1 to 2½ inches in diameter)
A skein of DMC's Embroidery Floss in Ecru
A tapestry needle
You'll also need…
FINISHED SIZES
1 to 3 inches in diameter
PATTERN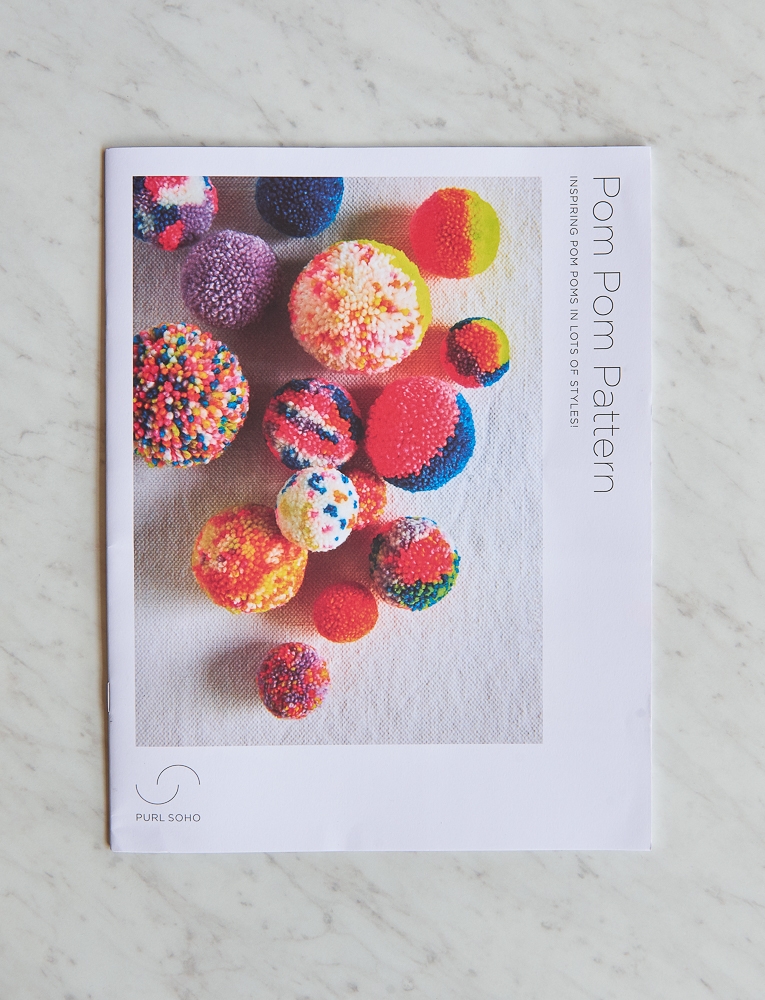 If you already have what you need, our Pom Pom Pattern is available on its own as a hard copy or PDF download.