You can make this little Jumbo Capelet in about the time it takes to say "Jumbo Capelet," but its one-of-a-kind impact will linger for much longer!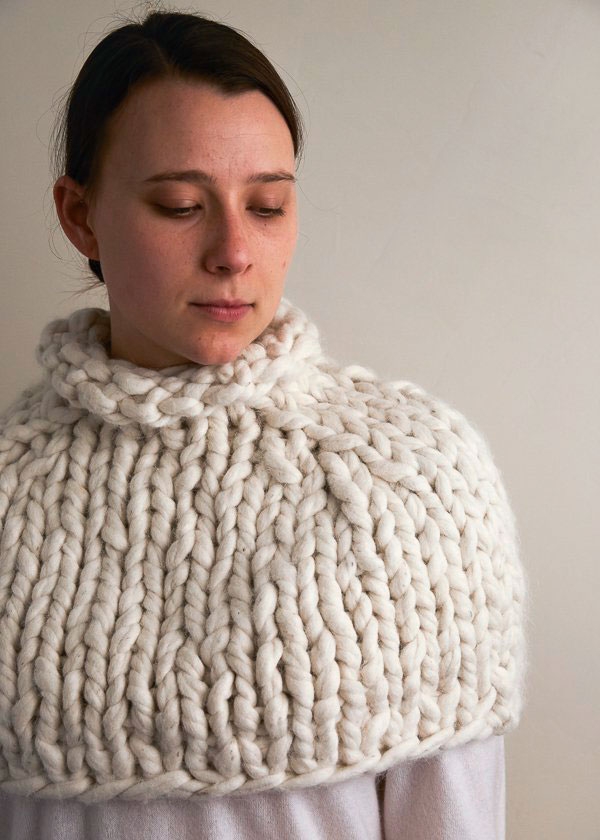 We love this Jumbo Capelet for ourselves and for quick, big-statement gifts, too. Knit one up on the eve of a friend's birthday, the friend who has everything… except an amazing capelet handknit by you!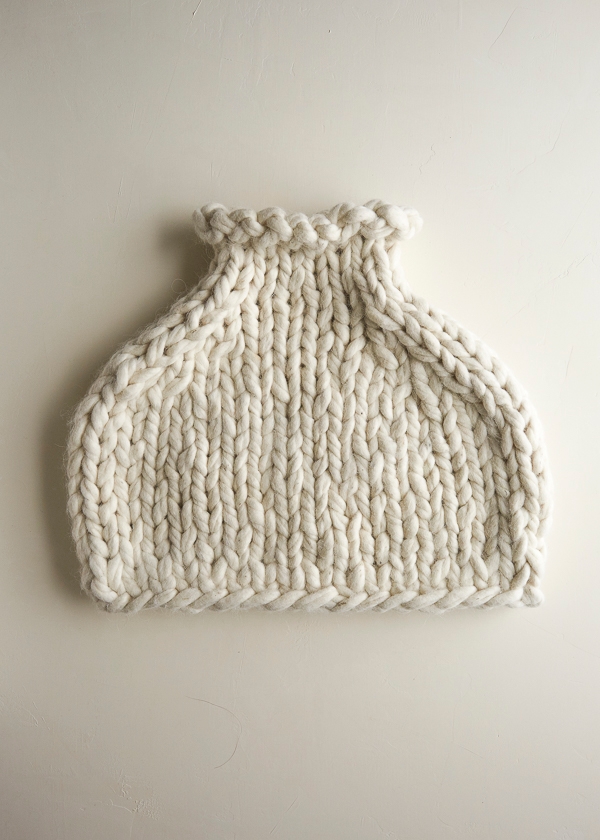 The key to all this style lies in our new Jumbo Andean Handspun, a gorgeous merino-alpaca blend. Strikingly bold (and incredibly cozy), it knits up in big, graphic, unmistakably handmade stitches. And once this yarn is gone, it's gone, so make sure to pick up your Jumbo Andean Handspun before the next cold front rolls in!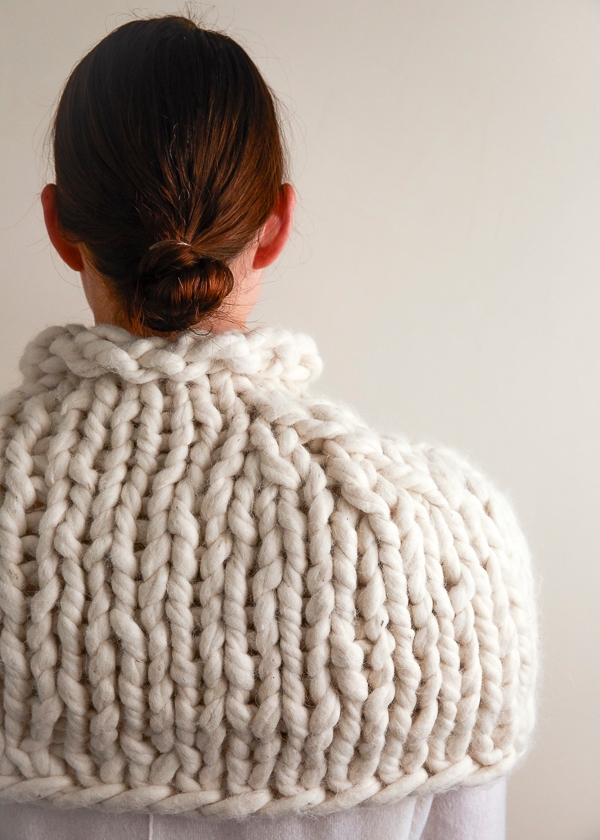 This pattern designed for Purl Soho by Jamila Modeste.
Share your progress and connect with the community by tagging your pics with #PurlSoho, #PurlSohoBusyHands, and #PurlSohoJumboCaplet. We can't wait to see what you make!
Materials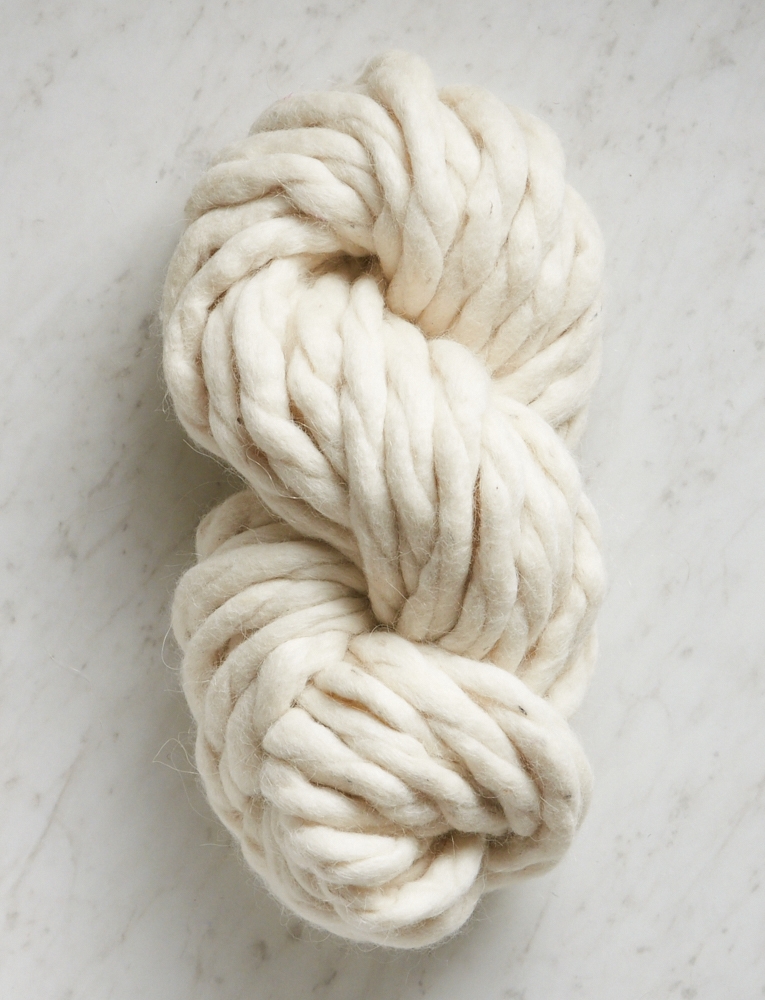 5 (6, 7) skeins of Purl Soho's Jumbo Andean Handspun, 60% baby alpaca and 40% merino wool.
US 50 (25mm), 32-inch circular needles
US 50, 24-inch circular needles
Scrap yarn to use as a stitch marker
PLEASE NOTE: Our Jumbo Andean Handspun was a limited-release yarn and is unfortunately no longer available. For a similar gauge for this project, we recommend using 4 (5, 5) skeins of Gentle Giant held double, equally Jumbo and in a wide range of color choices! Each skein is 48 yards/ 125 grams; approximately 192 (205, 440) yards required.
ALSO NOTE: We knit used the 32-inch circular needles to cast on and knit up to the neck, then switched to 24-inch needles to finish, but if you prefer, use the magic loop method and 47- or 60-inch circular needles throughout!
Gauge
3¾ stitches and 5 rounds = 4 inches in stockinette stitch
Sizes
38½ (42½, 47)
Finished circumference around bottom hem: Approximately 38½ (42½, 47) inches
Finished circumference around cowl opening: Approximately 17 (21¼, 18½, 25½) inches
Finished height from bottom edge to bottom of cowl: 12¾ (14, 15¼) inches
Finished height from bottom edge to top of cowl: 16¾ (18, 19¼) inches
SAMPLE: Size shown here is 38½.
Notes
Slip all stitches purlwise with yarn in back.
This yarn does not wet splice easily. Instead use your fingers to weave in loose ends.
Pattern
Using a Long Tail Cast On, cast 36 (40, 44) stitches onto the longer circular needles.
Place a scrap yarn stitch marker and join for working in the round, being careful to not twist the stitches.
Foundation Round: K18 (20, 22), place a different colored stitch marker, k18 (20, 22).
Round 1: *Slip 1 (see Notes), k1, repeat from * to end of round.
Round 2: *K1, slip 1, repeat from * to end of round.
Knit 8 (9, 10) rounds.
Next Round: *K1, [ssk] 2 times, knit to 5 stitches before next stitch marker, [k2tog] 2 times, k1, repeat from * to end of round. [8 stitches decreased]
Next Round: Knit to end of round.
Repeat last 2 rounds. [20 (24, 28) stitches]
Switching to shorter circular needles…
Next Round: *K1, ssk, knit to 3 stitches before next stitch marker, k2tog, k1, repeat from * to end of round. [16 (20, 24) stitches]
Knit 5 rounds.
Loosely bind off knitwise.
Weave in ends (see Notes) and enjoy!