Babies are wonderful recipients of hand knit gifts. They never complain about the color or fit, and they always drool in appreciation. And when you give them this Baby Bath Set, they may even smile!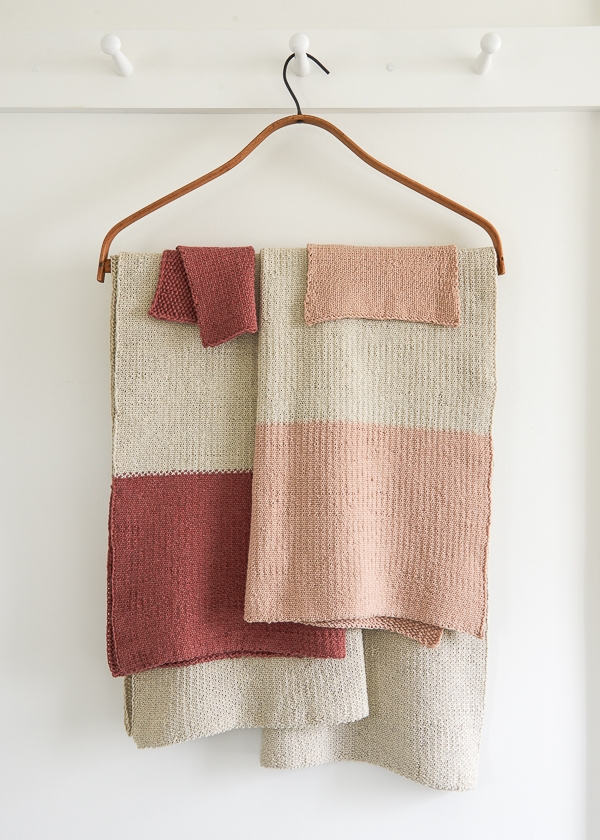 Knit up in our unmercerized Cotton Pure, this towel and washcloth duo is absorbent and very soft. It's also perfectly gentle on babies' skin and machine washable (now parents are smiling, too!).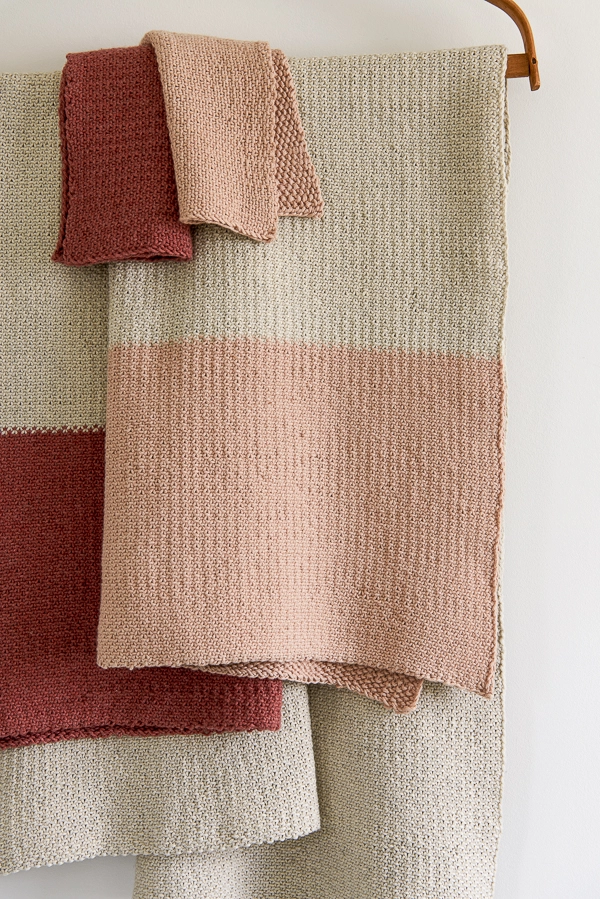 We used a simple slip stitch pattern for our Set. This classic Linen Stitch is smooth and woven-looking on one side and nubbly and seed-stitch-looking on the other. It has a wonderful complexity that belies how fun and easy it is to actually knit.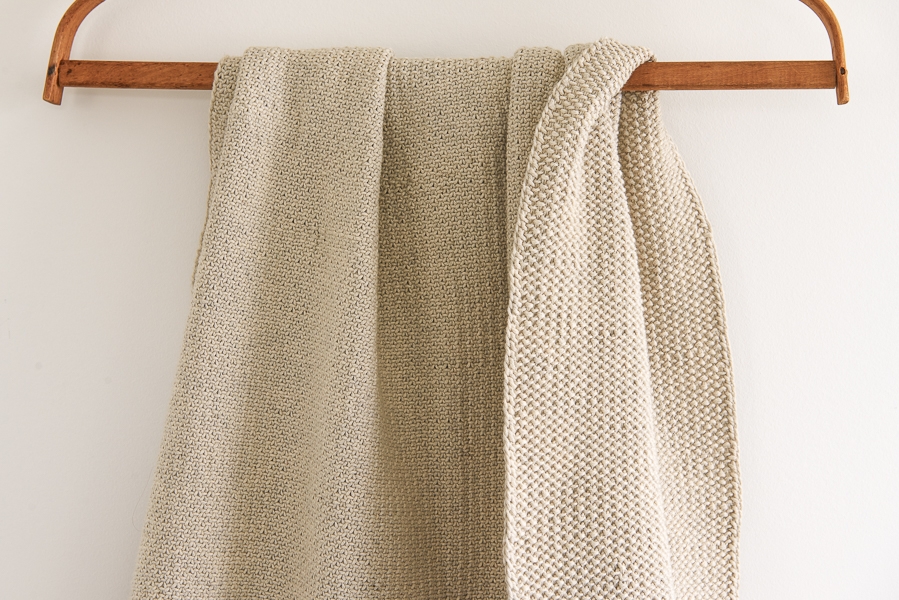 Start your Baby Bath Set with the Towel and add the colorful border once you know if the world's newest member is a boy or girl. Or if no babies are on the horizon, think of the Set as hand towel and washcloth and make some adults very happy! -Joelle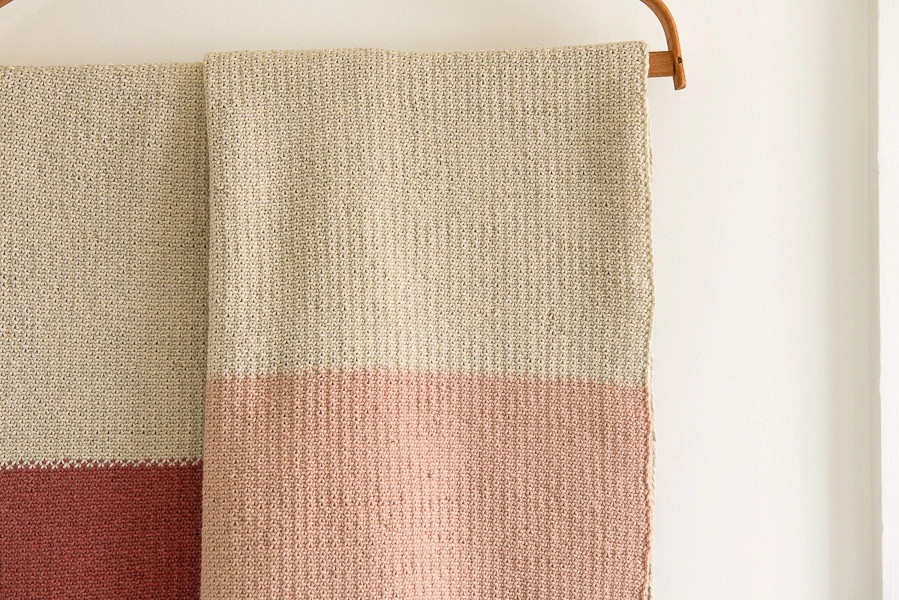 Materials
Color A: 3 skeins of Purl Soho's Cotton Pure, 100% organically grown cotton. We used Birch Bark for both sets.
Color B: 1 skein of Cotton Pure. We used Teacake Pink (left) for one set and Sea Pink (right) for the other set.
US 7, 24- or 32-inch circular needles
These are enough materials to make one Towel and at least one Washcloth (you can probably squeak out an additional Washcloth in Color A).
Gauge
28 stitches = 4 inches in stitch pattern
Size
Finished Dimensions of Towel: 22 x 38 inches
Finished Dimensions of Washcloth: 7 x 7 inches
Note
This stitch pattern can be worked over any odd number of stitches.
Patterns
Towel
With Color A, cast on 155 stitches.
Row 1 (right side): K1, *slip 1 with yarn in front (wyif), k1, repeat from * to end of row.
Row 2 (wrong side): Slip 1 wyif, p1, *slip 1 with yarn in back, p1, repeat from * to last stitch, slip 1 wyif.
Repeat Rows 1 and 2 until work measures 29 inches from cast-on edge, ending with Row 2.
Cut Color A and join Color B.
Repeat Rows 1 and 2 for nine more inches, ending with Row 2.
To bind off, work Row 1 while binding off. Here's how…
Bind Off Row (right side): K1, *slip 1 wyif, pass stitch over, k1, pass stitch over, repeat from * to end of row.
Cut yarn and pull through the remaining stitch.
Weave in ends and block or steam.
Washcloth
With Color B, cast on 49 stitches.
Repeat Rows 1 and 2 of the Towel pattern until work measures 7 inches from cast-on edge, ending with Row 2.
Bind off and finish as for Towel.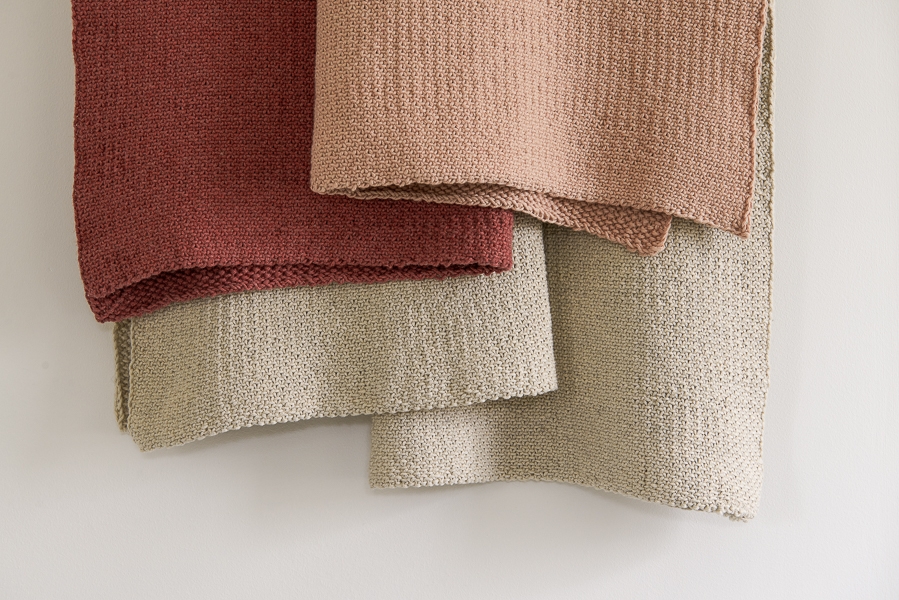 Update: New Coordinating Hand Towels!
June 2018
Knit in a slightly bigger gauge than our Baby Bath Set, we made our Colorblock Hand Towels with our cotton-linen blend Lantern yarn. With 25 colors to choose from, have some real fun putting together your favorite pairings!