When it comes to hand towels, what sets apart the great from the good enough? The good enough get the job done, but the great… The great get the job done, and look and feel amazing while doing it!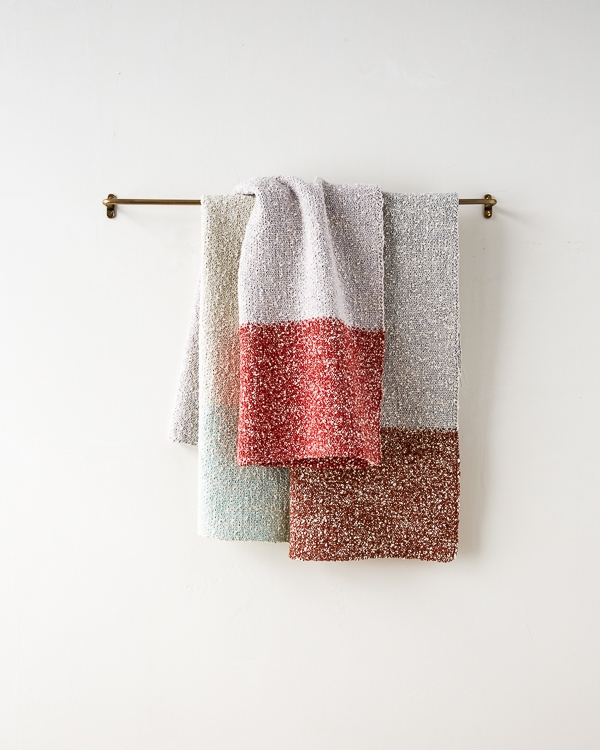 Our totally great Colorblock Hand Towels are knit up in our new Lantern yarn, whose cotton-linen blend makes for a perfectly absorbent combination. There are 25 colors to choose from, so have some real fun putting together your favorite pairings!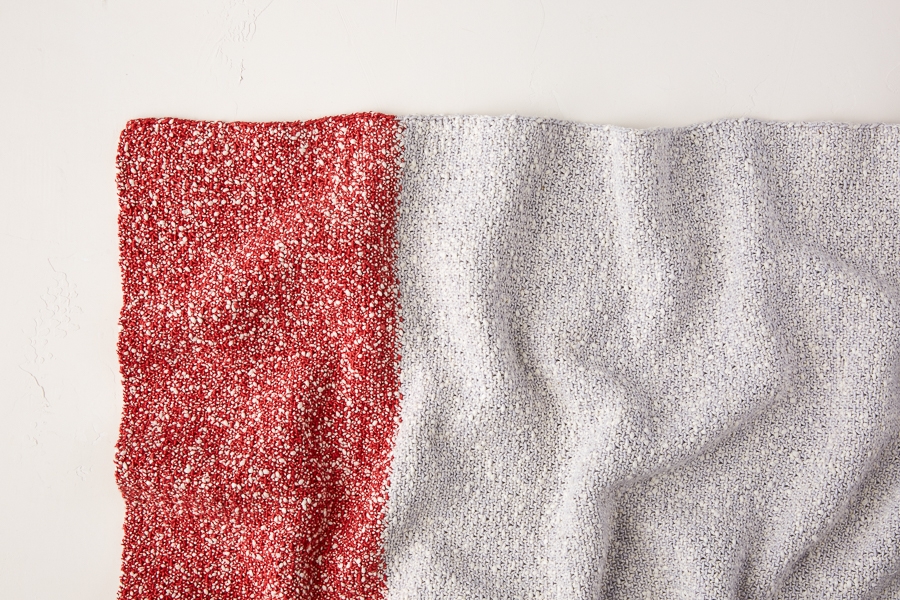 Lantern brings its own character to our Colorblock Hand Towels, but we added another layer by knitting them up in linen stitch. This simple stitch creates a woven texture on one side and nubby seed-stitch texture on the other. Combined with the luminescence of Lantern, you have a wonderfully speckly and beautiful pattern on your hands!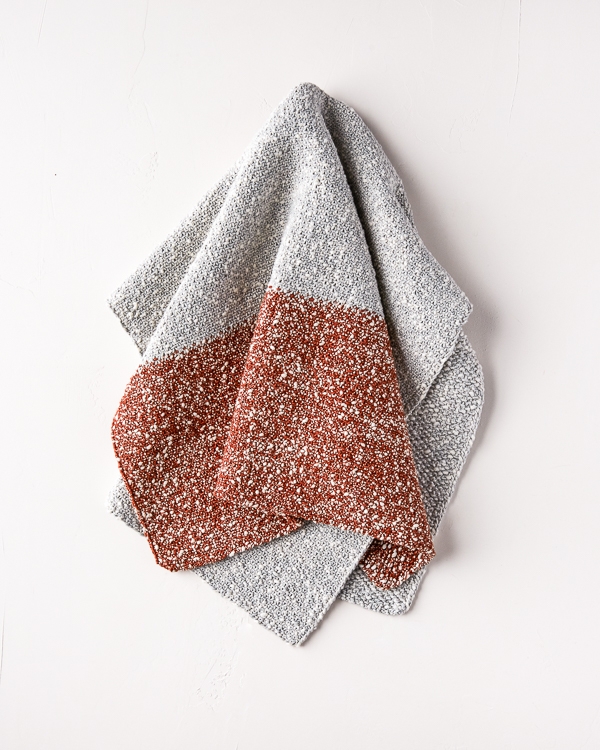 If you are looking for the perfect portable project for gift giving or just for enhancing your own happy place, our Colorblock Hand Towels are this summer's go-to. Just be prepared to make more than one batch, because as soon as everyone sees these gems you may find yourself fielding special requests!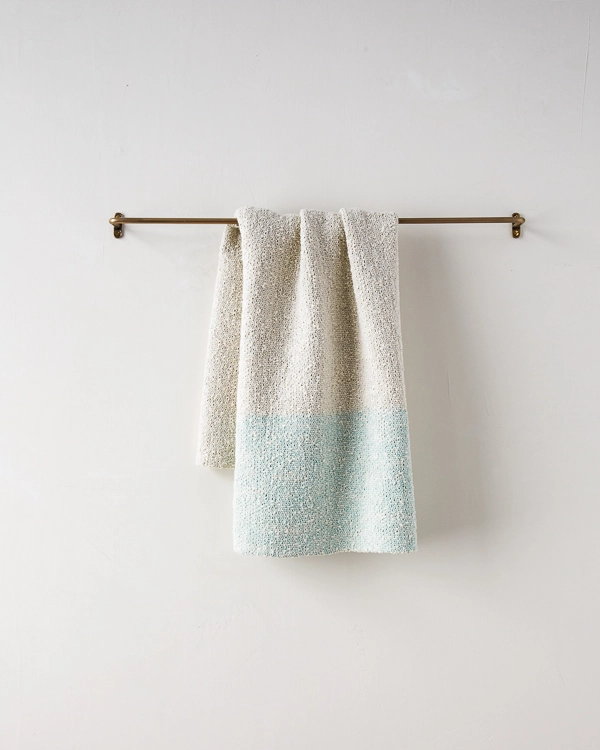 UPDATE: NOW IN SUNSHOWER COTTON
JULY 2022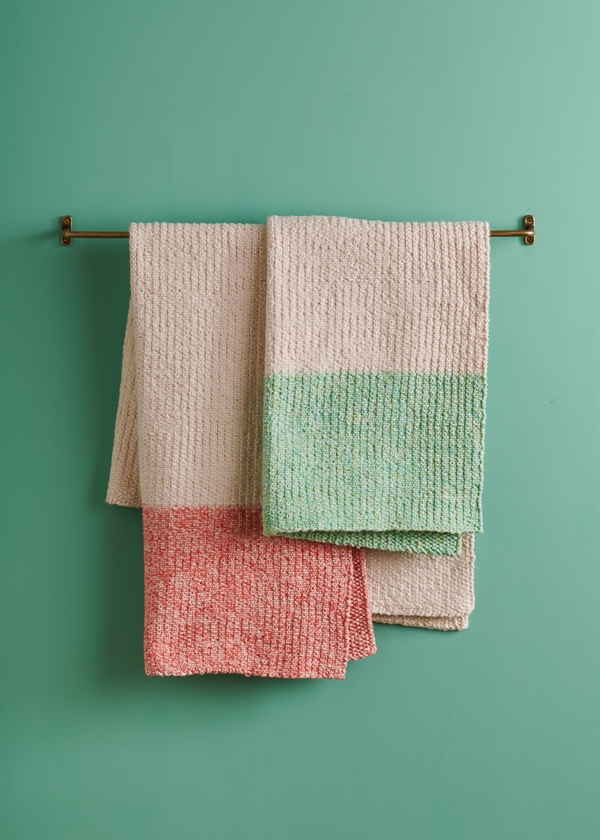 Sunshower Cotton is a 100% organically grown, unmercerized cotton yarn. It has a satisfying, supple hand and a sturdy heft that makes for a lovely Colorblock Hand Towel! The true magic of this yarn is the printed pigment on its surface whose hues shift across a creamy base… Sunshower Cotton passes our is-this-yarn-special test with flying colors!
Designed by Purl Soho designer, Jake Canton. Click here to see even more of Jake's designs!
Share your progress and connect with the community by tagging your pics with #PurlSoho, #PurlSohoBusyHands, #PurlSohoColorblockHandTowel, and #PurlSohoLantern. We can't wait to see what you make!
Materials
Main Color (MC): 3 skeins of Purl Soho's Lantern, 61% cotton and 39% linen. Each skein is 164 yards/ 100 grams; approximately 441 yards required. (NOTE: We no longer offer Lantern, but check out our Sunshower Cotton version of this pattern or choose from one of our other worsted weight yarns.)
Contrast Color (CC): 1 skein of Lantern; approximately 132 yards required.
US 8 (5 mm) straight or circular needles
Samples:
MC: Lavender Frost + CC: Cinnabar Red
MC: White Smoke + CC: Frost Blue
MC: Platinum Gray + CC: Horse Chestnut
Gauge
26 stitches and 46 rows = 4 inches in Linen Stitch Pattern
Size
Finished Dimensions: Approximately 18 inches wide x 31 inches long
Notes
This pattern can be worked over any even number of stitches.
Slip stitches are slipped purlwise unless indicated otherwise.
Pattern
With the Main Color (MC), cast on 118 stitches. We used a basic Long Tail Cast On.
Row 1 (wrong side): Slip 1 knitwise with yarn in front (wyif), *p1, slip 1 (see Notes) with yarn in back (wyib), repeat from * to last stitch, k1.
Row 2 (right side): Slip 1 knitwise wyif, *k1, slip 1 wyif, repeat from * to last stitch, k1.
Repeat Rows 1 and 2 until piece measures 24 inches from the cast-on edge, or until you have used all of MC, ending with Row 1.
Cut MC and join the Contrast Color (CC).
With CC, starting with Row 2, repeat Rows 1 and 2 for 7 inches or until 31 inches from cast-on edge, ending with Row 1.
Bind Off Row (right side): K1, *slip 1 purlwise wyif, pass stitch over, k1, pass stitch over, repeat from * to end of row.
Cut yarn and pull through the remaining stitch.
Weave in ends and block. We recommend a full wet block to let the linen relax and soften.