Of all the ways to add stitches in knitting, I favor the quiet beauty of yarn overs. Like a woodworker's dovetail joint, yarn overs are elegant engineering. They make their presence known with a whisper, not a shout, yet,surely yarn overs deserve resounding acclaim for all they do for our craft!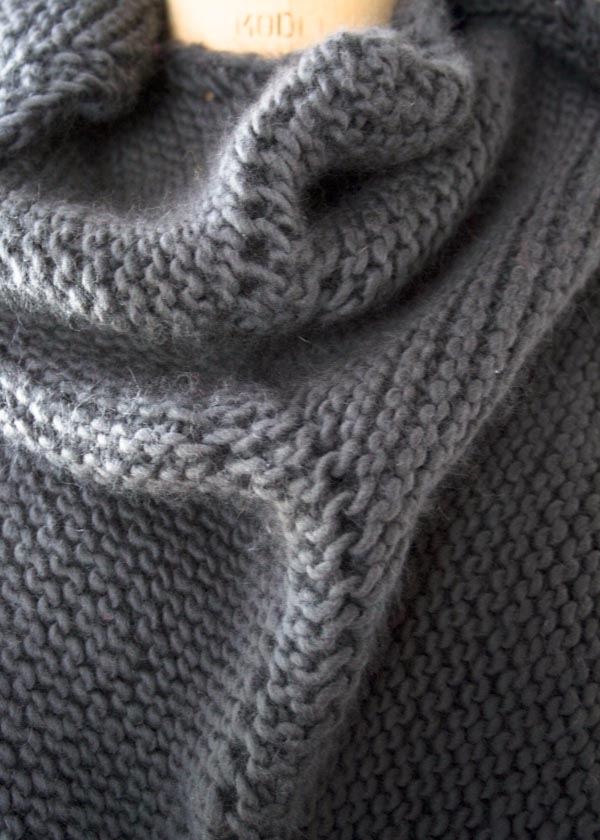 The yarn over is not only the Dovetail Wrap's only design element, it also carries the entire structural burden! You'll be amazed that strategically placed yarn overs are all you need to create a triangle. Yarn overs at the edges of the wrap wing off into garter stitch ridges that seamlessly miter at the center spine. If you can knit, slip, and yarn over, grab 5 skeins of our classic Super Soft Merino, and you'll be all set to make this refreshingly simple shawl! -Gina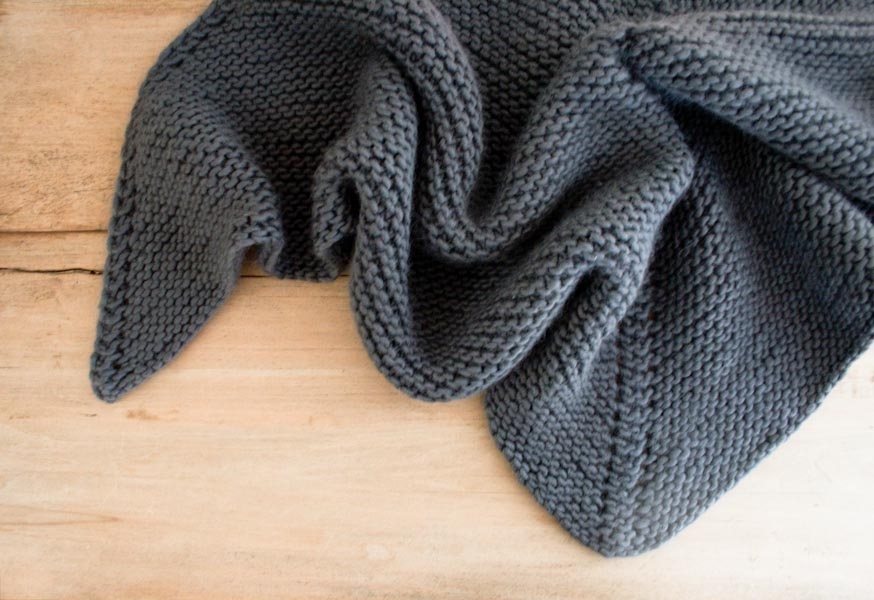 PS: To see an Instagram photo of this project being worn click here!
Update: New Gauge
DECEMBER 2015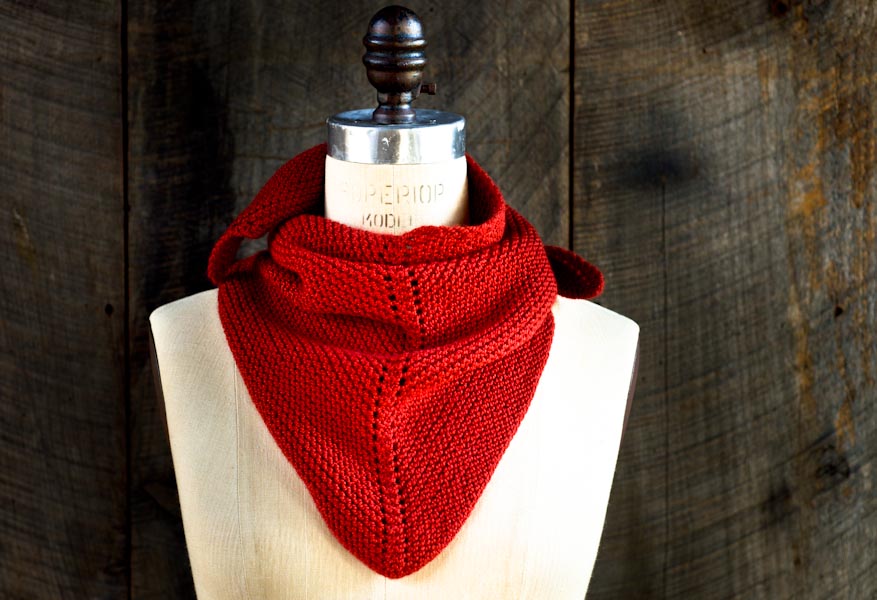 Everyone loves a one-skein project! It's intrinsically fast, inexpensive, and most importantly, clever. Inspired by our original Dovetail Wrap, this lovely, little one-skein Dovetail Scarf in Mulberry Merino is just in time for the holidays!
Designed by Purl Soho designer, Gina Rockenwagner. Click here to see even more of Gina's designs!
Share your progress and connect with the community by tagging your pics with #PurlSoho, #PurlSohoBusyHands, #PurlSohoDovetailWrap, and #PurlSohoSuperSoftMerino. We can't wait to see what you make!
Materials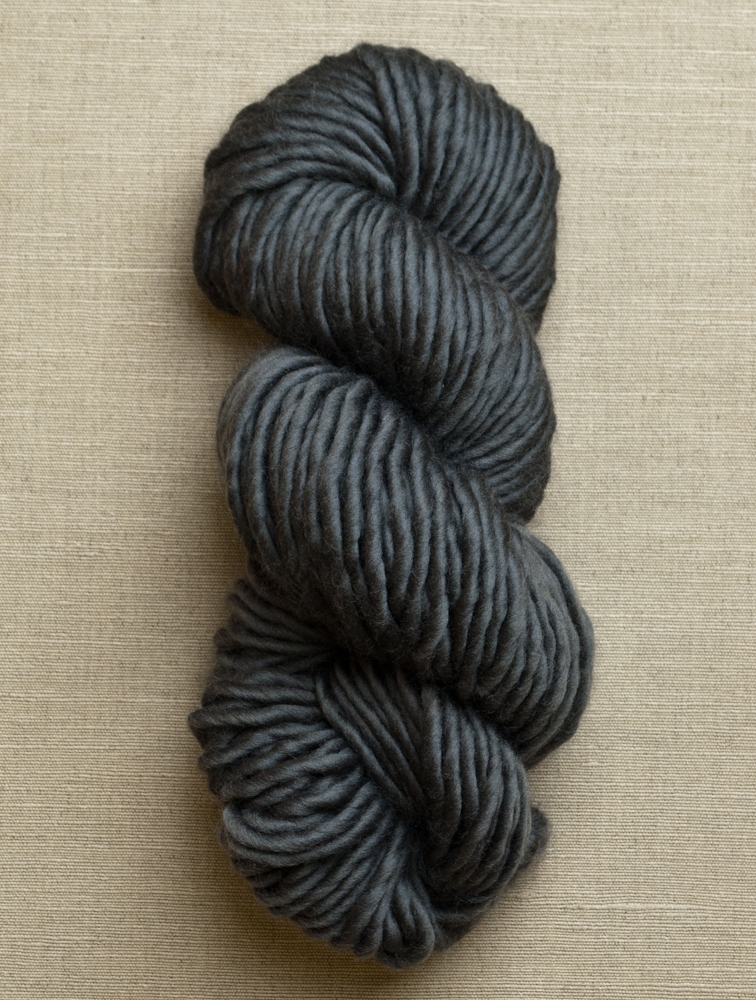 5 skeins of Purl Soho's Super Soft Merino, 100% merino wool. Each skein is 87 yards/ 100 grams; approximately 435 yards required. This color is Toasted Charcoal.
US 13 (9 mm), 32-inch circular needles
A jumbo stitch marker
Gauge
10 stitches = 4 inches in garter stitch
Size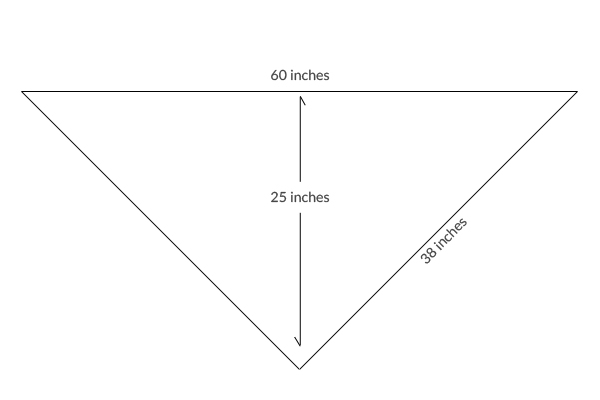 Pattern
Cast on 8 stitches, leaving a tail at least 10 inches long. We used a basic Long Tail Cast On.
Row 1: Slip 1 purlwise, k1, [yo, k1] 2 times, place marker, [k1, yo] 2 times, k2. [12 stitches]
Row 2: Slip 1 purlwise, knit to end of row, slipping the marker when you come to it.
Row 3: Slip 1 purlwise, k1, yo, knit to 1 stitch before marker, yo, k1, slip marker, k1, yo, knit to last 2 stitches, yo, k2. [4 stitches increased]
Repeat Rows 2 and 3 until there are 200 stitches total.
Bind off loosely.
Finish
The wrap will have a small notch at the cast on edge in the shape of an upside down letter V. This notch must be sewn shut to complete the triangle shape of the wrap.
Thread the cast-on tail onto a tapestry needle.
To close the gap at the cast-on edge sew the 4 right cast-on stitches to the 4 left cast-on stitches. The pink dots in the photo below mark each cast-on stitch. Sew each stitch in order as numbered.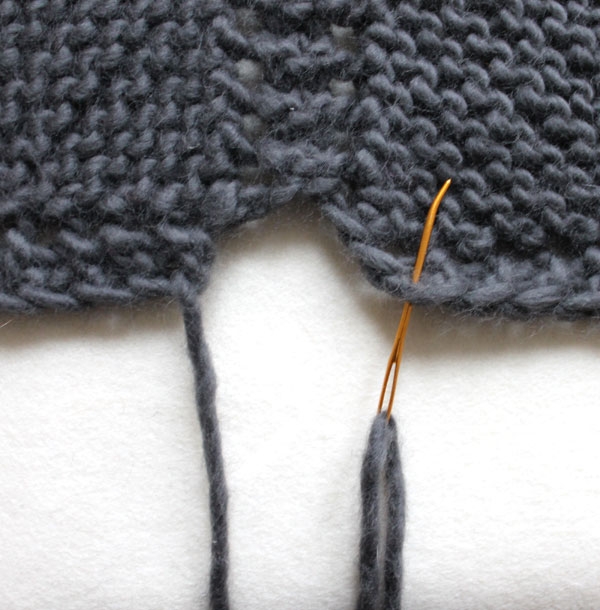 Weave in the ends.
Block gently and enjoy your Dovetail Wrap!