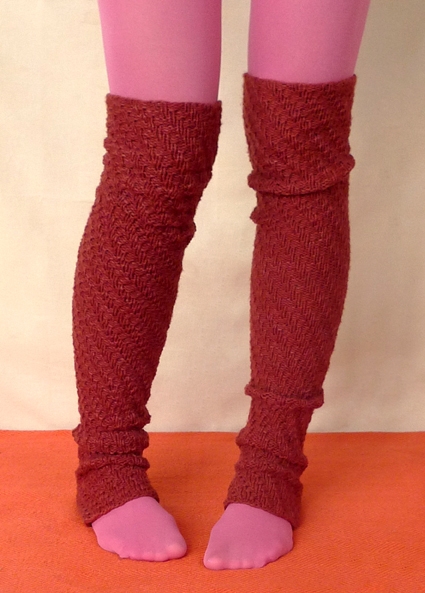 For many of us, the mere mention of leg warmers conjures up vivid images of ripped sweatshirts and really big hair.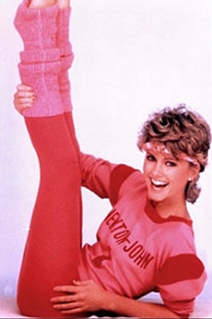 Having grown up in the eighties, I love Olivia Newton John as much as the next person, but that doesn't necessarily mean I want "Let's Get Physical" to be my theme song for 2010. However, I'm not so curmudgeonly that I can't appreciate new takes on old trends.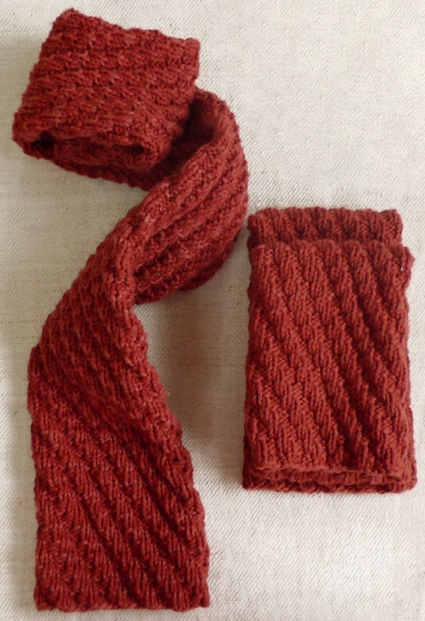 So, instead of acrylic and rainbow stripes, these 21st century leg warmers are super soft merino and naturally subtle colors. Hand dyed by Manos del Uruguay's cooperative of local craftswomen, this 5-ply Merino is perfectly now. A South American rural community sustaining itself through its traditional crafts sounds like a very beautiful future to me! -Whitney
Designed by Purl Soho designer, Whitney Van Nes.
Share your progress and connect with the community by tagging your pics with #PurlSoho, #PurlSohoBusyHands, and #PurlSohoSpiralRibLegWarmers. We can't wait to see what you make!
Materials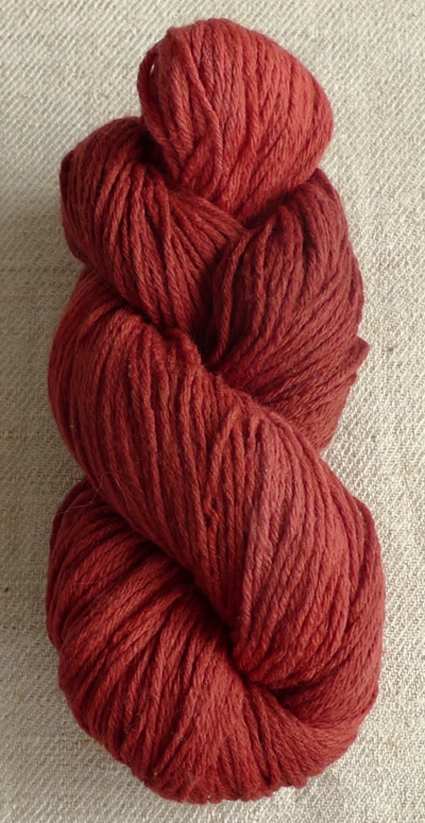 2 skeins of Manos del Uruguay's 5 Ply Merino, 100% Pure Extrafine Merino Wool. Approximately 482 yards required. This color is Cinnamon #512. (NOTE: We no longer offer Manos del Uruguay's 5 Ply Merino, but choose from one of our other worsted weight yarns.)
A US 7 (4.5 mm), 12-inch circular needle OR a set of US 7 double pointed needles
Gauge
24 stitches = 4 inches in spiral rib pattern
Finished Size
8 inches in circumference unstretched / 16 inches in circumference stretched and 30 inches long
NOTE: This size is for extra small to small women. To make bigger sizes, simply add a multiple of 4 stitches. Each additional 4 stitches will add 2/3 inch to the final unstretched circumference and 1 1/3 inch to the final stretched circumference. (Please note that if you increase the size, 2 skeins probably won't be enough yarn to make your leg warmers quite 30 inches long. You can either make them a little shorter or buy an extra skein.)
Pattern
With US 7 needle (either 12 inch circular or double pointed), cast on 48 stitches. We used a basic Long Tail Cast On.
Place a stitch marker and join for working in the round, being careful to not twist the stitches.
Rounds 1-3: *P2, k2, repeat from * to end of round.
Rounds 4-6: K1, *p2, k2, repeat from * to last 3 stitches, p2, k1.
Rounds 7-9: *K2, p2, repeat from * to end of round.
Rounds 10-12: P1, *k2, p2, repeat from * to last 3 stitches, k2, p1.
Repeat Rounds 1-12 until piece measures 30 inches from the cast on edge.
Bind off loosely in pattern.
Make another leg warmer identical to the first.
Weave in the ends and you're done!