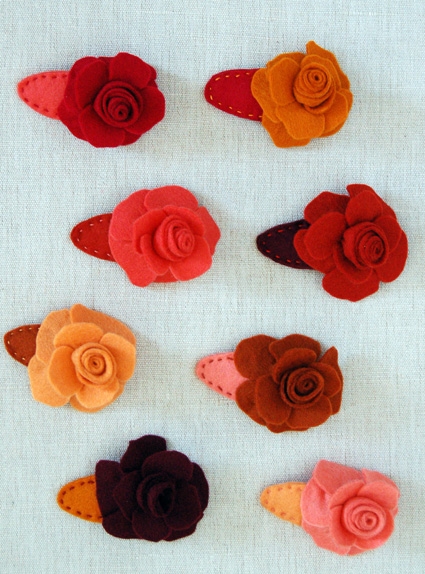 With Valentine's Day coming up I designed these little girl's barrettes in celebration of the rose. I liked the idea that they could add a little Valentine's spirit to any outfit, and also to be used long after the big day. –Molly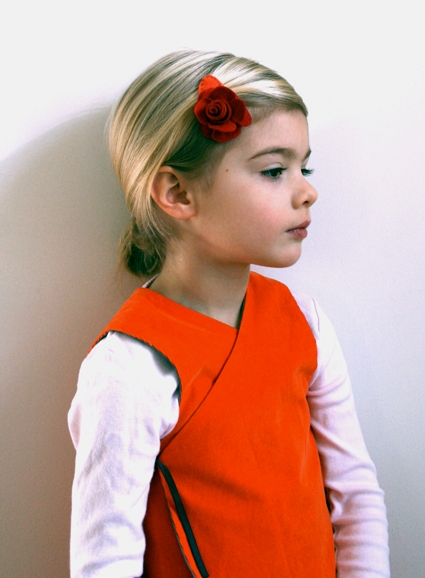 Materials
Cutting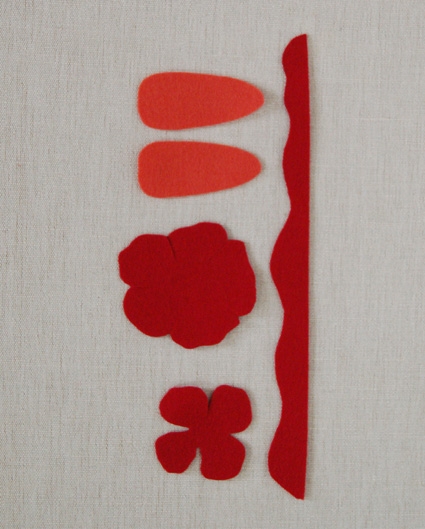 Cut out all of the pieces from the Rose Barrette Pattern. You will have:
one rosebud strip in color A
one 1st tier petal piece in color A
one 2nd tier petal piece in color A
one barrette top in color B
one barrette bottom (with a small slit cut as marked) in color B
Making the Rosebud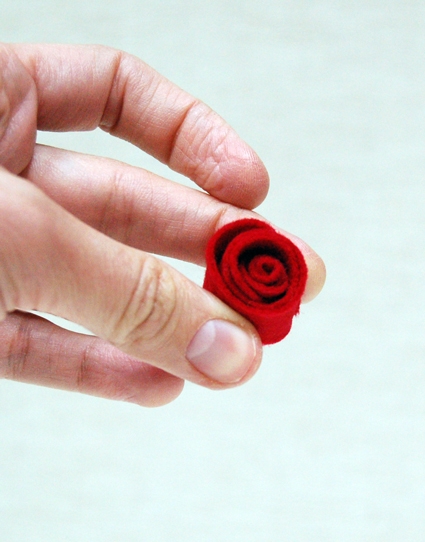 Roll the rosebud strip tightly, lining up the straight edge, starting from the smaller end to form a little rosebud shape as shown above.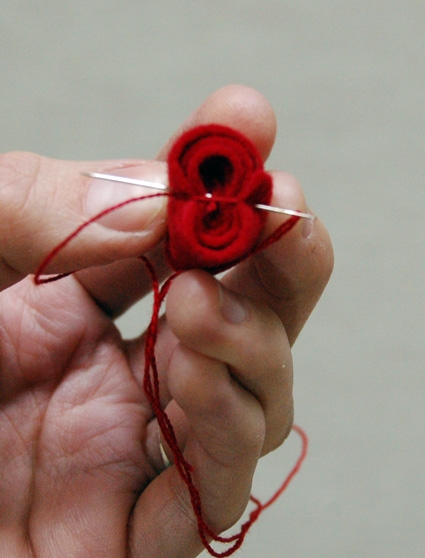 Thread a length of embroidery thread that matches the color of the rose. Turn the rosebud upside down and sew across the bottom, through all of the layers, bisecting the circle of the bottom. Pull this stitch taut and take another stitch through the same area.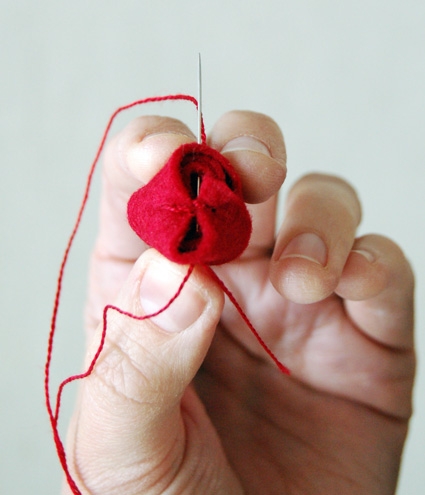 Turn the rosebud 90-degrees and take another stitch through all the layers perpendicular to the first set of stitches.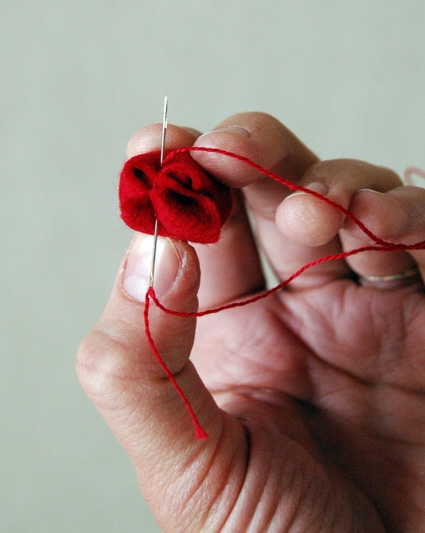 Pull this stitch tight and take another stitch in the same place. Tie a knot and cut the embroidery thread.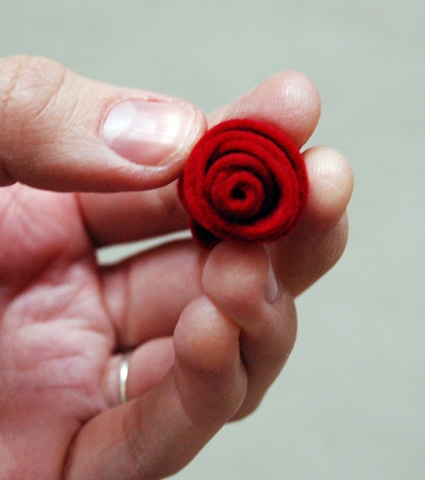 You will have a pretty little rosebud.
Adding the Petals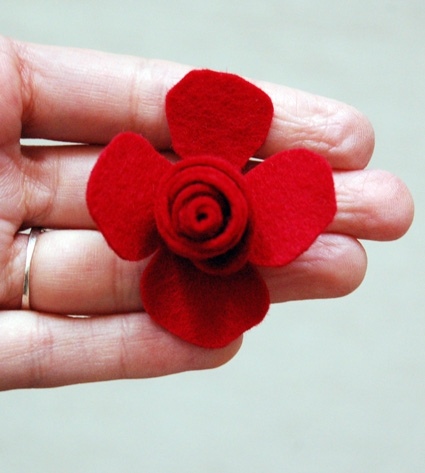 Place the finished rosebud in the center of the 1st tier petal piece.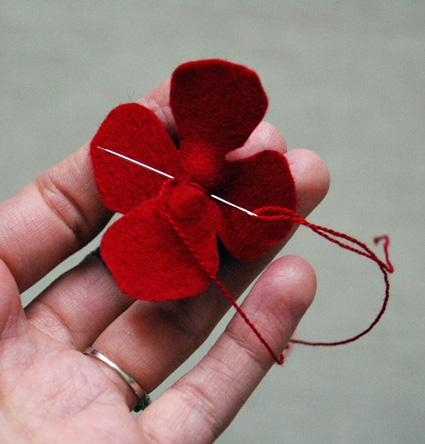 Tack the 1st tier petal piece to the back of the rosebud with a few stitches.
Stitch the adjacent petals of the 1st tier petal piece to one another as shown above. As you stitch them together sew through the side of the rosebud piece and at the same time tacking the two pieces together.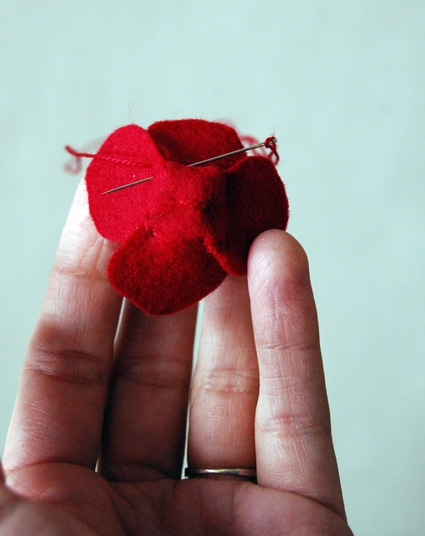 Sew all the adjacent petals together in this manner.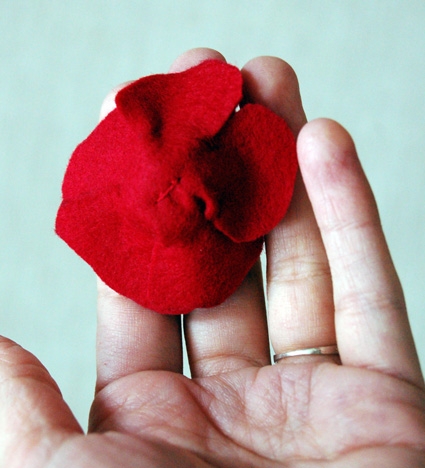 Repeat this process for the 2nd tier petal piece.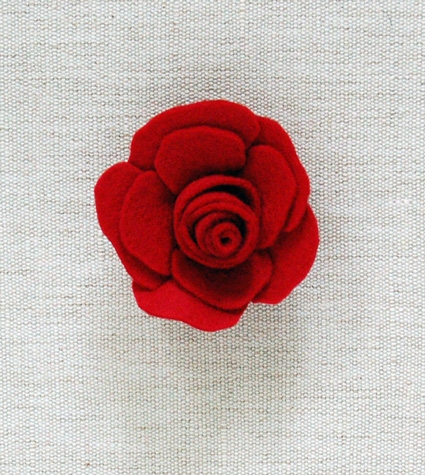 The rose is now finished! These are beautiful on their own and could be attached to flower wire for a pretty bouquet or sewn to anything you please.
Preparing the Barrette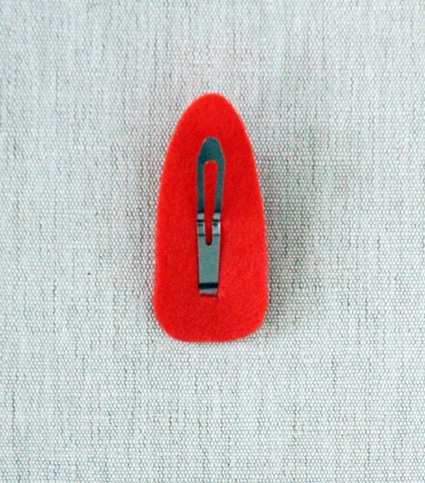 Slip the small part of the barrette into the slit of the barrett bottom piece as shown above.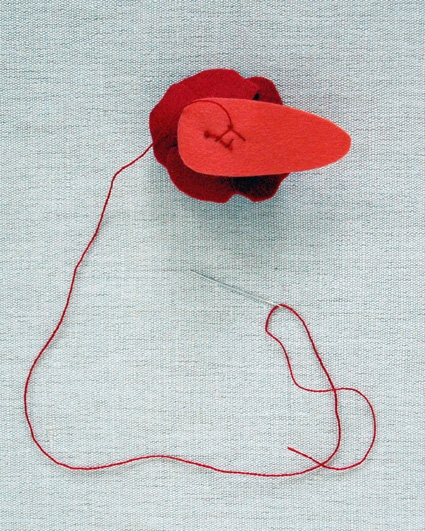 Meanwhile, sew the rose onto the wide end of the barrette top piece.
Finishing the Barrette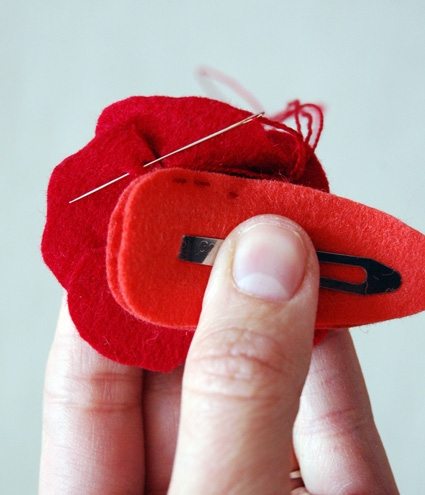 Place the two barrette pieces wrong sides together and sew them to one another with a small running stitch around the perimeter of the barrette. When you come to a petal sew through a bit of the petal, not all the way through the width felt but just a little tack to keep the petal down.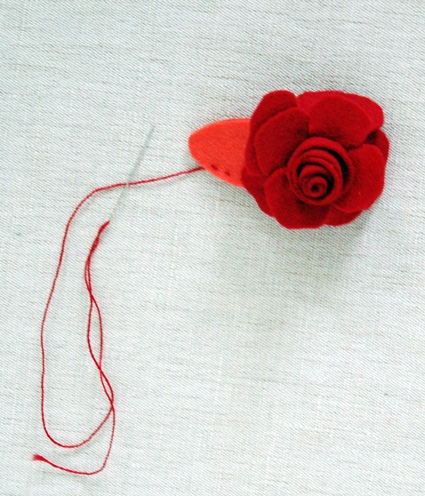 Continue sewing around the perimeter as shown above.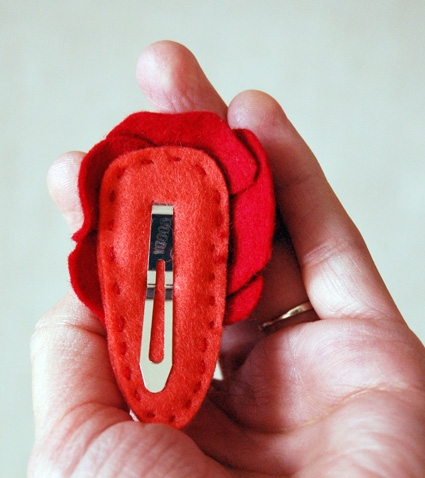 Once you get all the way around tie a little knot and hide the threads tail in between the two layers.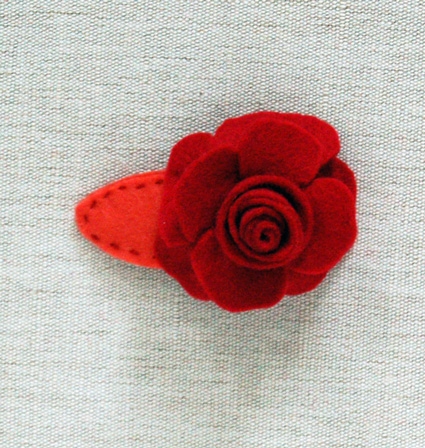 Turn the barrette to the right side and trim the rose's petals to your liking.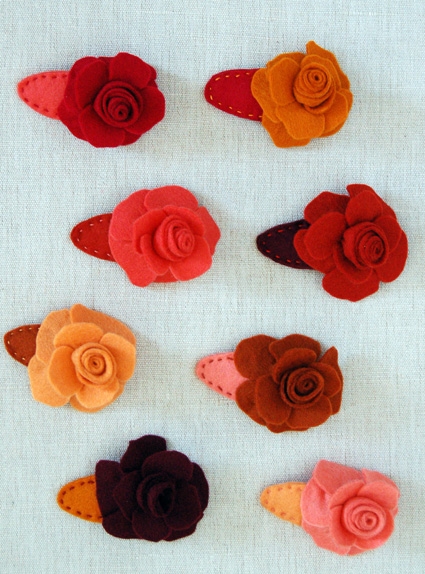 Repeat this for all of the barrettes and have a happy Valentines Day!