A gorgeous whisper of wool around your neck is the perfect winter-into-spring thing! When just a sweater is the only outerwear you need, popping on our Willow Cowl means you are dressed and ready to go outside.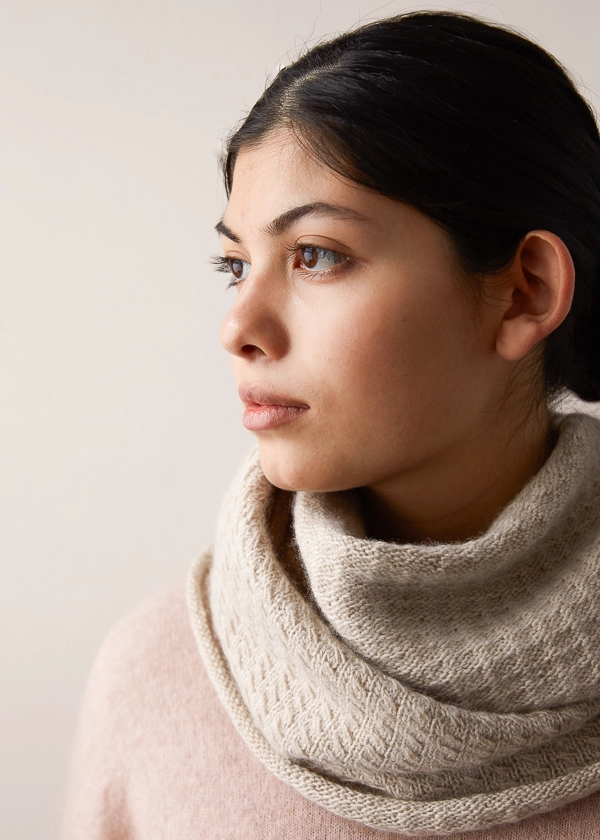 Like branches of delicate willow leaves, this all-over stitch pattern is a quiet nod to the coming season. You can work it with or without a cable stitch holder, since it's just one stitch that goes on hold and never even gets knit, just slipped!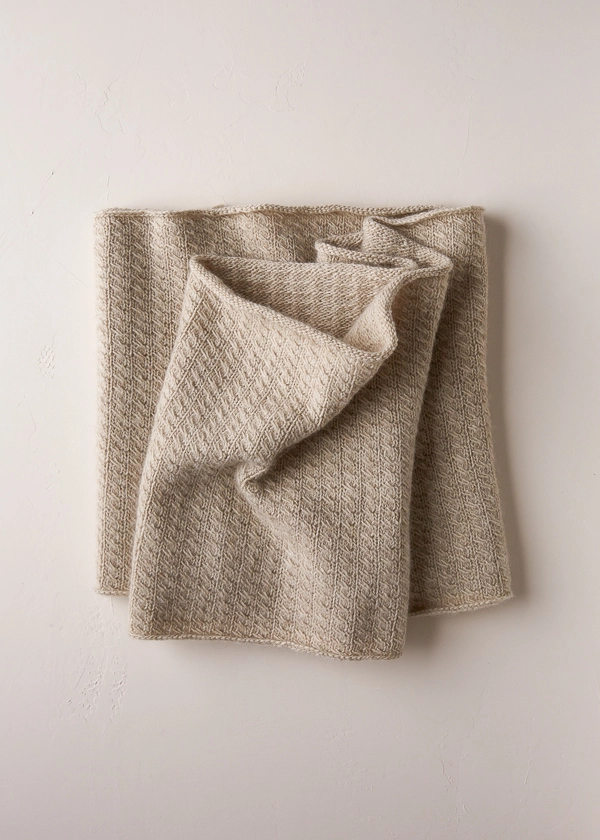 Our 100% pure Line Weight merino is the perfect heft for this floaty piece: feather light and soft as down. And at nearly 500 yards per skein, you'll only need two!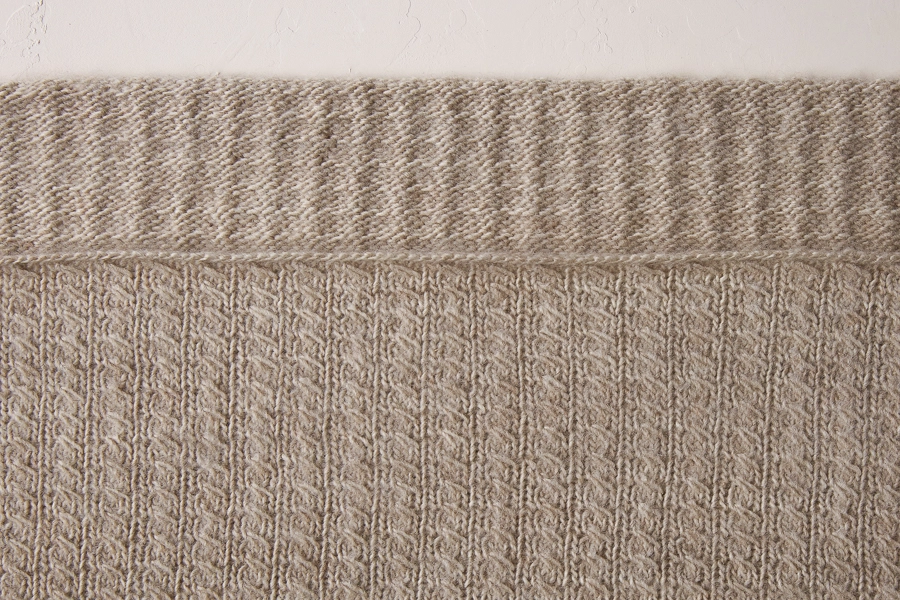 We love the fineness and subtlety of our Willow Cowl, but we love the cozy practicality, too, because spring lingers on the winter side for longer than you may think!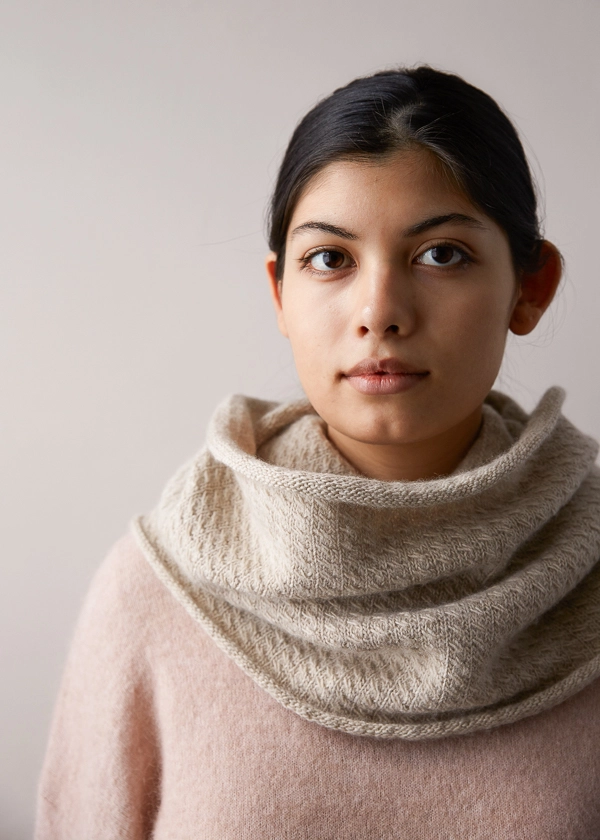 Designed for Purl Soho by Nicole Milano.
Share your progress and connect with the community by tagging your pics with #PurlSoho, #PurlSohoBusyHands, #PurlSohoWillowCowl, and #PurlSohoLineWeight. We can't wait to see what you make!
Materials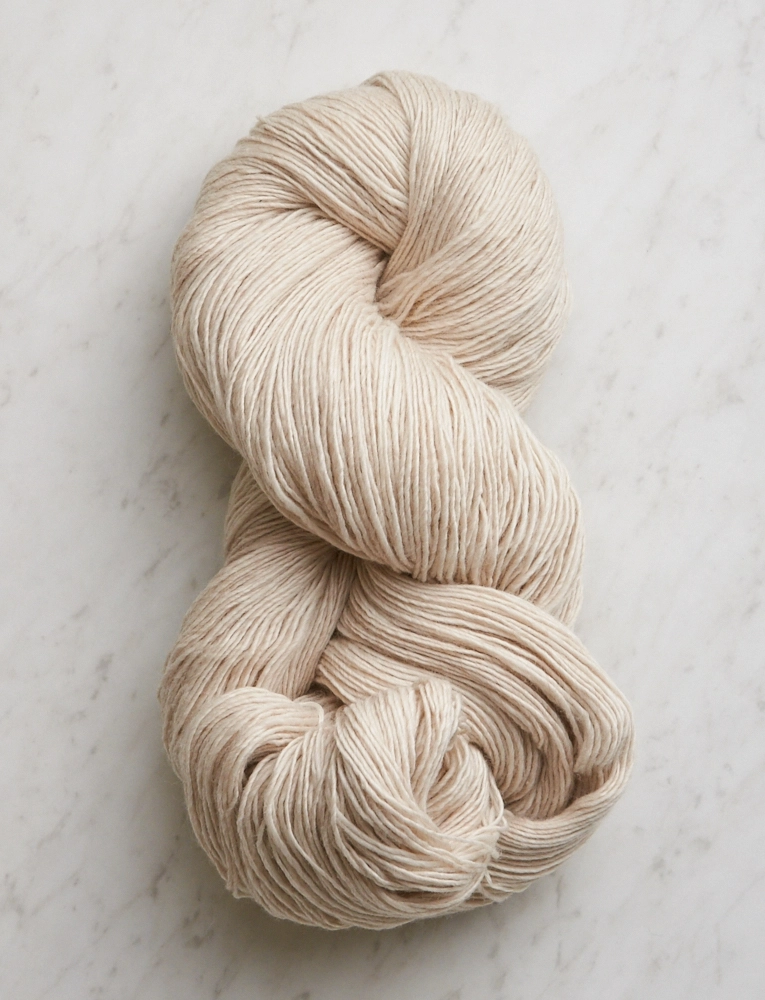 Gauge
Unblocked: 32 stitches and 38 rounds = 4 inches in stitch pattern
Blocked: 28 stitches and 36 rounds = 4 inches in stitch pattern
Size
Finished Dimensions, Unblocked: 12½ inches wide x 54 inches in circumference
Finished Dimensions, Blocked: 11 inches wide x 61 inches in circumference
Notes
Instead of slipping the stitch to a cable stitch holder, Line Weight is clingy enough to just slip the stitch off the needle and let it float in front of your work while you knit the next two stitches, then pick up the waiting stitch to slip it onto the right needle.
Stitch pattern repeat is worked over a multiple of 4 stitches.
Pattern
Using a Long Tail Cast On, cast on 432 stitches.
Place a stitch marker and join for working in the round, being careful to not twist the stitches.
Rounds 1-3: Knit to end of round.
Round 4: *Slip 1 purlwise to cable stitch holder and hold in front of work (see Notes), k2, slip stitch from cable stitch holder to right-hand needle, k1, repeat from * to end of round.
Repeat Rounds 1-4 until piece measures 12½ inches from cast-on edge, ending with Round 3.
Bind off loosely knitwise.
Weave in ends and block gently.