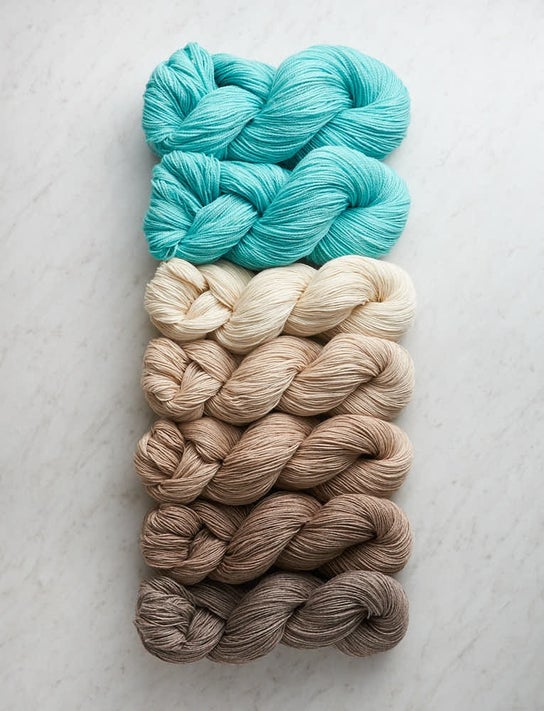 Our Value Study Scarf is like a record of the ways sunlight and breeze skim the landscape, gentle shifts across a meadow or the sea, a beach or the desert. The effect is created when the un-dyed shades of Sweetgrass move from light to dark against a single-color backdrop of Linen Quill: Sweetgrass's tidy spin of organic cotton and superfine alpaca meets the windswept, bright beauty of Linen Quill! Get all the yarn you need to cast on for the Wide version of this garter-stitch beauty with our Value Study Scarf Bundle.
Product Details
Materials
Our Value Study Scarf Bundle includes the yarn you need to make the Wide version of this scarf…
Yarn A: 2 skeins of Purl Soho's Linen Quill, 50% fine highland wool, 35% alpaca and 15% linen. Each skein is 439 yards; approximately 439 (643) total yards required. We used Eggshell Blue.
Yarns B-F: 5 skeins of Purl Soho's Sweetgrass, 65% organic cotton and 35% superfine alpaca. Each skein is 437 yards; approximately 102 (146) total yards required. The colors of Yarns B-F are…

Yarn B: 1 skein of Heirloom White
Yarn C: 1 skein of Pale Sesame
Yarn D: 1 skein of Buckwheat Beige
Yarn E: 1 skein of Rye Flour
Yarn F: 1 skein of Walnut Shell
NOTE: For the Narrow version, pick up one skein of Linen Quill, plus the five colors of Sweetgrass listed above.
You will also need…
US 4, 20- or 24-inch circular needles

NOTE: Although you'll knit this scarf flat, you'll need to be able to knit stitches from both ends of the needles, which is why circular needles are required.

Our free online Value Study Scarf pattern
Gauge
24 stitches and 52 rows = 4 inches in garter stitch
Sizes
Narrow (Wide)
Finished Dimensions: 9 (15) inches wide x 70 inches long
You Might Also Like...
Addi Rockets US 4, 24-inch Circular Needles
Addi Rockets are the ultimate circular needles for speedy, snag-free knitting! Click here to see our full range of sizes and lengths, or click Add To Basket to purchase these US 4, 24-inch needles for knitting up your very own project!