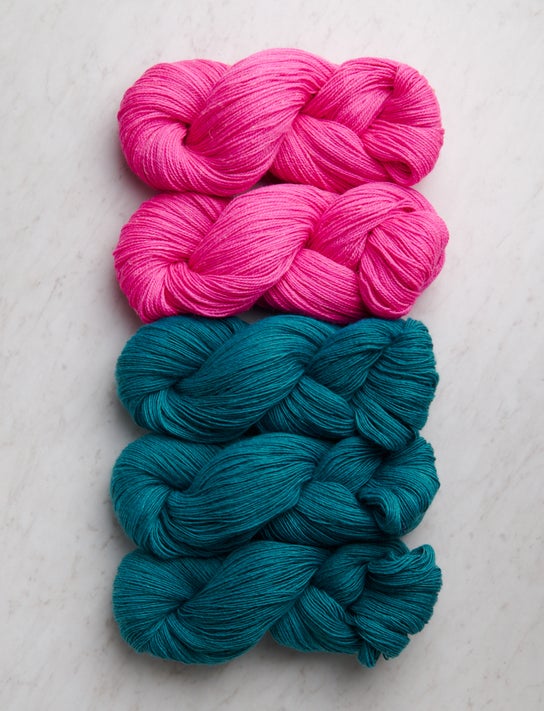 Like light shining through a canopy of trees, the colors of our Speckled Wrap shift and play on the textured surface of the fabric. Simple knits and slip stitches add up to a gorgeous dappled fabric, smart and striking with a pretty color contrast on the other side. For even more depth and fascination, we knit this wrap using two of our fingering weight beauties: Linen Quill and Line Weight. With its magnificent mix of wool, alpaca, and linen, hearty Linen Quill lends an earthy look and feel, while Line Weight is a lithe single ply of 100% merino wool, graceful, delicate, and irresistibly soft. Together, they are light and warm, textured and soft. So inspiring that we've put together seventeen bundles to choose from, in both scarf and wrap sizes! High contrast or low, bright or subdued, pick your favorite to knit your own swath of speckly beauty!
Product Details
MATERIALS
Our Speckled Wrap Bundle comes in Scarf (Wrap) sizes. They include…
Yarn A: 1 (3) skein(s) of Purl Soho's Line Weight, 100% merino wool. Each skein is 494 yards/ 100 grams; approximately 494 (1240) yards required.
Yarn B: 1 (2) skein(s) of Purl Soho's Linen Quill, 50% fine highland wool, 35% alpaca, and 15% linen. Each skein is 439 yards/ 100 grams; approximately 305 (665) yards required.
You'll also need…
SAMPLES: We used Blue Jeans + Cobalt Blue for our Scarf and True Turquoise + Pink Pop for our Wrap.
GAUGE
30 stitches and 56 rows = 4 inches in stitch pattern
NOTE: We used nearly every yard of Yarn A for our Scarf. To avoid running short, please re-use your swatch yarn, double check your gauge, and be conservative with tails!
SIZES
Scarf (Wrap)
Finished Dimensions: Approximately 8 (18) inches wide x 70 inches long
You Might Also Like...
Addi Rocket US 3, 24-Inch Circular Needles
Addi Rockets are the ultimate circular needles for speedy, snag-free knitting! Click here to see our full range of sizes and lengths, or click Add To Basket to purchase these US 3, 24-inch needles for knitting up your very own project!