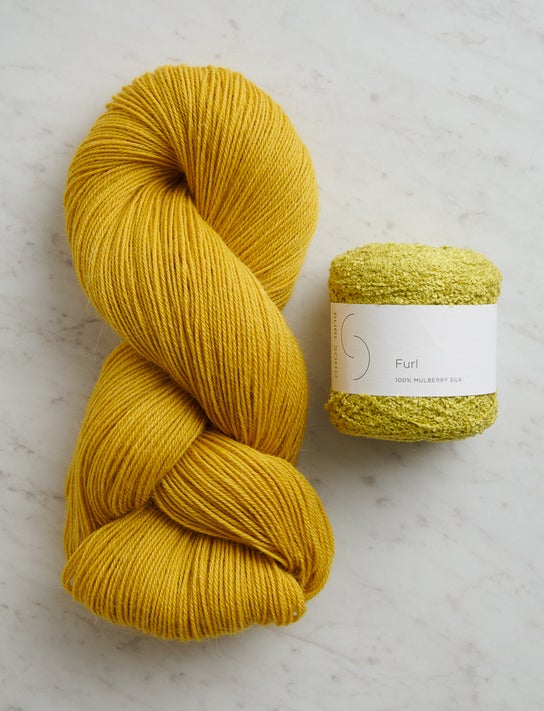 Like a velvety bed of moss, our Luster Cowl calls to you to burrow into its extraordinary softness! You knit this easy stockinette tube then turn purl-side out when you're done, adding some easy decreases for a nice fit. Enjoy its gentle glow, which comes from pairing our 100% mulberry silk Furl with our suri-merino Quartz. Each yarn brings its own radiance...
The Mulberry silk of Furl is renowned for its superior quality, and stunning luminosity.
Spun up in a bouclé, with fluffy loops of fiber strung along its central threads, Furl adds little curls and sweet nubs to the Luster Cowl's wonderful texture.
Quartz's mineralogical glow comes from its suri component. The suri breed of alpacas has long, sleek locks, and they are much less common than their woollier cousin, huacaya alpacas, making this super lustrous fiber really special.
Spun up with merino wool in a fine fingering weight, Quartz is smooth and elegant, the perfect yarn to hold with Furl!
The pattern is as simple as can be, so that you can savor the incredible fabric you're creating as it spills off your needles. You may want to make many for many people! Choose your favorite evocative color combo from our ten Luster Cowl Bundles. You're going to really love knitting this beauty!
Product Details
MATERIALS
Our Luster Cowl Bundle includes all the yarn you'll need to make your own cowl…
Yarn A: 1 skein of Purl Soho's Quartz, 65% merino wool and 35% suri alpaca. Each skein is 420 yards/ 100 grams; approximately 230 total yards required.
Yarn B: 1 ball of Purl Soho's Furl, 100% mulberry silk. Each skein is approximately 274 yards/ 50 grams; approximately 225 total yards required.
You will also need…
Samples: We used Yellow Yarrow + Cadmium Chartreuse, Hydrangea Blossom + Golden Bronze, and Reed Gray + Heirloom White for our cowls.
GAUGE
21 stitches and 28 rounds = 4 inches in stockinette stitch, holding a strand of Yarn A and B together
SIZE
Finished Circumference at Top: 19 inches
Finished Circumference at Bottom: 22 inches
Finished Height: 12 inches
You Might Also Like...
Addi Rocket US 6, 16-Inch Circular Needles
Addi Rockets are the ultimate circular needles for speedy, snag-free knitting! Click here to see our full range of sizes and lengths, or click Add To Basket to purchase these US 6, 16-inch needles for knitting up your very own project!