Gentle Giant Blanket Bundle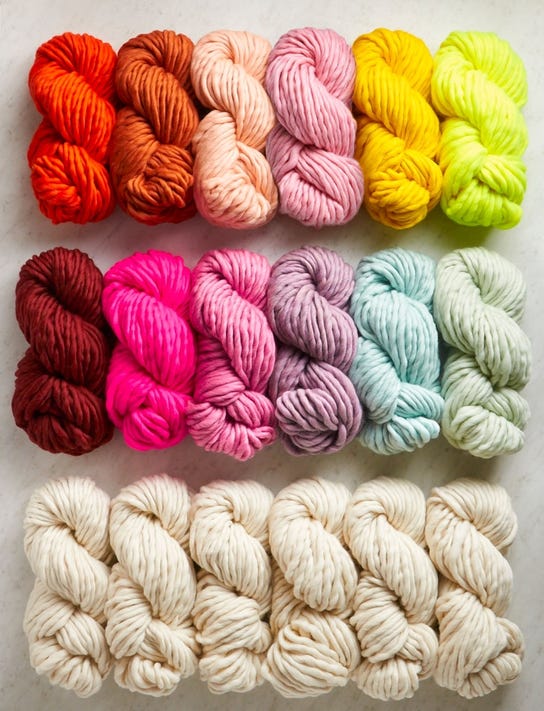 Gentle Giant Blanket Bundle
Our Gentle Giant Blanket Bundles are perfectly conceived for making big, cozy blankets! Use them for our crocheted Granny Square Blanket in Gentle Giant. In our jumbo Gentle Giant, they're quick to finish and wonderful to have around! Hook up a 12-color version with our Gentle Giant Blanket Bundle in a Dozen Colors, in either Soft or Bright. Please click Product Details, above, for more information.
Materials
Our Gentle Giant Blanket Bundle in a Dozen Colors is for our Granny Square Blanket and includes…
Contrast Colors (CC): 12 skeins of Purl Soho's Gentle Giant, 100% merino wool
Main Color (MC): 6 skeins of Gentle Giant in Heirloom White
Choose from two palettes...
SOFT
Top Row: Clay Pot, Orange Koi, Cowrie Pink,  Calico Pink, Wolf Brown, and Winter Bark
Middle Row: Silver Mauve, Purple Lupine, Elephant Gray, Pigeon Gray, Iceberg Blue, and Mint Ice
BRIGHT
Top Row: Orange Koi, Clay Pot, Cowrie Pink, Pink Camellia, Parakeet Yellow, Super Yellow (NOTE: Pink Camellia replaces Honey Amber, which was in the original bundle and is no longer available.)
Sugar Maple, Super Pink, Rose Violet, Purple Lupine, Iceberg Blue, Mint Ice
You'll also need…
Gauge
Each finished Granny Square should measure 10 x 10 inches. If yours is smaller, try a bigger hook; and if yours is bigger, try a smaller one!
Sizes
Finished Dimensions= 30 x 40 inches