Easy Puzzle Blanket Bundle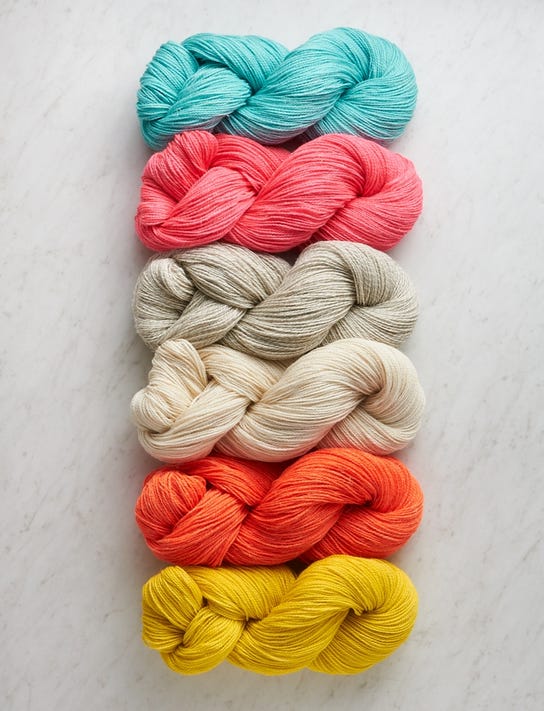 Easy Puzzle Blanket Bundle
All of the pieces fall into place with the free pattern for our Easy Puzzle Blanket. The construction is a simple variation on our classic Four Points Baby Blanket: A square of garter stitch triangles with a few colorful stripes thrown in... A puzzle that's anything but puzzling! The only brainteaser this blanket really presents is what colors of Linen Quill to choose. Play with your own combo or pick up one of these playfiul bundles. Choose from three palettes and problem solved! For more information about materials, sizes, and gauge, just click Product Details, above.
Materials
Our Easy Puzzle Blanket Bundle includes...
6 skeins of Purl Soho's Linen Quill, 50% fine highland wool, 35% alpaca and 15% linen. Each skein is 439 yards.

Color A: 1 skein, approximately 334 yards required

Color B: 1 skein, approximately 198 yards required

Color C: 1 skein, approximately 190 yards required

Color D: 1 skein, approximately 131 yards required

Color E: 1 skein, approximately 190 yards required

Color F: 1 skein, approximately 310 yards required
You will also need…
Choose from three palettes…
SALT WATER TAFFY (We used this one for our sample.)
Color A: Eggshell Blue
Color B: Bright Flamingo
Color C: Oatmeal Gray
Color D: Pale Oats
Color E: Super Orange
Color F: Dandelion Yellow
PARADE
Color A: Green Turquoise
Color B: Heirloom White
Color C: Vintage Celadon
Color D: True Turquoise
Color E: Red Poppy
Color F: Cobalt Blue
RADICCHIO
Color A: Crocus Bud
Color B: Dark Iris
Color C: Pink Pop
Color D: Chestnut Red
Color E: Rhubarb Pink
Color F: Wheat Flour
Gauge
29 stitches and 56 rows = 4 inches in garter stitch
Size
Finished Dimensions: Approximately 30¾ x 30¾ inches
You Might Also Like...
Addi Turbo Rockets are the ultimate circular needles for speedy, snag-free knitting! Click here to see our full range of sizes and lengths, or click Add To Basket to purchase these US 3, 32-inch needles for knitting up your very own Blanket!