Measuring a gauge swatch is really no big deal, and it can yield essential information for your knitting designs.  Here is a simple explanation for making and measuring a gauge swatch.
First of all, it helps to know what GAUGE (pronounced gay-juh) means.  In knitting and crochet, gauge refers to the approximate number of stitches per inch (or 4 inches) horizontally, and how many rows per inch (or 4 inches) vertically, in a fabric.
Step 1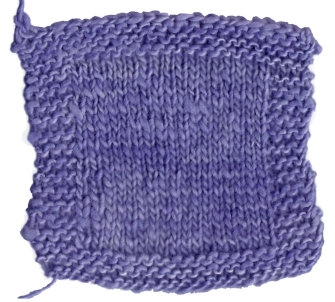 Begin by reading the label on your yarn.  The needle size and gauge listed on the label are generally intended for a medium-density fabric, not too loose and not too dense (which we call woolly cardboard).  This sample swatch is made of Manos del Uruguay Handspun Semi-Solids, which is typically knit on US size 7 – 9 needles for a gauge of about 4 stitches per inch.
To get an accurate measurement you'll need about 4 square inches in which to measure; for this swatch I cast on 25 stitches with US size 9 needles. The garter stitch border helps keep the swatch from curling around the edges.  Depending on what stitch pattern you are experimenting with, you may not need a border at all.
Step 2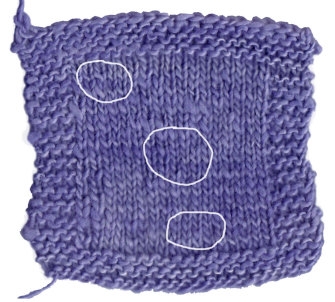 Lay the swatch flat.  You may gently hand block the swatch by stretching it horizontally, vertically, and diagonally a few times before you measure it, but you don't want to distort it too much.
I like to start in the center of the swatch and measure how many stitches are in one inch.  Then I measure in one or two other spots.  I'm always surprised by how the tension can change over a few rows!
Step 3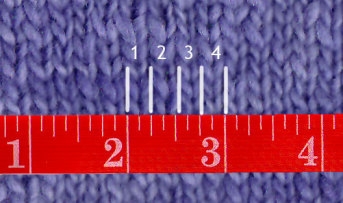 Beginning in the center of the swatch, line up your measuring tape with the left edge of a stitch.  It helps to think of each individual stitch as a V.  You might want to use a pencil or the tip of your needle to trace the V shapes as you count.
Counting from left to right, I got 4 stitches between the 2 and 3 marker on the tape.
Step 4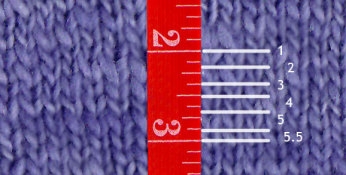 Count the number of rows per inch by turning your measuring tape 90o.  Line up the tape along the left edge of a vertical column of stitches.  I counted 5.5 rows between the 2 and 3 markers — almost 6 rows.  Measuring again in a different spot, I counted only 5 rows.  A third sample counted 5 rows again, so my gauge for this swatch is 4 stitches and 5 rows per inch.
Wondering how to change your gauge?  Maybe our Not Too Tight Tutorial can help!