As the sun warms the earth, sprouts grow bold, unfurling into dramatic wide-leafed hostas, bright happy tulips, and beautifully complex ferns. Julie Hoover's Arie takes a cue from new life, with a simple pleat at the neckline that unfolds and billows, transforming this comfortable top into a work of natural beauty.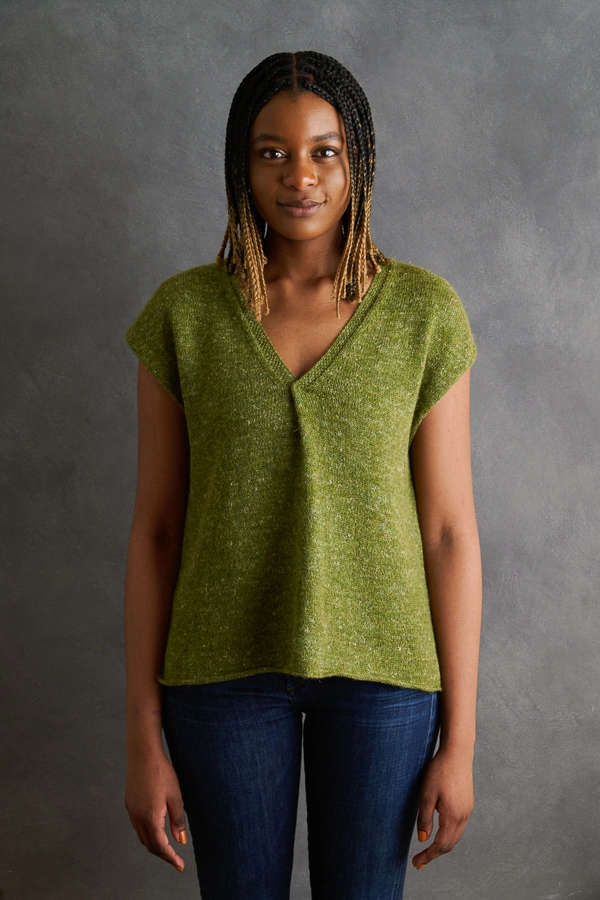 You make the Arie in two pieces from the bottom up, working the fold into the bottom of the V before shaping the neckline and armholes. Once seamed and finished, the shape of the sleeves curves beautifully down the shoulders and around the arms. A split hem that dips a bit lower in the back and a graceful, seed stitch V-neck complete the thoughtful details.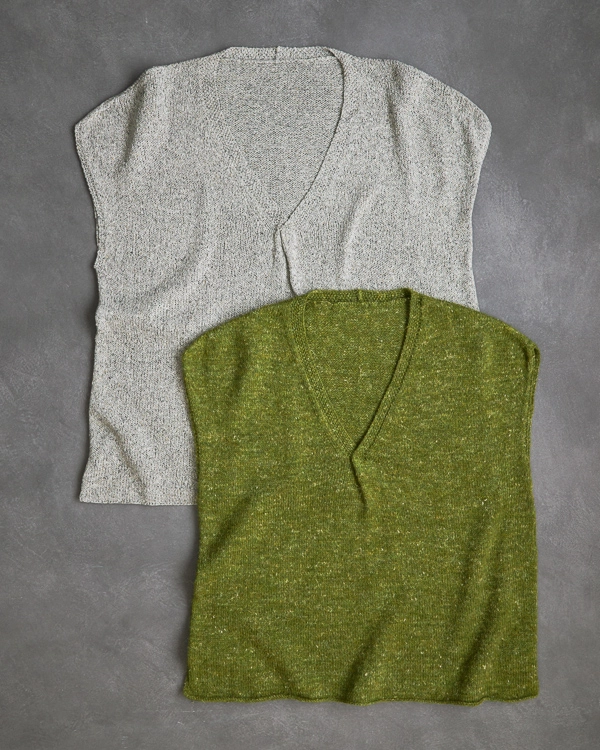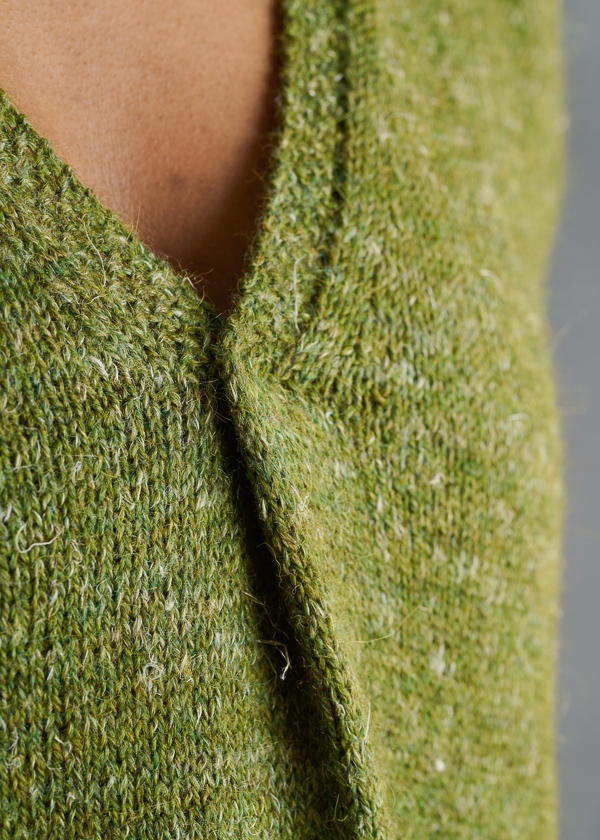 For this pattern you can choose either Linen Quill (above) or Cattail Silk (below), two of our favorite yarns for natural charm. Linen Quill combines fine wool, alpaca, and linen into a yarn that is wonderfully rustic, but still soft. Available in an astounding range of colors, Linen Quill creates a lightweight garment, a bit cozier and squishier than the silk. It's perfect as a cold-weather layer or on its own when the evening air or sea breeze might call for a bit of warmth.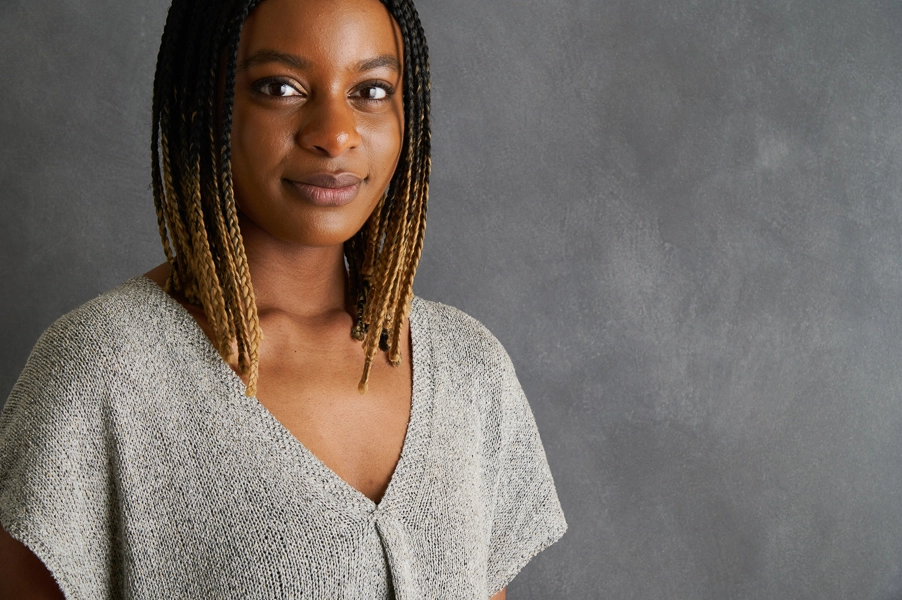 Cattail Silk is a 100% silk yarn that has an earthy texture and soft shine, lending it a casual elegance that's perfect for any occasion. It leads to a light and airy Arie with a gorgeous drape, and will keep you cool on a summer's day. Whichever yarn you choose, you'll love knitting and wearing this down-to-earth beauty!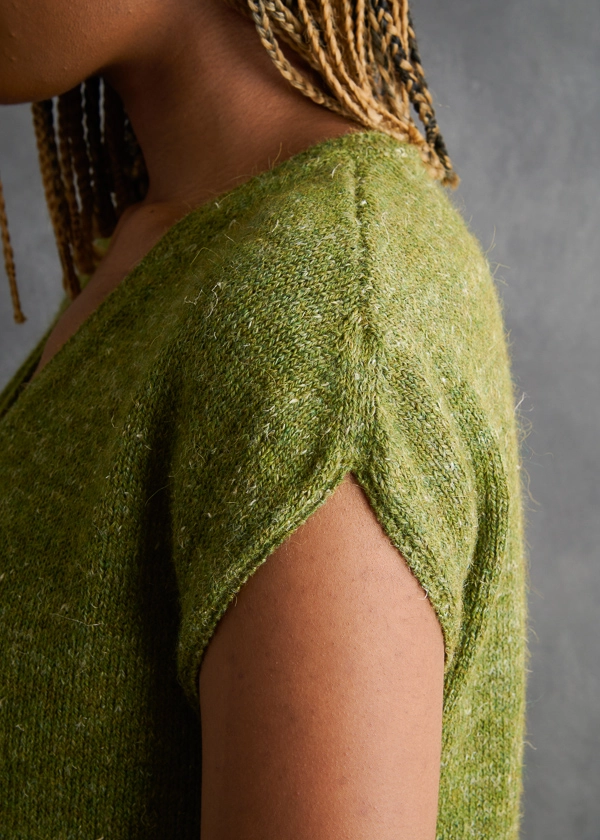 Designed for Purl Soho by Julie Hoover. Currently based in Ann Arbor, Michigan, Julie Hoover designs knitwear and makes yarn, for both her own personal label and others. Her work reflects a lifelong passion for clothing and textiles, and her view that knitting is a beautiful way of creating timeless fashion, a thoughtful mix of quality and creativity, intention and care.
Share your progress and connect with the community by tagging your pics with #PurlSoho, #PurlSohoBusyHands, #PurlSohoArie, #PurlSohoLinenQuill and #PurlSohoCattailSilk. We can't wait to see what you make!
Materials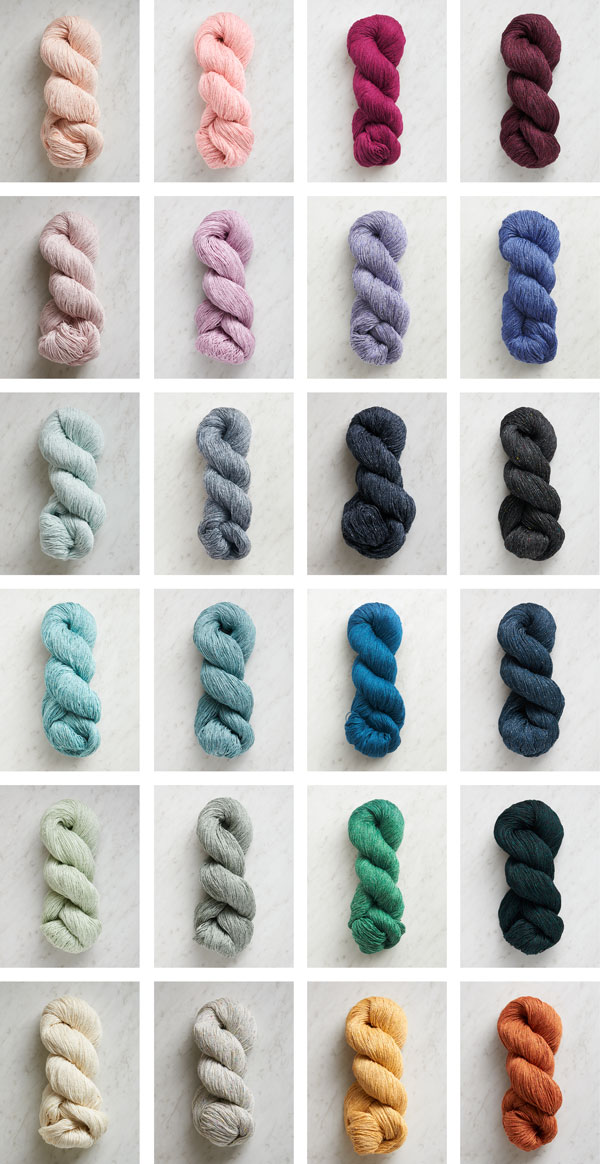 2 (2, 2, 3, 3) (3, 3, 4, 4) skeins of Purl Soho's Cattail Silk, 100% silk. Each skein is 618 yards/ 100 grams; approximately 970 (1080, 1220, 1360, 1490) (1685, 1850, 2045, 2220) yards required. We used the color Thin Cloud Gray.
OR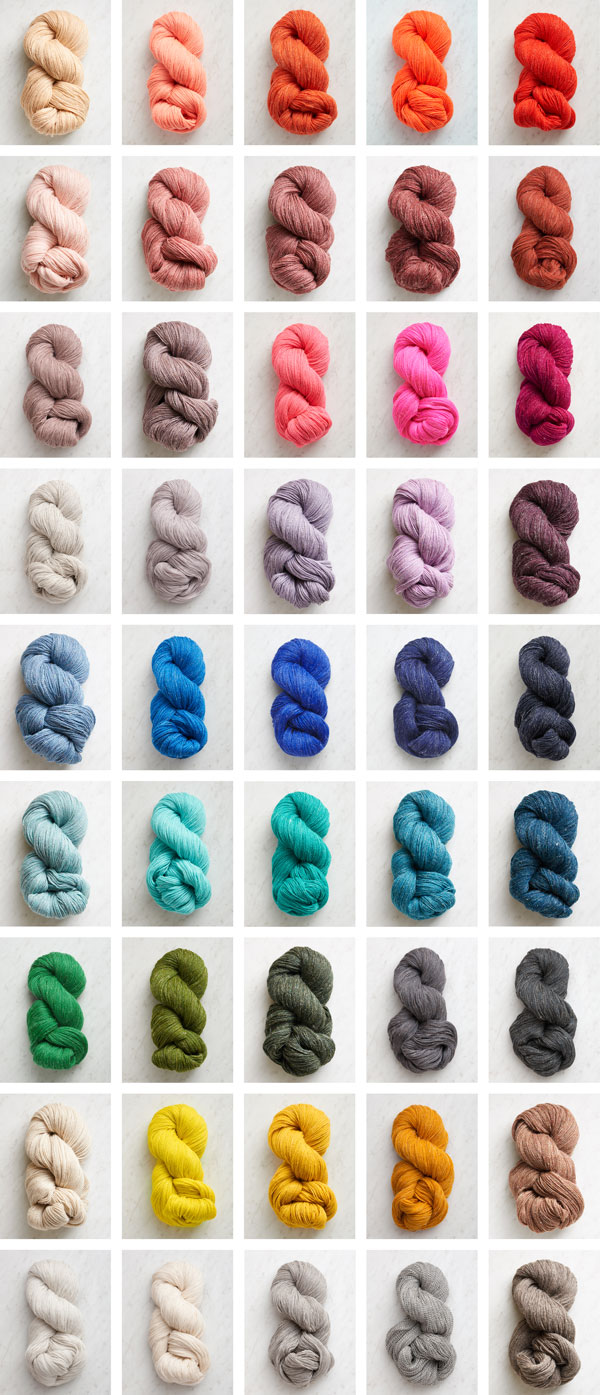 2 (3, 3, 3, 4) (4, 4, 5, 5) skeins of Purl Soho's Linen Quill, 50% fine highland wool, 35% alpaca, and 15% linen. Each skein is 439 yards/ 100 grams; approximately 875 (985, 1115, 1240, 1355) (1535, 1690, 1865, 2025) yards required. We used the color Fresh Pickle.
You'll also need…
GAUGE
25 stitches and 38 rows = 4 inches in stockinette stitch
SIZES
NOTE: For help deciding which size to knit, please visit our Understanding Ease + Selecting Your Size tutorial.
39¾ (43½, 47¼, 51¼, 55) (59, 62¾, 66½, 70½)
To fit actual chest circumference of 29–33 (33–37, 37–41, 41–45, 45–49) (49–53, 53–57, 57–61, 61–63) inches, with approximately 6–10 inches of ease
Finished Chest Circumference: 39¾ (43½, 47¼, 51¼, 55) (59, 62¾, 66½, 70½) inches
Finished Hip Circumference: 43¼ (47¼, 51, 55, 58¾) (62½, 66½, 70¼, 74) inches
Finished Length From Shoulder To Bottom Edge: 24¾ (25¼, 26¼, 27, 27½) (29, 30, 31¼, 32) inches
Samples: The sweaters pictured here are size 43½, worn with 9½ inches of ease.
PATTERN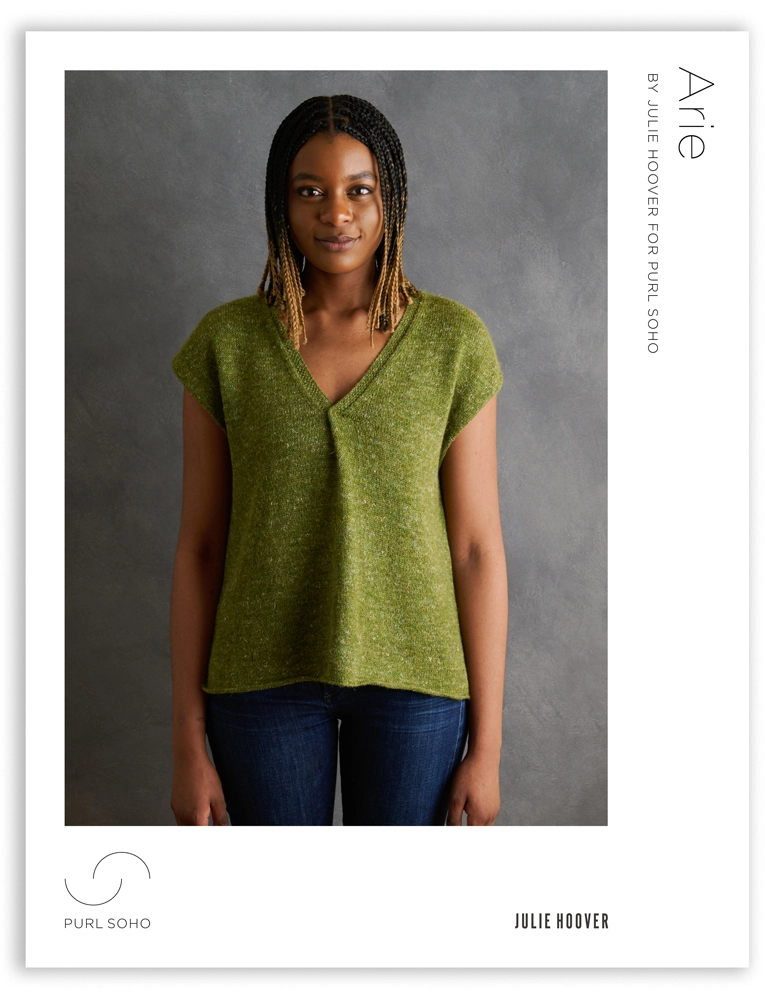 The Arie Pattern is available for purchase as a PDF download only.