Scale-altering and proportion-bending, knitting lace with super bulky yarn a little bit unexpected and, in the case of our Big Lace Wrap, a whole lot beautiful, too!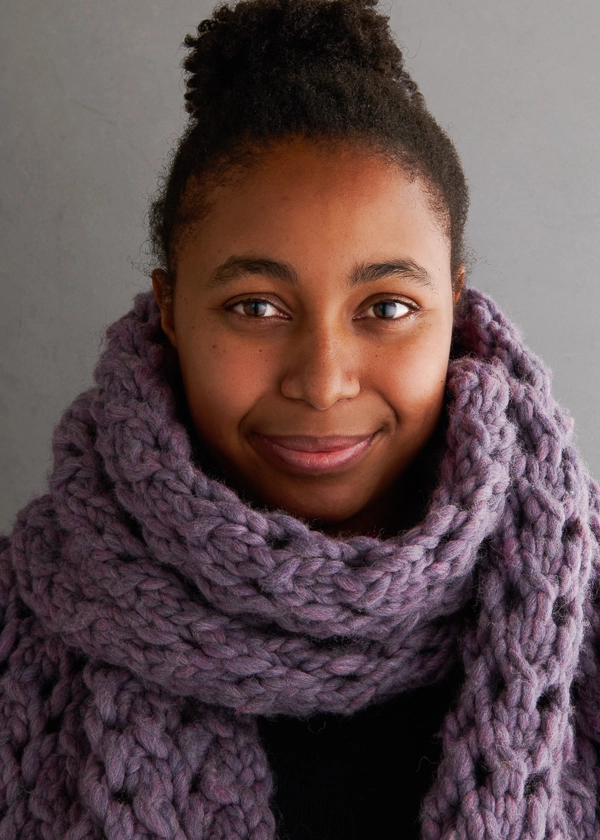 Our new Woolly Wool affords all this play with its single ply, big, plump wooliness! Similar to our Gentle Giant, but a bit thinner and a touch less super soft (but, for sure, still soft!), Woolly Wool is a more affordable option with more than twice the yardage.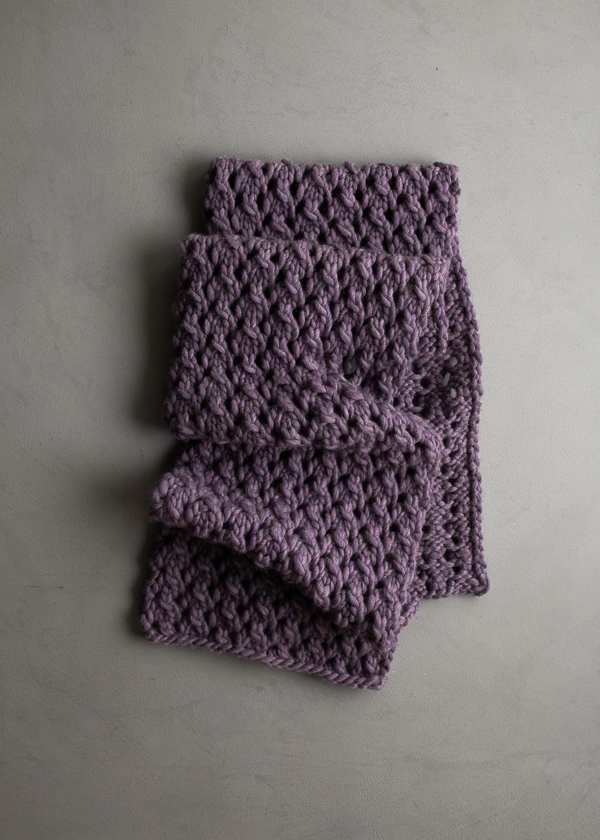 With its exaggerated stitches, we love the way Woolly Wool gives this easy two-row lace pattern a bullhorn through which to shout, "Look at the amazing things knitting can do!"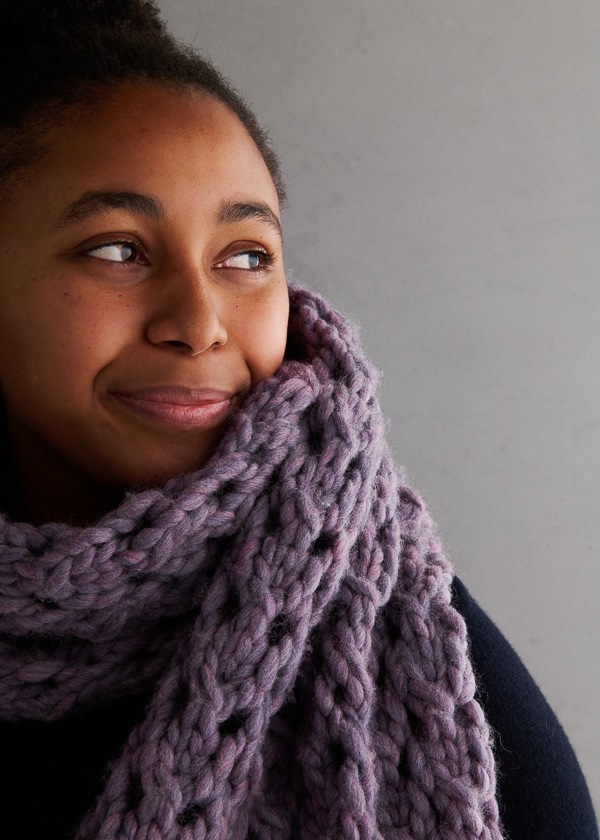 Make your Big Lace Wrap like ours, really big and generous, or follow the pattern for a narrower scarf version, still wonderfully warm and cuddly. You'll need just three skeins for the wrap and two for the scarf!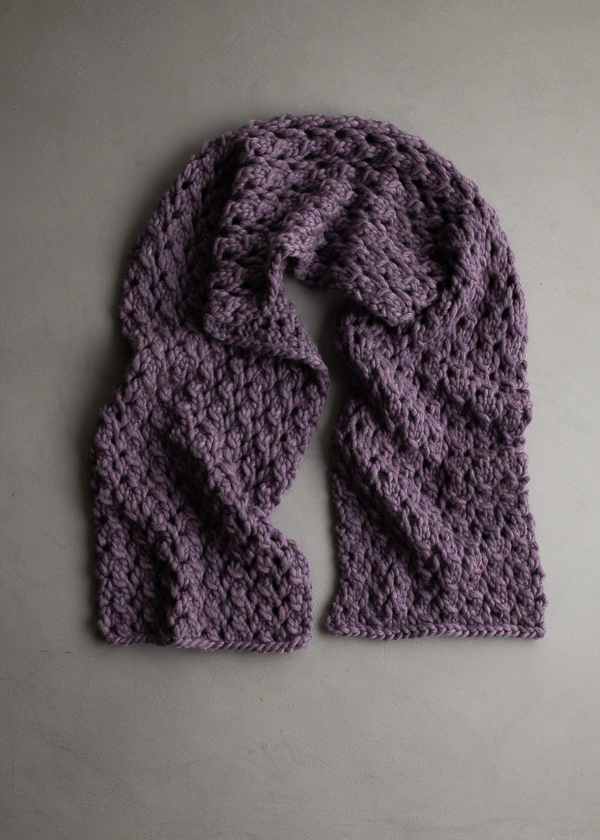 We used the color Purple Moor. A subdued and heather-y violet, it's a real still-waters-run-deep beauty!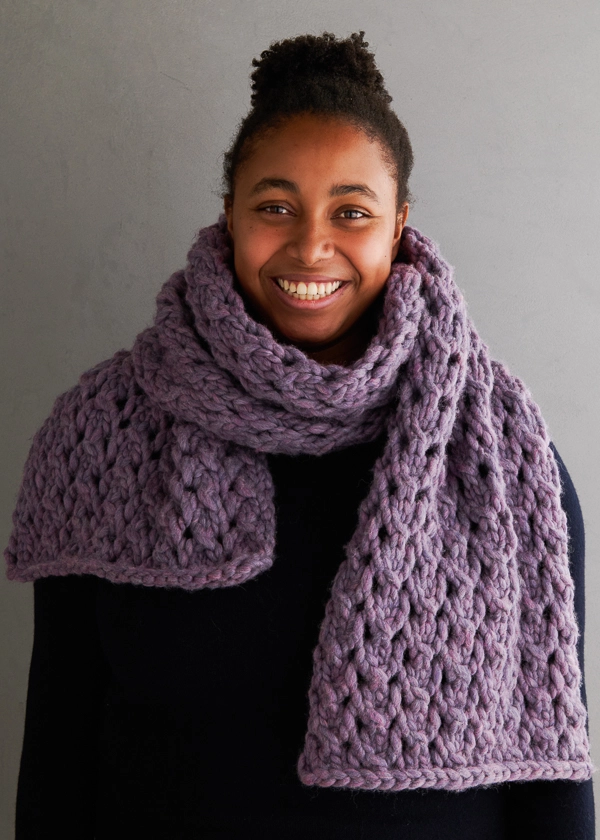 Designed by Purl Soho founder and co-owner, Joelle Hoverson.
Share your progress + connect with the community by tagging your pics with #PurlSoho, #PurlSohoBusyHands, #PurlSohoBigLaceWrap, and #PurlSohoWoollyWool. We can't wait to see what you make!
Materials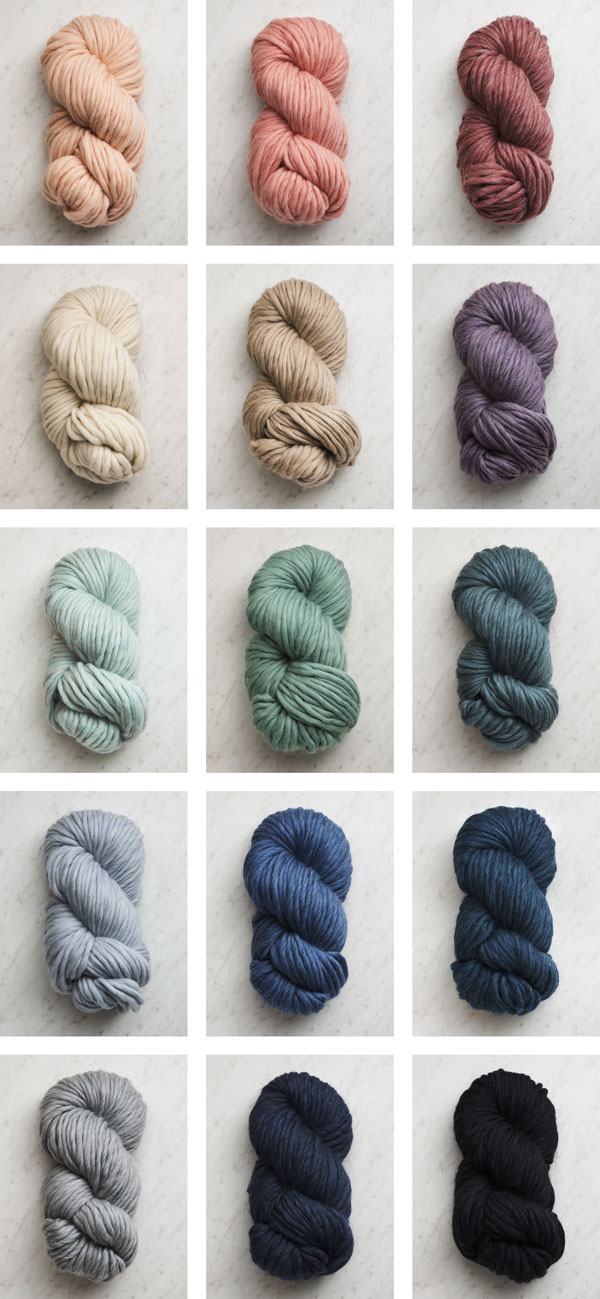 2 (3) skeins of Purl Soho's Woolly Wool, 100% wool. Each skein is 109 yards/ 200 grams; approximately 162 (300) yards required. We used the color Purple Moor.
US 17 (12 mm) straight or circular needles (20-, 24- or 32-inch lengths would be most comfortable)
Sizes
Scarf (Wrap)
Finished Dimensions: Approximately 7 (13) inches wide x 70 inches long
Sample: We knit the Wrap size.
Gauge
8 stitches and 10 rows = 4 inches in stitch pattern, blocked
8 stitches and 10 rows = 4 inches in stockinette stitch
Notes
Stitch Multiple
This pattern is worked over a multiple of 6 stitches + 2.
Sk2p (slip, knit 2 together, pass)
Slip 1 knitwise, knit 2 together, then pass the slipped stitch back over. [2 stitches decreased]
Pattern
Cast on 14 (26) stitches. We used a basic Long Tail Cast On.
Set-Up Row (wrong side): Purl to end of row.
Row 1 (right side): K1, *k3, yarn over (yo), sk2p (see Notes), yo, repeat from * to last stitch, k1.
Row 2 (wrong side): Purl to end of row.
Row 3: K1, *yo, sk2p, yo, k3, repeat from * to last stitch, k1.
Row 4: Purl to end of row.
Repeat Rows 1-4 forty-four more times or until scarf measures approximately 70 inches from cast-on edge, ending with Row 3. Be sure to leave enough yarn to bind off.
Bind off loosely purlwise.
Weave in ends, and lightly steam, if desired.