The Purl Bee has a long holiday tradition of facing the eleventh hour with a recipe for a festive sweet. This year we are thrilled to have our good friends from the food blog, Kitchen Repertoire, share their fabulous Homemade Marshmallows. As stocking stuffers or tokens on Santa's plate, these melt-in-your-mouth treats are tasty, fun and completely irresistible!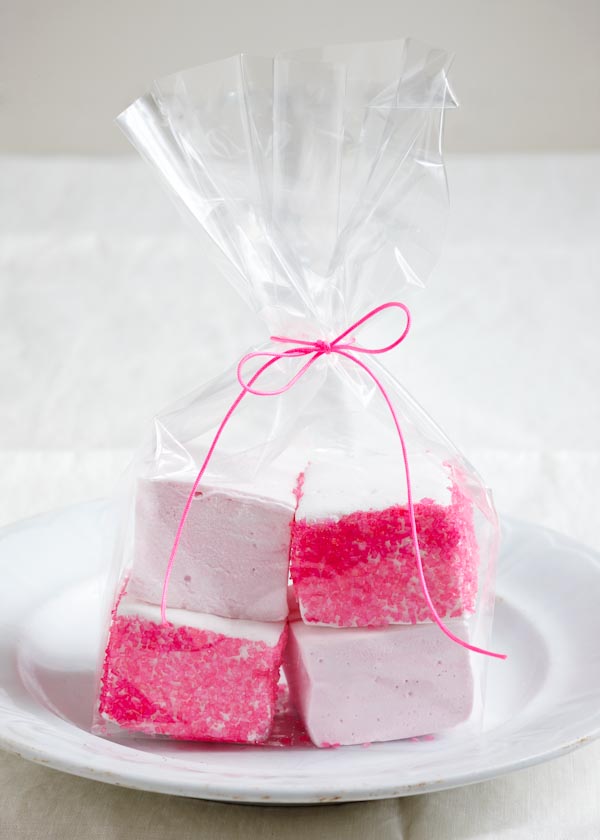 The talented women behind Kitchen Repertoire, Frances Boswell and Dana Gallagher, report that when Frances's two daughters and Dana's one joined them in the kitchen, this assignment turned into a party… A pink party! In the end, what they all discovered is that, although marshmallows may seem too fanciful to actually make at home, you totally can! Here's how they did it…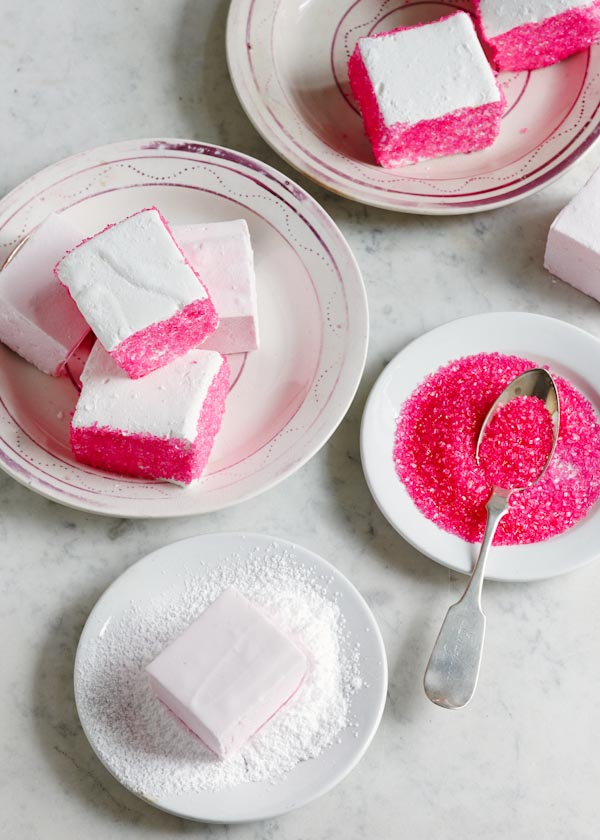 Kitchen Repertoire's Homemade Marshmallows Recipe
Note: Questions about this recipe? Ask the source! This same Homemade Marshmallow Recipe is on Kitchen Repertoire right here.
Ingredients
2 1/2 tablespoons unflavored gelatin
2 cups sugar
1 cup light corn syrup
1/4 cup mild honey
1/4 teaspoon salt
3/4 cup water + 1 tablespoon
OPTIONAL
Flavoring (We used raspberry flavoring for one batch and peppermint for another.)
Food coloring (We added a touch of hot pink food coloring to the raspberry batch and left the peppermint white.)
Sprinkles or confectioner's sugar (We used pink sprinkles on some marshmallows and confectioners sugar for others.)
Make Them
In a bowl sprinkle gelatin over 1/2 cup plus 1 tablespoon water.  Let stand to soften.
Meanwhile combine sugar, corn syrup, honey, salt and 1/4 cup water in a large heavy pot. Cook over medium heat for a few minutes until combined.
Increase heat and bring to a full boil for about 30 seconds, stirring frequently.
Reduce heat and stir in gelatin and 1 tablespoon of whatever flavoring you wish. Stir for a 30 more seconds until all the gelatin has dissolved.  (Be careful when you add the flavoring as the alcohol causes it to splatter sometimes.)
Transfer the mixture into the bowl of an electric mixer, add a drop or two of food coloring (if using)  and whisk until white and fluffy and very stiff peaks form, about 5 minutes at a high speed.
Spray the bottom and sides of a 9 x 13-inch baking pan with Pam (lots and lots of Pam!), then line the pan with parchment paper and spray the parchment too.
Spray a rubber spatula with more Pam and transfer marshmallow goo into the pan.  Flatten top, using sprayed spatula.
Let cool at room temperature. Wrap in plastic and allow to stand overnight.
Turn out the marshmallows. Spray a knife with Pam. Cut into squares of any size.
If using confectioner's sugar, toss each marshmallow with sifted sugar, shaking off excess. If decorating with sprinkles, skip the confectioner's sugar and dip the marshmallows' ends into sprinkles.
Now whip up some tasty hot chocolate and enjoy the DIY magic of Homemade Marshmallows!