Even though Christmas decorations were on display at my local drugstore long before Halloween, it is actually Thanksgiving that is the official start of the holiday season. But while I may be a stickler for its start time, I am also a huge fan of the holiday season. Thanksgiving is the jumping off point for so many beloved traditions, not the least of which is my annual set of Thanksgiving napkins, which I have been making for the Purl Bee since 2006!

I have always loved the dignity of traditional hemstitched linens, but as much as I love the holiday season, who has time to meticulously hand stitch a whole set of napkins? So this year I cheated a bit and used pulled threads to create a set of Faux Hemstitch Napkins that replicate the same classic look… in a fraction of the time! I finished the set with a cute fringed edge, which means the whole endeavor requires almost no sewing!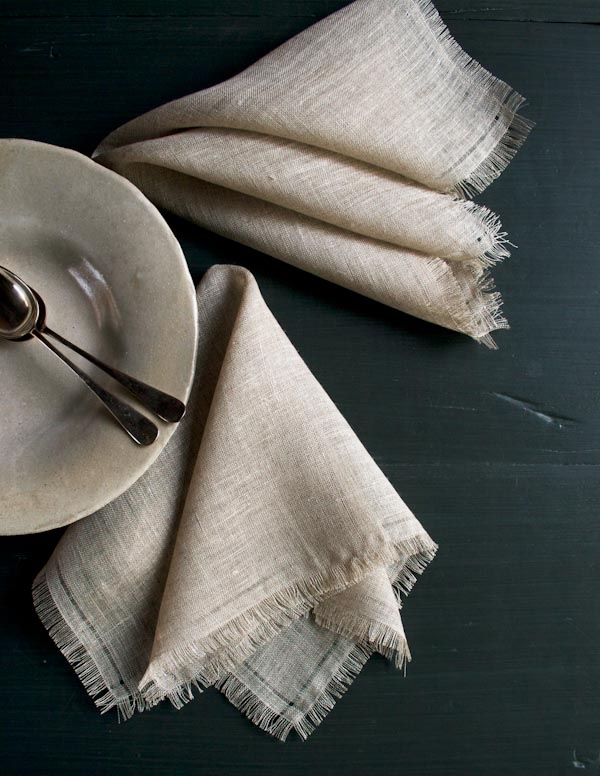 These Faux Hemstitch Napkins will definitely add homespun charm to any Thanksgiving table and with very little work, which should help make your holidays even happier! Okay… you can start. – Molly
P.S. If you'd like to see of my previous Thanksgiving Napkin Projects click here!
Materials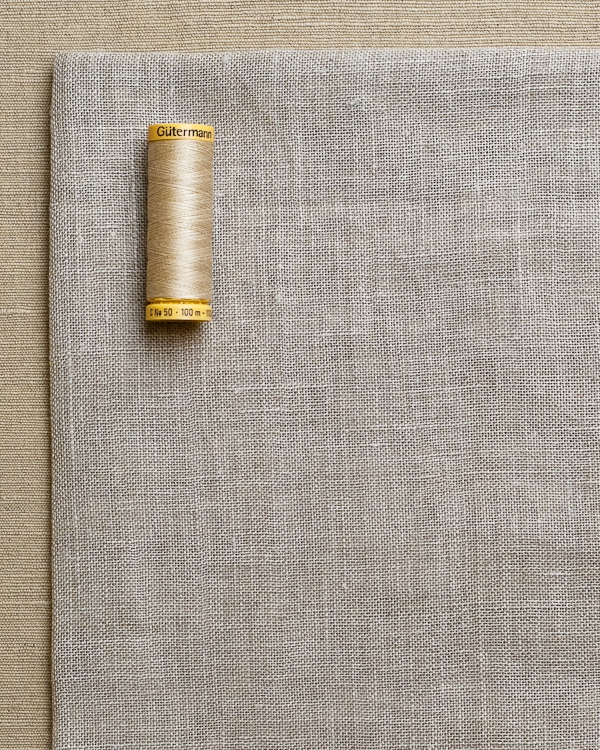 1 yard of Globalweave Textile's Sheer Linen from India in Natural
A 110 yard spool of Gutermann's Cotton Thread in color 3260
These are enough materials to make six napkins. You can get 3 napkins out of each ½ yard of fabric.
You will also need a pair of tweezers.
Size
16½ inches square
Notes
Pre-wash and dry the fabric.
Warp threads run parallel to the selvage.
Weft threads run perpendicular to the selvage.
We used a contrasting thread in the Sew and Create Fringe section just so it would be more visible, but you will be using the matching thread.
Pattern
This pattern is also available as a printer-friendly PDF. Just click here!
To create the faux hemstitches you will use tweezers to remove several warp and weft threads (see Notes section, above). Here's what to do…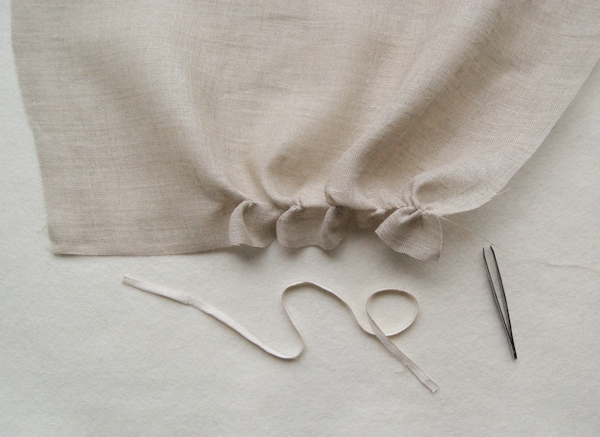 Trim the selvage off one end of one fabric strip. One and a half inches from that raw edge, use tweezers to pull a warp thread out of the fabric.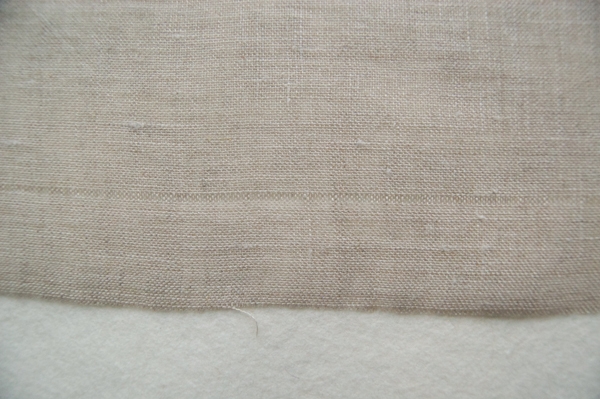 Do this two more times so that you have pulled three warp threads and created an open line of faux hemstitches.
Fifteen inches above this first row of faux hemstitches, pull three more warp threads. You now have two parallel lines of faux hemstitches 15 inches apart from one another.
Cut the fabric 1½ inches above this second line of faux hemstitches.
Orient this 18-inch square so that the two lines of faux hemstitches are at the top and bottom and the un-pulled sides are at the left and right.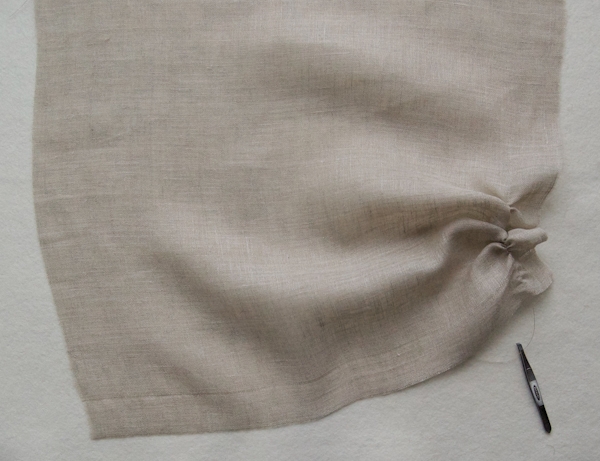 Starting 1½ inches to the left of the right raw edge, pull three weft threads, shown above and below.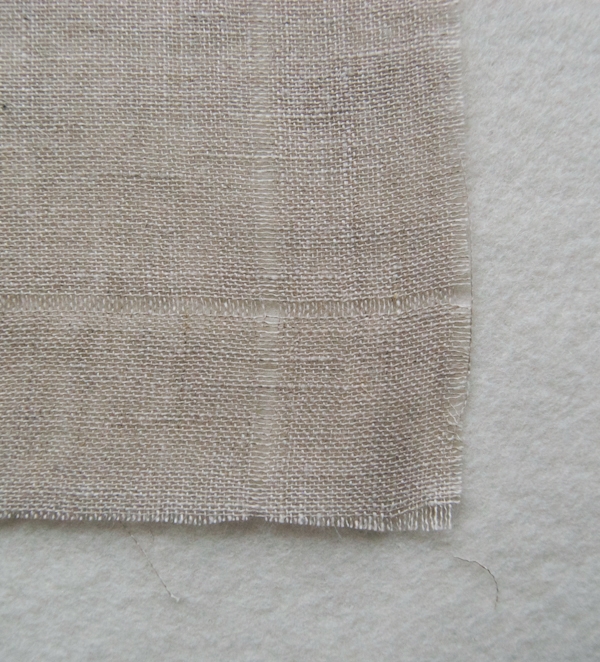 Measure 15 inches to the left of this faux-hemstitch line and pull three weft threads here as well. You now have four lines of faux hemstitches all the way around the square.
Sew and Create Fringe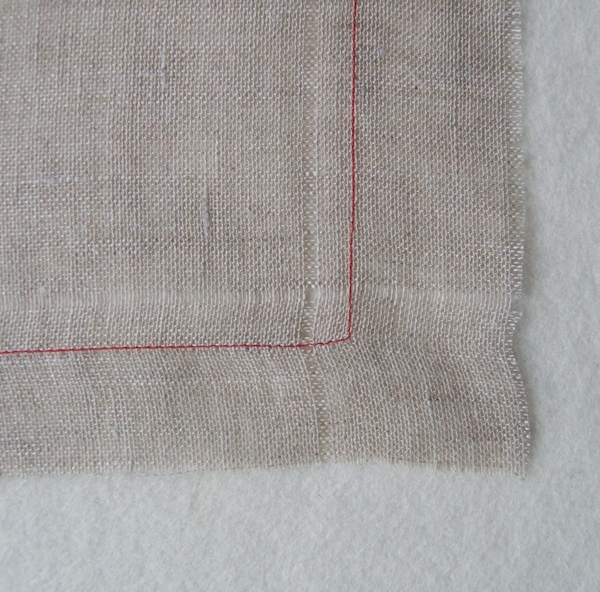 Sew ¼ inch outside of the hemstitching, around all four sides Backstitch at the beginning and end.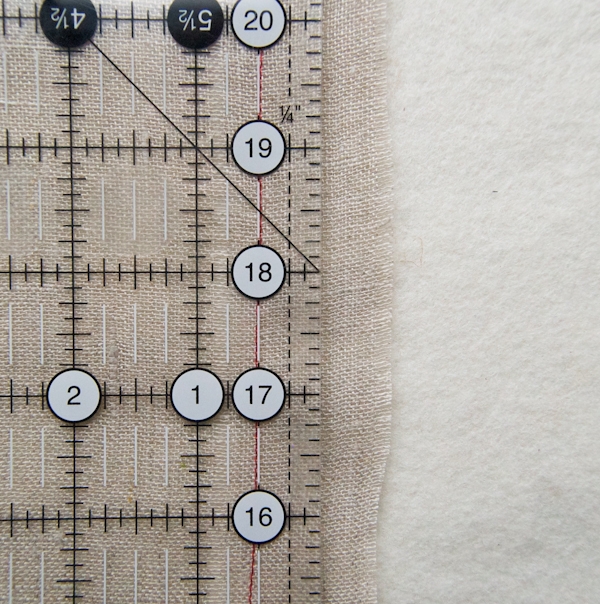 Using a rotary cutter, cut the edges of the square so they are ½ inch away from the sewn lines.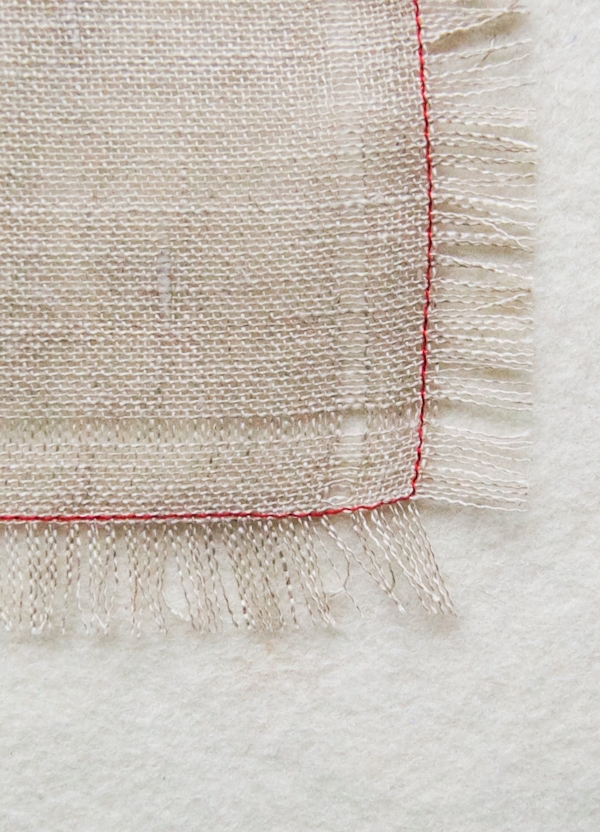 Use the tweezers (and possibly a straight pin) to remove the threads that are outside of and parallel to the sewn lines.
Repeat this process two more times with this strip of fabric and then make three more napkins with the second strip of fabric. Press each napkin and set the table!