These Color Tipped Scarves are a celebration of what's new! This month Purl Soho welcomes twelve fresh colors to our palette and a brand new yarn to our collection: Say hello to, Worsted Twist Heather, a softly dappled, classic tweed without the classic scratchiness. All these new colors and yarns come together here in our Color Tipped Scarves for a feast of the senses. Rich colors and cool neutrals, sensuous merinos and gentle tweeds, it's a party!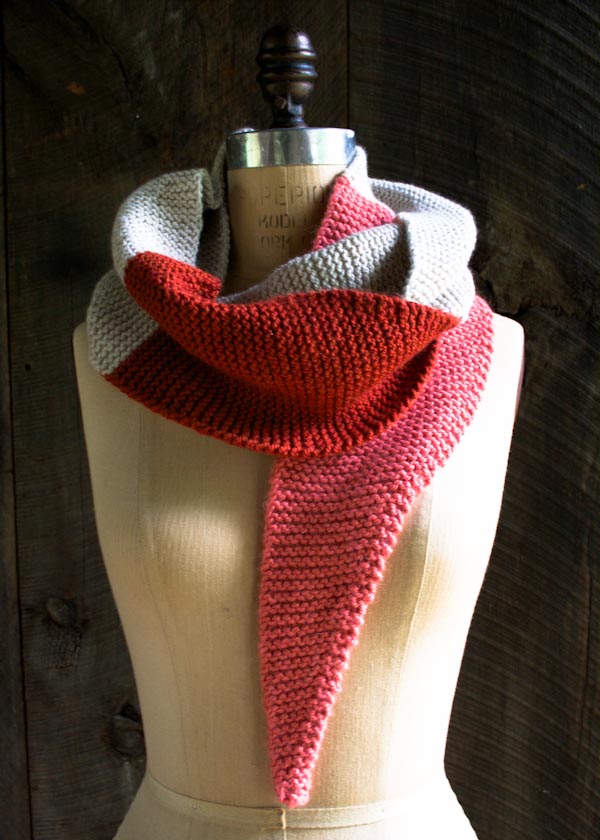 Our original Color Tipped Scarves were knit up in just Purl Soho's Worsted Twist, but this season's version makes subtle play of the contrasts in all of Purl Soho's worsted weight yarns. Clean and crisp Worsted Twist abuts downy Alpaca Pure, who neighbors stippled Worsted Twist Heather. The effect is complex, subtle and absolutely beautiful!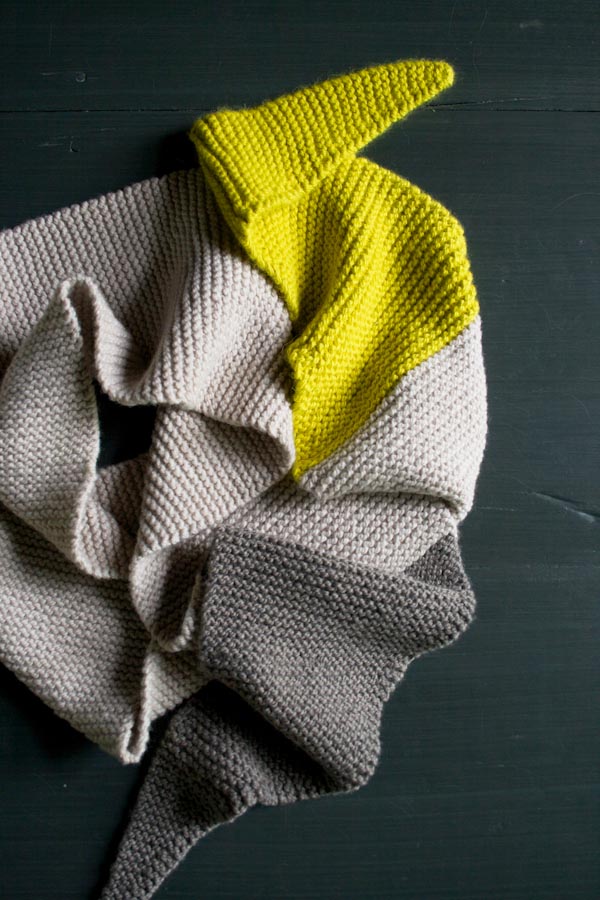 Share your progress and connect with the community by tagging your pics with #PurlSoho, #PurlSohoBusyHands, #PurlSohoColorTippedScarf, and #PurlSohoWorstedTwist. We can't wait to see what you make!
Here's everything you need to know to get started!
Materials
To make one kid (adult) size Color Tipped Scarf, you will need:
Yarn A: 1 skein of Purl Soho's Alpaca Pure (no longer available); approximately 30 (60) yards required.
Yarn B: 1(2) skein(s) of Purl Soho's Worsted Twist, 100% merino. Each skein is 164 yards/ 100 grams; approximately 164 (328) yards required.
Yarn C: 1 skein of Worsted Twist; approximately 30 (60) yards required.
US 8 (5 mm), straight or circular knitting needles
Here's what we used…
Alpaca Pure in Artemisia
Worsted Twist in Timeless Navy
Worsted Twist Heather in Denim Blue
Alpaca Pure in Black Green
Worsted Twist in Artemisia
Alpaca Pure in Green Turquoise
Gauge
17 stitches = 4 inches in garter stitch
Sizes
For Kid (Adult)…
Before blocking: Approximately 5½ (8) inches wide x 56 (79) inches long
After blocking*: Approximately 5½ (8) inches wide x 58 (82) inches long
*Garter stitch has a tendency to "grow" with blocking and wear.
Pattern
For the full, free Color Tipped Scarf pattern, click here!