My creative mind does not work in a super linear fashion, and as a result, I'm always juggling a handful of projects at once. I somehow manage to keep all of these various projects quite well organized, if I do say so myself. How? Easy Drawstring Bags, loads of 'em!  Some big, some small, some bright, some subtle, the more I make the more I use and not just for knitting and sewing. I find they come in handy all the time, as a cute gift wrapping alternative, a toiletry sack, a shoe bag, a pajama pouch, the list goes on!
Actually, we originally designed the Easy Drawstring Bag to store a bundle of colorful Felt Jelly Bean Bags, but since then it has become an integral part of all of our lives, tidily tucking away all sorts of things. And so, when our dear friends from Martha Stewart asked us to do a post for their wonderful Craft Department blog, picking which project to share was a no brainer. You can visit us at Martha Stewart right here!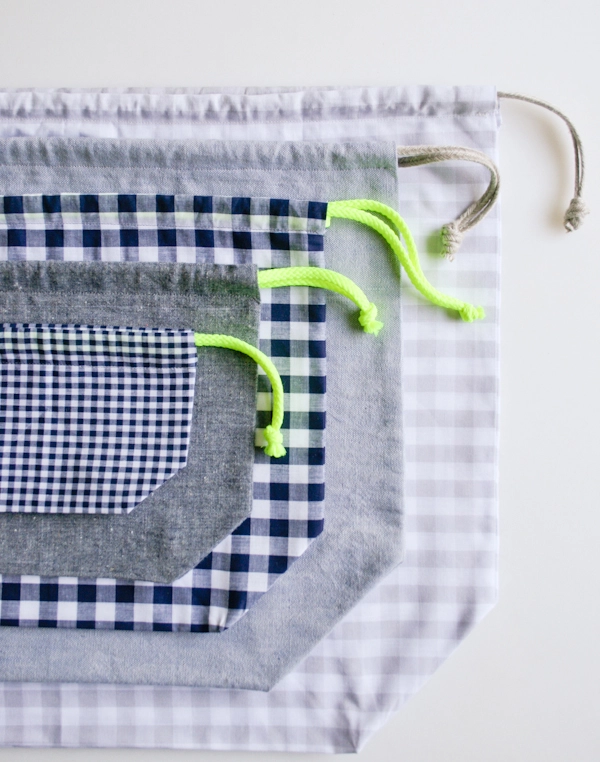 For this new version of the Easy Drawstring Bag, we created four more sizes and we gave them a fresh look with some of our very favorite fabrics. We chose Kokka's timeless Small and Large Ginghams, as well as the slightly nubbly, handsome blues of Kiyohara's Upholstery Weight and Linen Blend Solids. To jazz up these classic colors and prints, we paired them with the richly textured, cotton-linen Fishtail Braided Cording and electric Neon Lacing. You can find these and even more fabric and trim options right here!
Materials
To make a x-small (small, medium, large, x-large) drawstring bag:
Sizes
x-small: 5 1/2 inches wide x 3 3/4 inches tall x 2 1/2 inches deep
small: 8 1/2  x 6 1/4 x 2 1/2 inches
medium: 11 1/2  x 9  x 4 inches
large: 14 1/2 x 11 1/4 x 5 inches
x-large: 17 1/2 x 13 3/4 x 6 inches
Pattern
For the full pattern, including all the sizing updates, step-by-step photos and lots of tips, visit our original Easy Drawstring Bags post here!