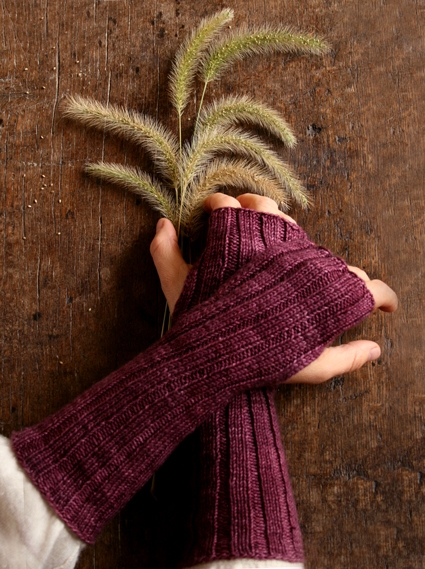 If you're a careful reader of the Purl Bee, you may have noticed by now what a big fan I am of hand warmers. I love how practical they are (no holding dirty mittens between your teeth while you fish around for keys); I love how fast they are to make (you just can't say that about too many knitted things!); I love how flattering they are on everybody's hands; and, for all these reasons, I love how perfectly suitable they are as gifts (I'm remembering recent recipients: friend Claudia has a pair, so do aunt Bretta, cousin Katie, and sister-in-law Jen.).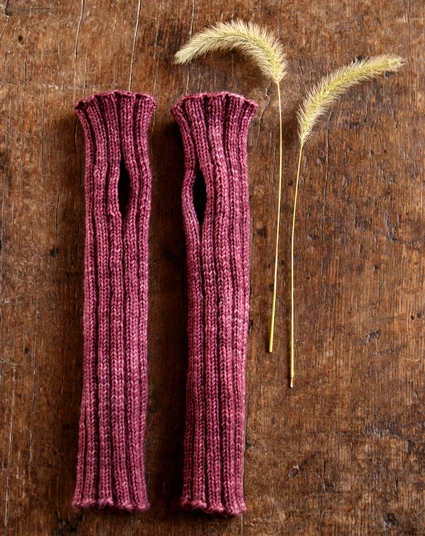 Ever since Joelle made the Log Cabin Baby Blanket for her new niece out of Anzula's Squishy, I have been really anxious to give it a try. Joelle is a tough customer when it comes to yarn, so her rave reviews of this one set my expectations high. I was not disappointed! This is a seriously pleasurable yarn to knit with, maybe because of the 10% cashmere, the lofty spin, the super high-quality merino, or the generous 385 yards per skein, or because of all those things plus some magical ingredient. Add to its luxurious feel the beautifully hand-dyed palette of sophisticated, quirky colors, and I've got a new favorite yarn!
Designed by Purl Soho designer, Whitney Van Nes.
Share your progress and connect with the community by tagging your pics with #PurlSoho, #PurlSohoBusyHands, and #PurlSohoRibbedFandWarmers. We can't wait to see what you make!
The Materials
1 skein of Anzula's Squishy, 80% Superwash Merino, 10% Cashmere, 10% Nylon. Each skein is 385 yards/ 100 grams; approximately 190 yards required. We used the color Plum. (NOTE: One skein is enough for at least 2 pairs of hand warmers.)
A set of US 3 (3.25 mm) double-pointed needles
GAUGE
16 stitches = 1 inch in 3×2 rib, unstretched
5½ stitches = 1 inch in 3×2 rib, comfortably stretched
SIZE
11 inches long, stretching up to 9 inches around to fit most women's hands
The Pattern
Wrist
Cast 50 stitches onto double-pointed needles. We used a basic Long Tail Cast On.
Join for working in the round, being careful to not twist the stitches and placing a stitch marker if you want to.
Round 1: *K3, p2, repeat from * to end of round.
Repeat Round 1 until the piece measures 8 inches from the cast on edge.
Thumb Hole
NOTE: For the thumb hole, you will work back and forth in rows, turning the work between each row, as you would a flat piece of knitting. Work the stitches on the double-pointed needles just as they are, moving from one needle to the next.
Row 1: [K3, p2] four times, k4, turn so the inside of the hand warmer is facing you. (You work only 24 stitches for Row 1.)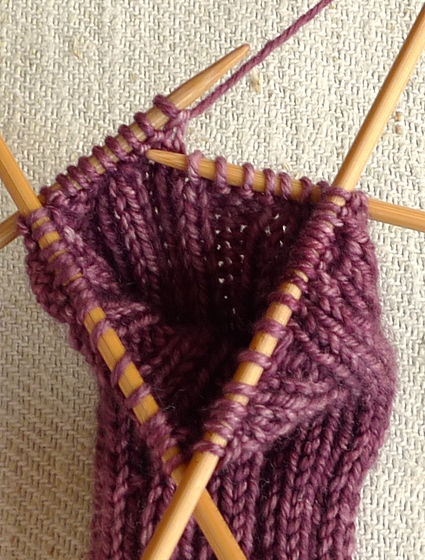 Row 2 (wrong side): K1, *p3, k2, repeat from * to last 4 stitches, p3, k1, turn so the outside of the hand warmer is facing you.  (Row 2 and all following rows work all 50 stitches.)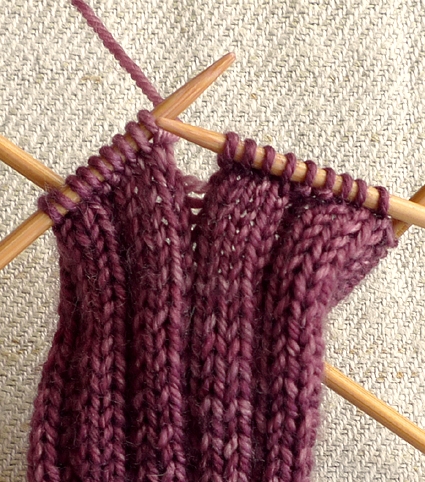 Row 3 (right side): K4, *p2, k3, repeat to last stitch, k1, turn.
Repeat Rows 2 and 3 until the thumb hole measures 1 1/2 inches, ending with Row 3. If you were using a stitch marker, you can remove it on the last row.
Hand
NOTE: For the hand section you will work in the round again with the outside of the hand warmer facing you. You will begin with a joining round that connects the two sides of the thumb hole. For the joining round, just continue to work from the end of Row 3 with the outside facing you. (See the picture below.)
Joining Round: Place a stitch marker, p1, *k3, p2, repeat from to last 4 stitches, k3, p1.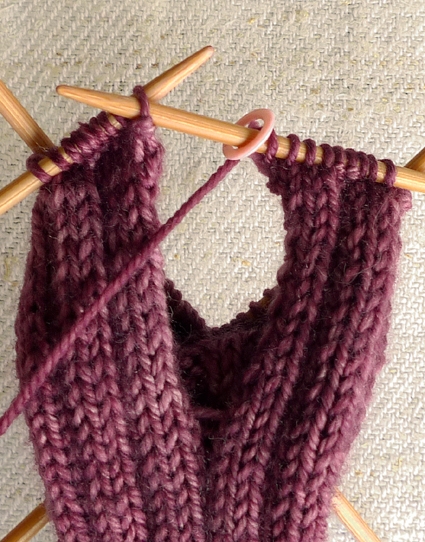 Next Round: P1, *k3, p2, repeat from to last 4 stitches, k3, p1.
Repeat the last round until the piece measures 2 inches from the top of the thumb hole.
Bind off in the 3 x 2 rib pattern.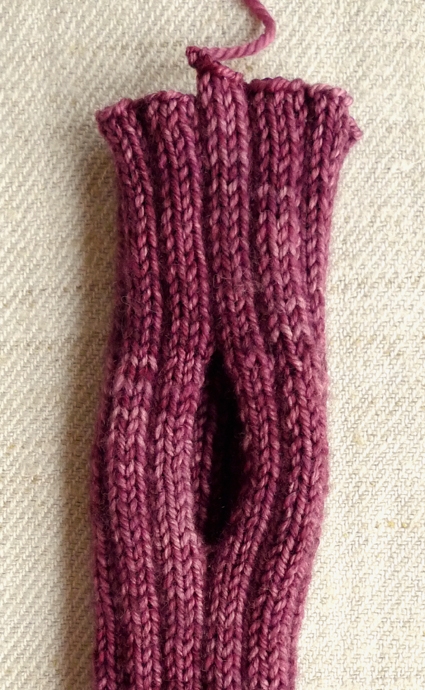 Weave in the ends, make a second identical hand warmer, and you're ready to go!