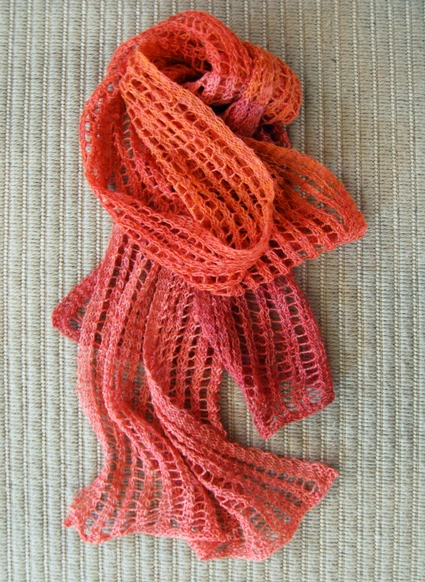 Purl Soho's most subtle yarns come from Habu Textiles. They tend to be extremely fine and very delicately colored. They also tend to leave customers scratching their heads, "I LOVE this yarn, but what can I possibly make with it?" A great answer has been Habu's all white Kusha Kusha Scarf pattern, but, for this project, I wanted to also engage with Habu's amazing spectrum of colors.
I envisioned a scarf that would shift from one color to the next, making a beautiful color journey from one end of the scarf to the other. Joelle, with her unique genius for color, picked these five Fine Merinos. While knitting, my excitement grew and grew as I introduced each new color. More like painting with watercolors than knitting with yarn, it was a fascinating process!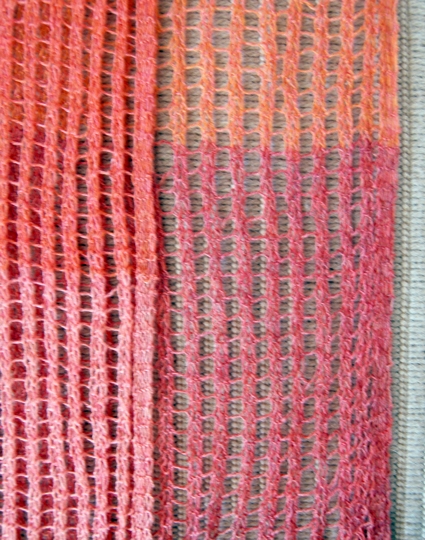 This simple lace ladder stitch is a perfect antidote to such fine yarn. With only two easy rows to memorize and so much open lace work, you'll be surprised how quickly you fly through this scarf. The result is a perfect accessory for fall that will inspire you every day! -Whitney
Designed by Purl Soho designer, Whitney Van Nes.
Share your progress and connect with the community by tagging your pics with #PurlSoho, #PurlSohoBusyHands, and #PurlSohoColorChangeScarf. We can't wait to see what you make!
Materials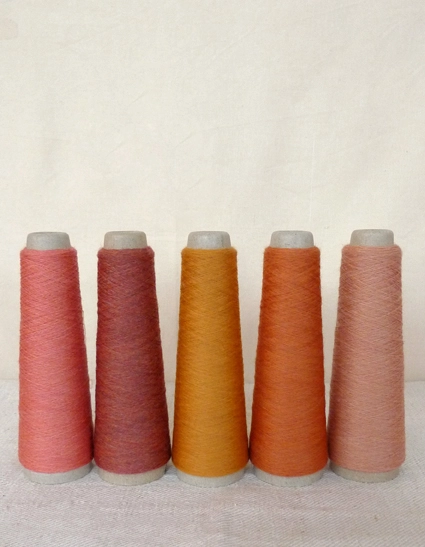 5 cones of Habu Textile's Fine Merino, 100% Merino Wool. We used the following colors…
Color A: # 3042
Color B: # 3044
Color C: # 3046
Color D: # 3043
Color E: # 3055
You will also need…
A US 7 (4.5 mm) 24-inch circular needle. We used (and really recommend!) a Skacel Addi Lace needle for this project. With sharper points than the traditional Addi Turbos, these needles make knitting with fine yarn much easier. They also have a slightly stickier shaft for keeping slippery yarns in control.
NOTE: These five cones are enough for two identical scarves. Or, for four or five different scarves, switch the colors around so that the lesser used colors become the greater used colors. It will be so interesting to see the changes!
GAUGE
36 stitches = 4 inches in lace pattern
SIZE
8 inches wide x 66 inches long
Note
Throughout this pattern you will be knitting with two yarns at the same time. One yarn will always be COLOR A and the other yarn will change from B to C to D to E, as instructed in the pattern.
Pattern
Holding COLOR A and COLOR B together, cast on 72 stitches. We used a basic Long Tail Cast On.
Rows 1-4: Knit
Row 5 (right side): K4, *k2tog, yarn over (yo) twice, ssk, repeat from * to last 4 stitches, k4.
Row 6 (wrong side): K5, *(k1, p1) into the 2 yo's from the previous row, k2, repeat from * to last 3 stitches, k3.
Repeat Rows 5 and 6 until piece measures 12 inches from the cast on row (always end each color section with a wrong side row). Cut COLOR B and join COLOR C (so that you are now knitting with A and C).
Continue to repeat Rows 5 and 6 until the second section of color measures 15 inches. Cut COLOR C and join COLOR D.
Repeat Rows 5 and 6 until the third section of color measures 18 inches. Cut COLOR D and join COLOR E.
Repeat Rows 5 and 6 until the fourth and final section of color measures 20 3/4 inches, ending with a wrong side row.
Knit 3 rows.
Cast off very loosely (use a needle one or two sizes bigger if you have to).
Cut both yarns.
Weave in the ends and lightly block your scarf. It may grow a little bit, but it will be wonderfully flat and soft!