I was very inspired by the Robertson Family quilt that we featured on The Purl Bee on August 8, 2006. I immediately did a tutorial about making right angle triangles with the thought that some of our readers might want to make a Robertson Family style quilt of their own.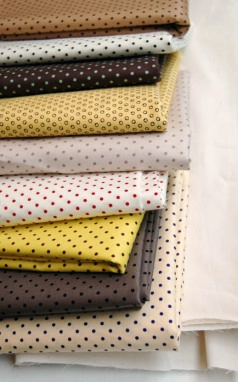 Meanwhile, these polka dot fabrics arrived at Purl Patchwork from Yuwa Fabric in Japan!  As soon as they came out of the box, I knew I had to use them to make my very own version of the Robertson Family Quilt. I chose eight different colors from our Yuwa Dots collection and then I threw another print in there just to mix it up a bit (the fourth fabric from the top in this photograph), a 19th Century reproduction print from Marcus Brothers.   I've always loved quilts that have bright white backgrounds setting off cheerful prints, but bright white looked a bit too stark with these sophisticated colors.  Instead I chose a warm, creamy white for my background that seemed more gentle but would (hopefully!) produce a similar effect.  — Joelle
Pattern
Planning Ahead
Using graph paper, I did a little sketch in order to figure out what I wanted to do. Each box on the graph paper represents 1 inch.  After a few scribbles, I decided to use three triangle sizes with finished measurements of 2″, 4″ and 6″ to make blocks that measured 12″ square each.   The drawing helped me figure out how many of each size I wanted to put in each block.  I knew I wanted only one 6″ piece and adding three 4″ pieces to each block felt the most balanced to me.  I drew up a few blocks with this configuration and then filled the remaining spots in each block with 2″ pieces. Each block required fifteen 2″ pieces to fill the empty spots so I planned to construct the quilt following these guidelines.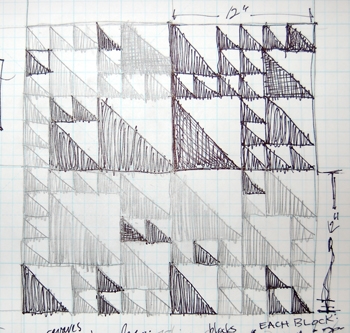 Cutting, Marking, Pinning
I'm not sure if this quilt is going to be 12 blocks of 12 inches each or more so I wanted to be sure to have plenty of each size.  I don't mind generating excess pieces, they often find their way into my other projects.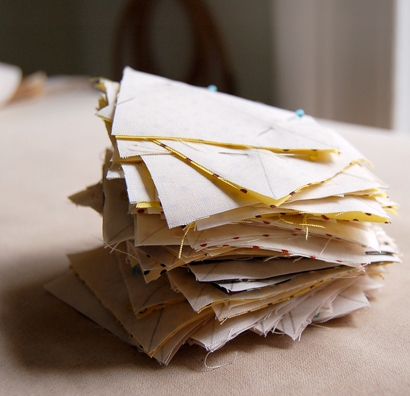 To create each triangle piece I followed the steps from our triangle tutorial.  I wanted to make twenty-four 2 inch triangle pieces with each print. In order to do this I cut one 2 7/8 inch strip of each print from selvage to selvage, and then cut each strip into twelve 2 7/8 inch squares.  I also cut nine 2 7/8 inch wide strips of the off white fabric and made these strips into enough 2 7/8 inch squares to pair together with my prints. (Each pair of squares makes two traingle pieces). I also cut fabric to make four 6 inch triangle pieces of each print, and ten 4 inch triangle pieces for each print. Whew!
Chain Piecing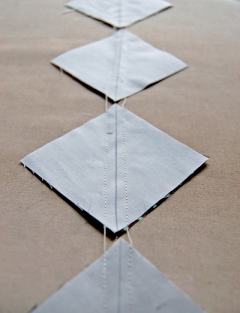 Following the same technique that Molly described in her tutorial on Machine Piecing, I chain pieced each square, sewing 1/4 inch away from the center line on both sides.
Once they were pieced, I snipped the threads between them and then cut along the drawn line to create two triangle pieces from each square.
Triangle Pieces
Here are some soon to be 2 inch triangle pieces.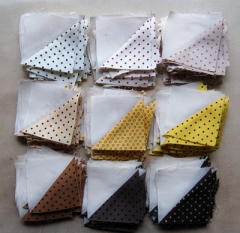 For the triangle pieces I press my seams to the darker fabric side to eliminate show through on the off-white fabric.
Piecing the 12-Inch Block
To piece this block, I sewed the small shapes first, then moved on to large pieces.
Usually when I make a quilt, I press my seams to the darker fabric side because its very quick and it eliminates the issue of show through on lighter fabrics.  For the horizontal and vertical seams of this quilt, I've been pressing my seams open. Because the seams are pressed open I don't have to plan ahead about which way to orient my seams (for sewing intersecting seams) which means I have more freedom when I piece the blocks.
First Block
Here is my first block!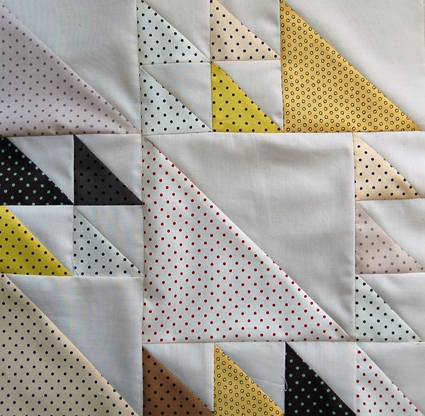 Second and Third Blocks
I'm really enjoying making these blocks!