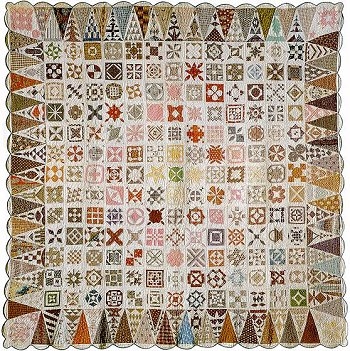 This quilt is affectionately know by its fans as Dear Jane, in honor of its maker, Jane A. Blakely Stickle, who completed it in 1863. The pattern comprises over two hundred unique blocks, hundreds of different fabrics, and countless little inventions and design decisions that make it as much a portrait as an object. Intricate geometry, playful color, and a meticulous infinity of stitches distinguish Jane's quilt.
Each year the Bennington Museum in Vermont displays the quilt during the fall, as the leaves begin to turn. The quilt is on exhibition right now through October 16, 2006. It is well-worth a road trip!
We learned about Jane's through a wonderful book by Brenda Manges Papadakis, another New England quilter. The more time she spent with the quilt, the more inspired she was. Finally, she got the rights to draft the patterns and make them availble to quilters around the world. Not only are the patterns excellent, Papadakis' personal tone makes the reader intimately connected to the quilt, even if they've never seen it in real life.
Today there are many people making this quilt. Some reproduce it faithfully, others are simply inspired by its remarkable presence. You can find links to Dear Jane Quilts around the world on Brenda Papadakis' Dear Jane Website.