Garment-Dyed Toweling Bundles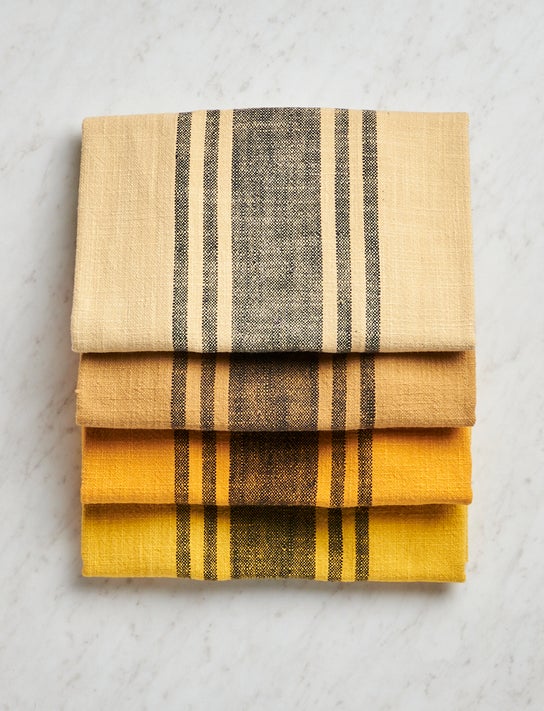 Garment-Dyed Toweling Bundles
With the style of an heirloom kitchen linen and the practicality of a true workhorse, our Garment-Dyed Toweling is super special without being stuffy. A heavyweight cotton, it is garment dyed with non-toxic, low-impact dyes, all for an extra soft hand, a preshrunk finish, and a glorious spectrum of color. Only 15 inches wide and finished with double-fold hems along both selvages, this Toweling is perfect for dishtowels, dinner napkins, placemats, and whatever else crafty minds dream up! Pick your favorite bundle, which includes one yard of four colors... Or if you prefer, browse our Garment-Dyed Toweling by-the-yard!
Product Details
Garment-Dyed Toweling is 100% heavyweight cotton. It is 15 inches wide and should be pre-washed in cold water separately, and then you can machine wash and dry.
Each Garment-Dyed Toweling Bundle includes one yard of four colors. The palettes and Gutermann Cotton Sewing Thread colors that coordinate are...
HAYSTACK
Toweling: Pine Nut, Thread: 1105
Toweling: Raincoat Yellow, Thread: 1600
Toweling: Yellow Ochre, Thread: 1680
Toweling: Desert Dune, Thread: 2410
BEACH STONE
Toweling: Raw Oats, Thread: 1040
Toweling: Putty Gray, Thread: 3170
Toweling: Orchid Gray, Thread: 9090
Toweling: Rock Wall, Thread: 9500
You Might Also Like...
Our Garment-Dyed Toweling Totes use 2 yards of this Cotton Webbing... Always a rugged choice for handles, straps, and belts! Sold by the yard, click Add To Basket to purchase the Natural color or click here to view all our colors.