The weight of a pen, the scent of a hand soap, the pattern on a tea cup, these observations deliver the little jolts throughout the day that add up and contribute to our daily happiness. We'd take their routine unassuming beauty over an occasional dazzling dose any day.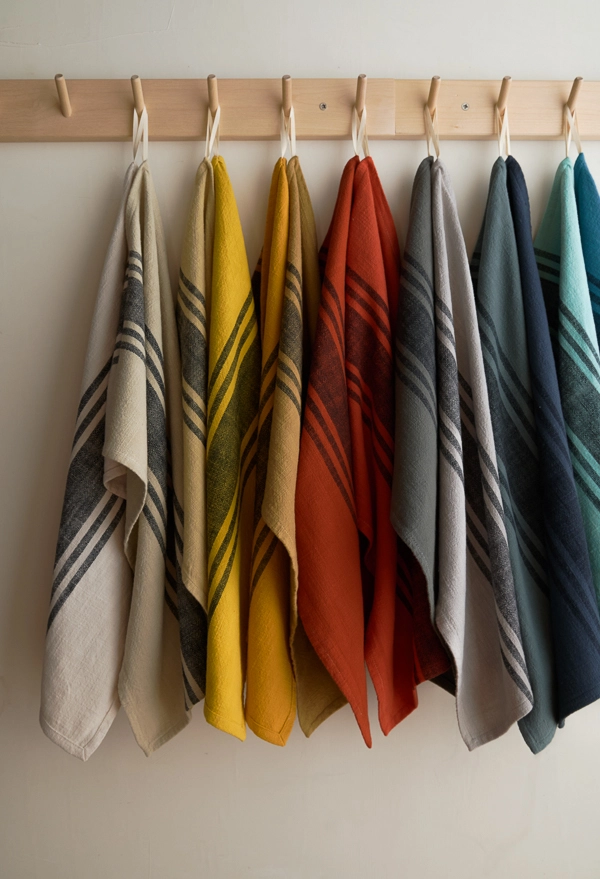 One more nomination for the simple pleasures list: our Super Easy Dishtowel. A splash of color, a shot of classic style, and a soft and sturdy heft, they humbly beg your attention.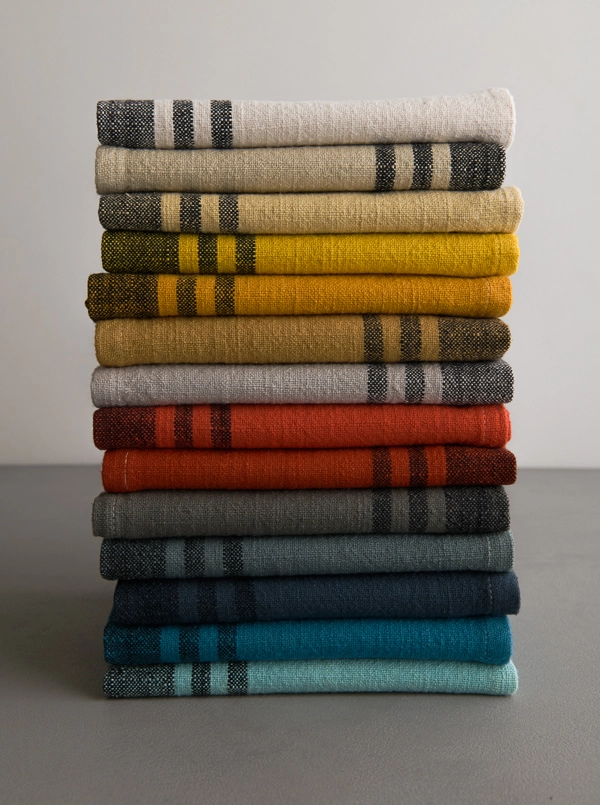 This beauty and ease? It's thanks to our new Garment-Dyed Toweling. Special without being stuffy, this narrower-than-usual yardage does half the work for you with double-fold hems along both selvages, perfect for dishtowels, table runners, dinner napkins, placemats, and whatever else crafty minds dream up!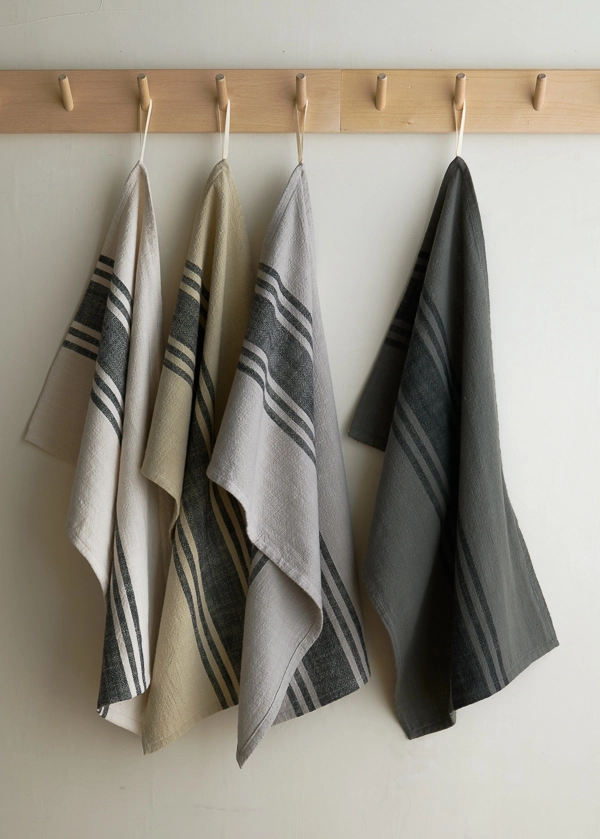 With 14 gorgeous colors of toweling to choose from, pick up your favorites by the yard or choose a Garment-Dyed Toweling Bundle. It comes in four pretty palettes of four colors, one yard each.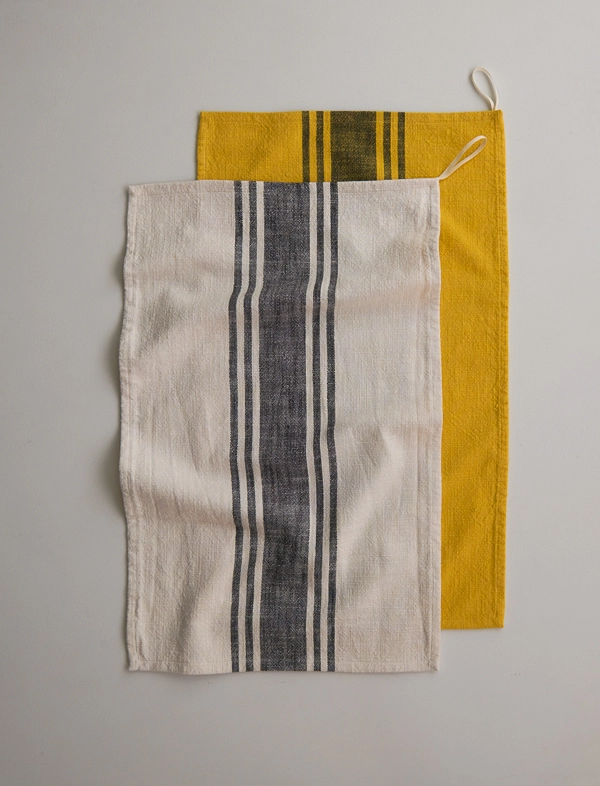 For a set of four Super Easy Dishtowels, pick up a bundle, coordinating thread, and some cotton ribbon, then follow along with our Sewn Mitered Corners tutorial for a very tidy finish.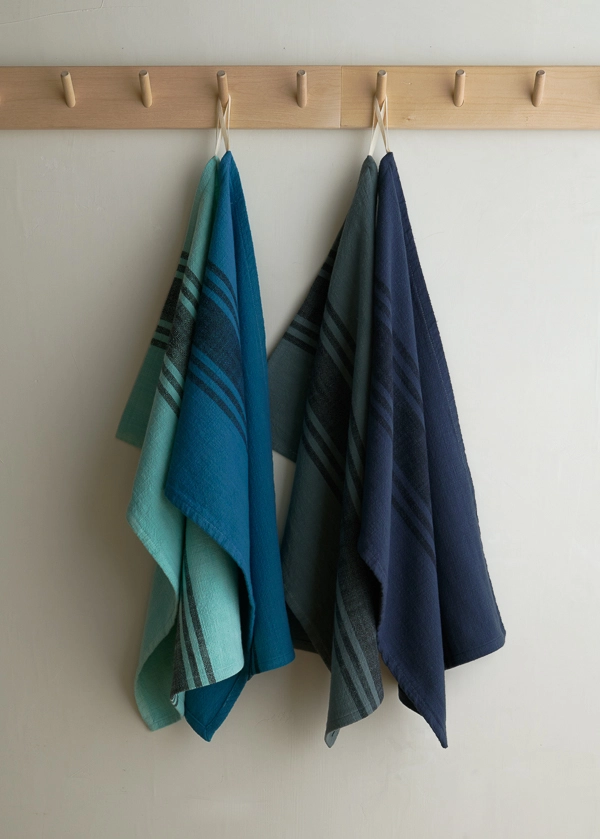 The style of an heirloom kitchen linen, the practicality of a workhorse, and the satisfaction of the handmade, we're sure you'll appreciate the many moments a day you reach for your especially beautiful dishtowel!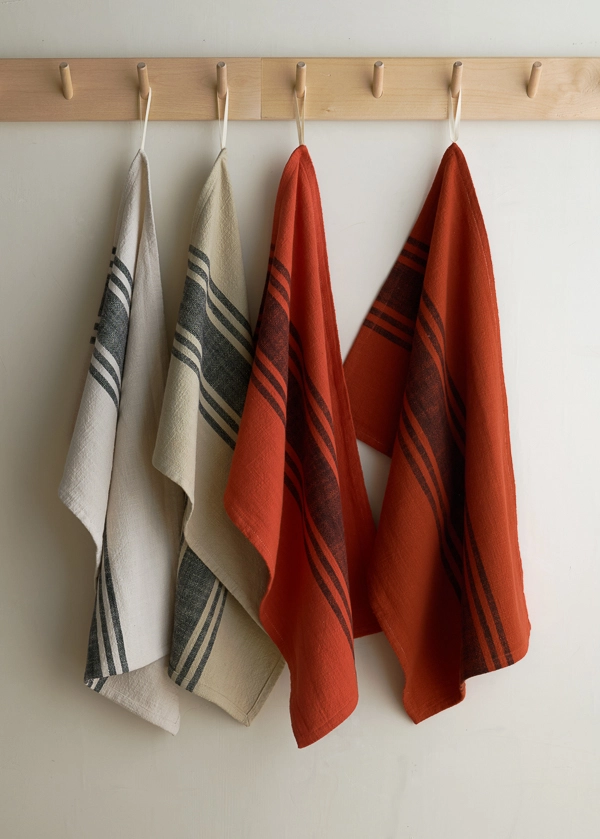 Materials
To make a set of 4 dishtowels, you will need…
Here are the colors in our bundles and the threads we used…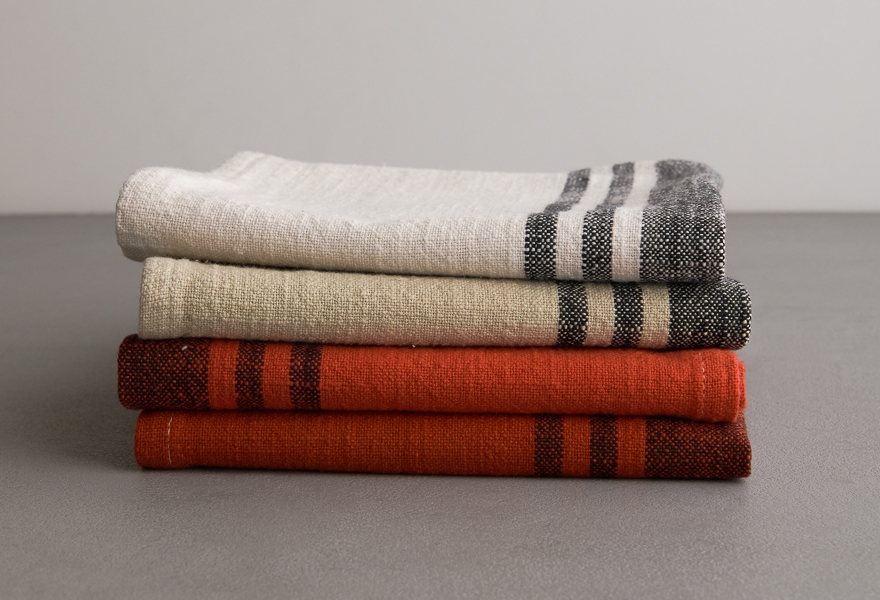 BISTRO
Toweling: Raw Oats, Thread: 1040
Toweling: Putty Gray, Thread: 3170
Toweling: Cherry Tomato, Thread: 4930
Toweling: Orange Russet, Thread: 4850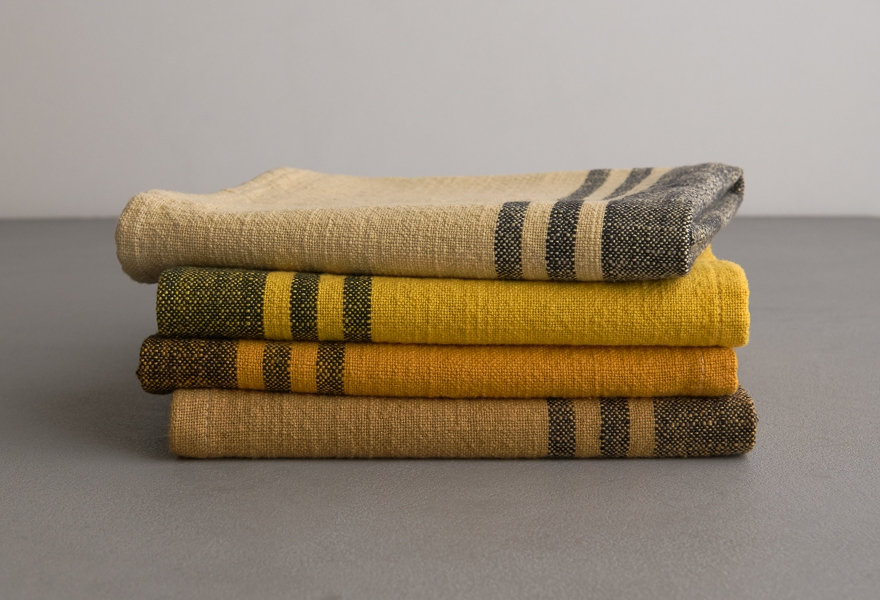 HAYSTACK
Toweling: Pine Nut, Thread: 1105
Toweling: Raincoat Yellow, Thread: 1600
Toweling: Yellow Ochre, Thread: 1680
Toweling:Desert Dune, Thread: 2410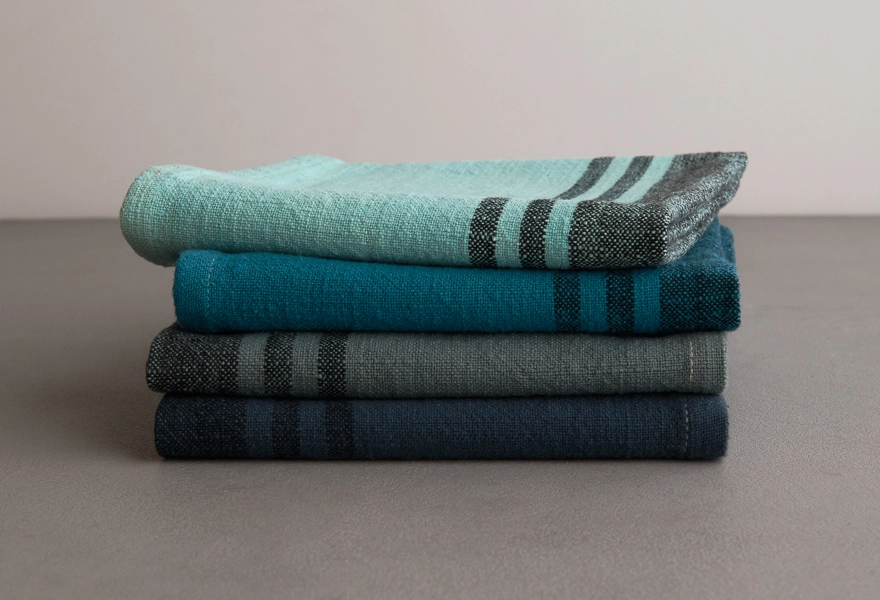 FJORD
Toweling: Duck Egg Blue, Thread: 7730
Toweling: Pacific Blue, Thread: 7620
Toweling: Ocean Fog, Thread: 9310
Toweling: Ink Blue, Thread: 7400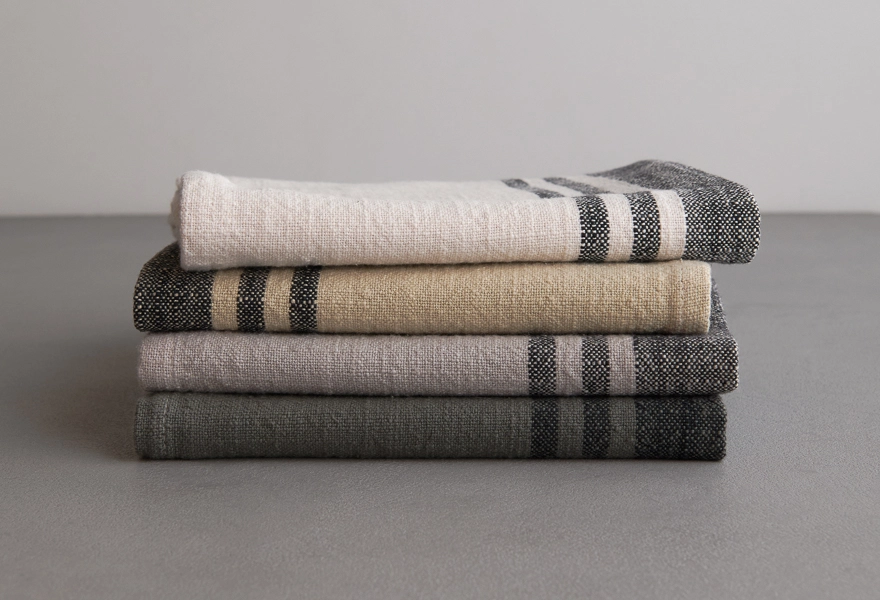 BEACH STONE
Toweling: Raw Oats, Thread: 1040
Toweling: Putty Gray, Thread: 3170
Toweling: Orchid Gray, Thread: 9090
Toweling: Rock Wall, Thread: 9500
To make 1 dishtowel, you will need…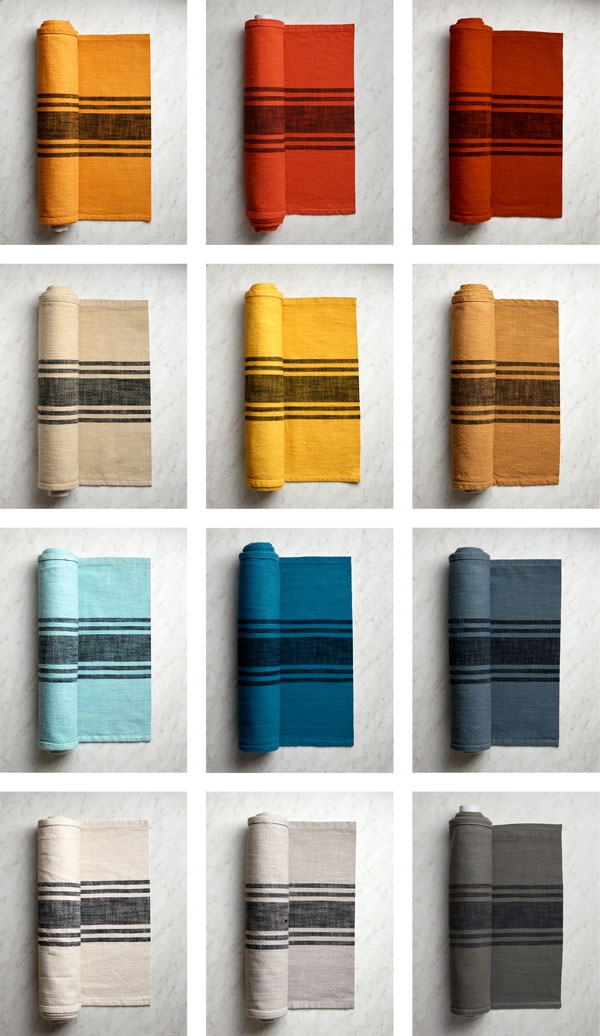 Size
Finished Dimensions: 15 X 25 inches
Pattern
Cut
For each dishtowel, cut a 27-inch length of Toweling and an 8-inch length of ribbon.
Sew
Use a seam ripper to undo 3 inches of existing hem at all 4 corners.
To create the mitered corners and attach the hanging loop, follow along with our Classic Mitered Corner Dishtowel pattern and Sewn Mitered Corners tutorial. The only change to make is at the end, where instead of sewing the hem down around all four sides, you will sew from the top of one seam-ripped 3-inch gap, down around the corner, across the bottom of the dishtowel, around the second corner, and up to the top of that corner's 3-inch gap. Be sure to backstitch at the beginning and end, and repeat at the dishtowel's other end.