Linen dishtowels are a kitchen essential around my house. They dry dishes, cover rising dough, clean up spills, and, in the hands of my three year old daughter, they are doll blankets, capes, and even wigs. I can't think of anything I have ever sewn that gets more use.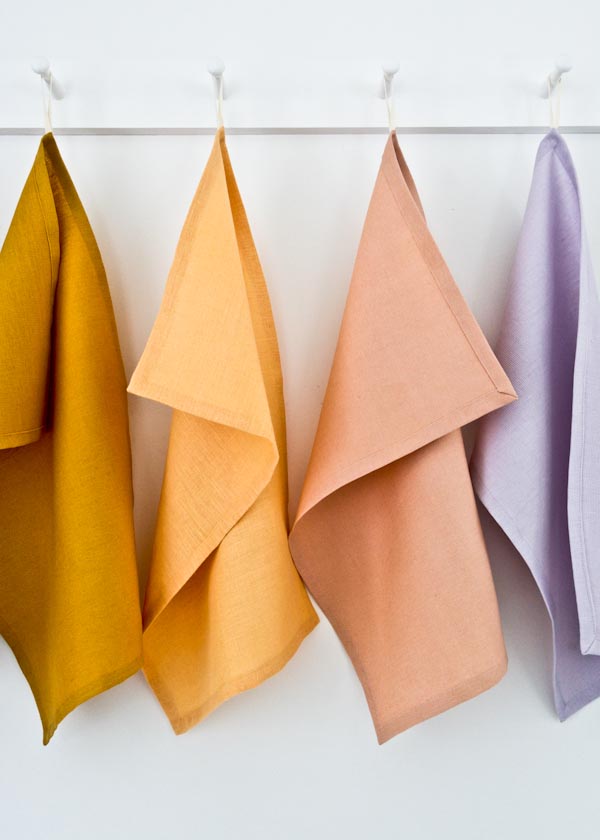 With a clever little hanging loop right inside the miter, these Classic Mitered Corner Dishtowels are just as practical as any I've made, but because I used a glorious Purl Soho Warsa Linen Bundle, they are also the most beautiful! On a hook in the kitchen or over my daughter's head, dishtowels never looked so good! -Molly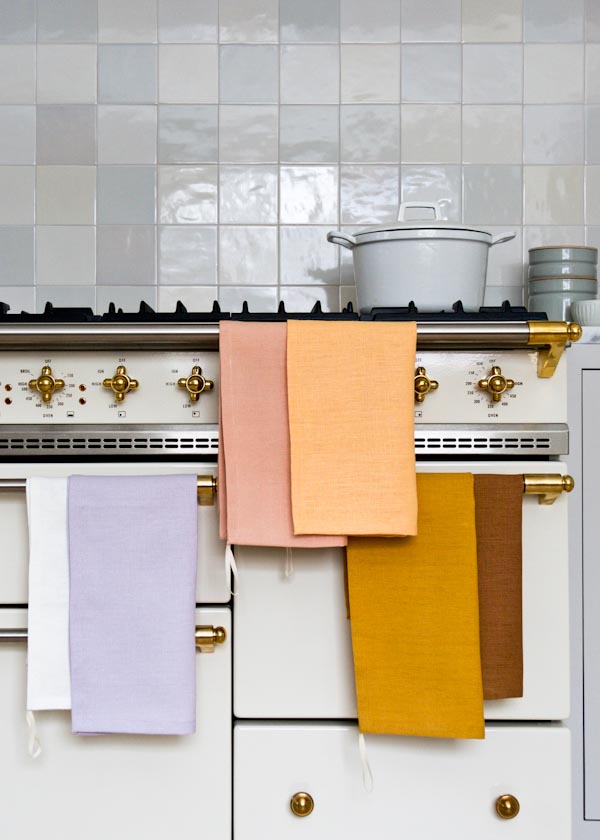 Materials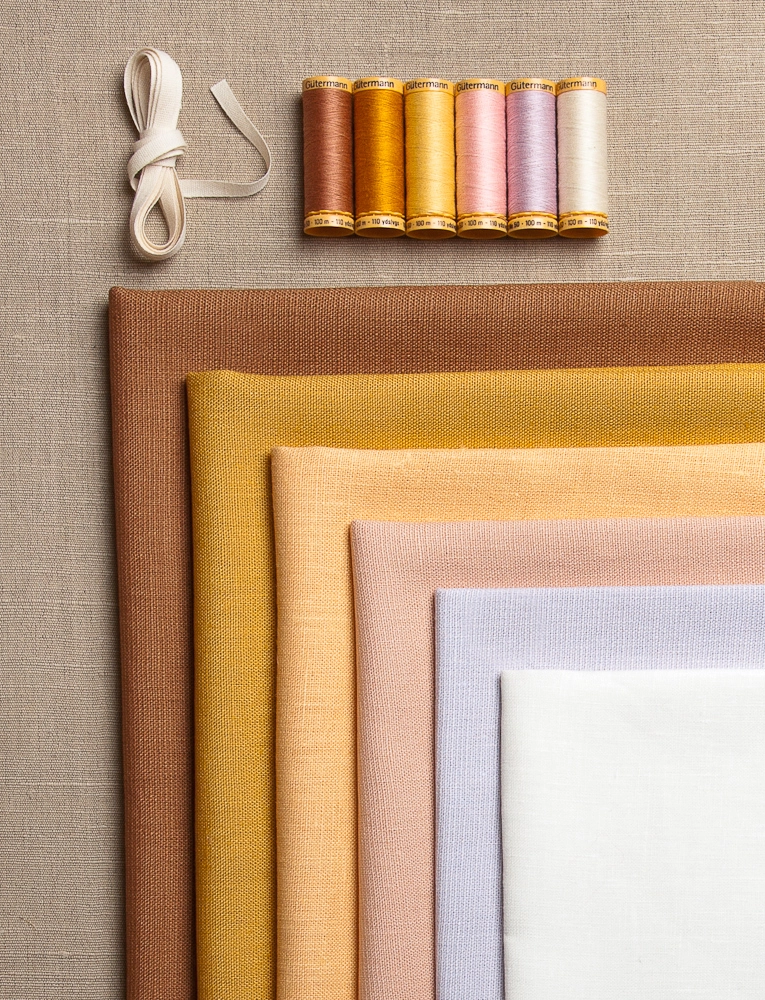 To make 12 Classic Mitered Corner Dishtowels you will need….
Size
Finished Dimensions: 15 X 25 inches
Notes
Prewash, dry, and iron the fabric before starting.
Use the thread that coordinates with each fabric.
This fabric doesn't have a clear right and wrong side, so just pick one side to be the right side and keep it that way throughout the making of the Dishtowel.
Pattern
Cut
From each ½-yard piece of fabric cut…
Two 17 X 27-inch rectangles
Note: Try to follow the grain of the fabric as much as possible when cutting these rectangles.
From the ribbon cut…
Create the Mitered Corners
To create the mitered corners, follow along with our Sewn Mitered Corners Tutorial (below), except that you will add a ribbon loop to one corner as you create its miter. I explain how to do that after the video….
Now, to add the ribbon loop to a corner…
Fold and mark the corner as instructed in the video.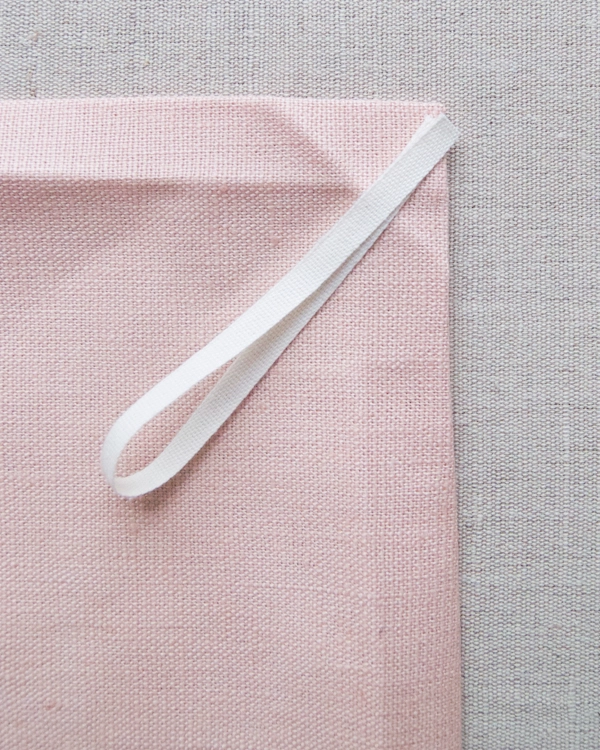 Then turn the piece so the right side of the Dishtowel is facing up (the side without the raw edges). Fold one of the 8-inch lengths of ribbon in half so its raw ends meet.
Place the ribbon so that the top corners of its raw ends are a hair below the Dishtowel's corner (which is the corner of the first fold you made), as shown above. The top edges of the ribbon should run along the imaginary line that bisects the corner at a 45-degree angle. At this angle it will also bisect the corner made by the second fold.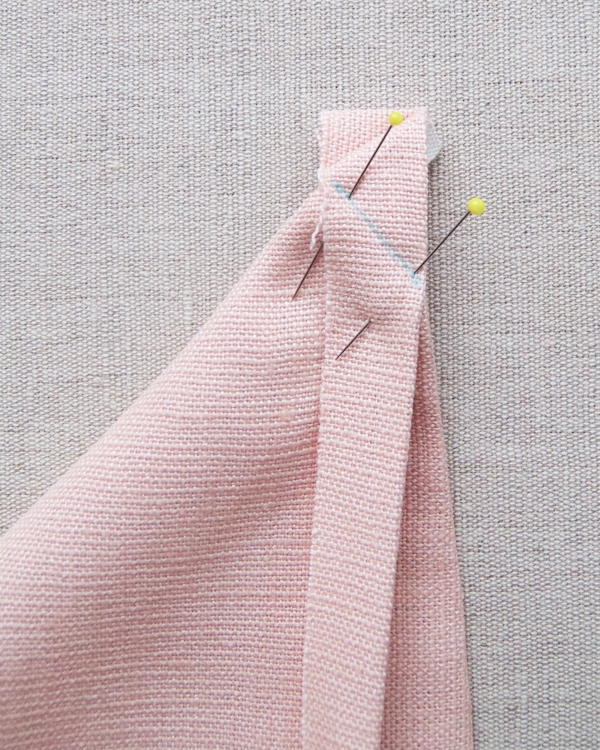 From here, sew the mitered corner just as instructed in the video: fold the corner into a point, right sides together, making sure that the ends of the marked lines meet. Pin the corner into place, also pinning the ribbon into place as you do.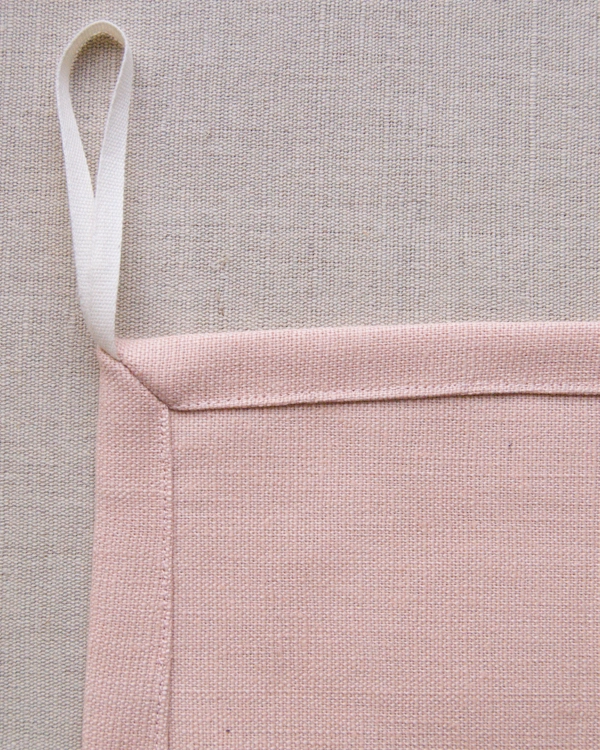 When you get to the step where you pin down the second fold of this corner, the ribbon flip so it is pointing out, as shown above.
Pin and edgestitch the second fold down around the entire napkin, just as instructed in the video, and you will have a finished Dishtowel with a ribbon loop. Repeat for all the remaining cut rectangles to complete the set!