Our earth creates some truly amazing things: rainbows, fireflies, orchids, and, more to the point, an incredible variety of sparkling, fascinating, mind blowing-ly beautiful gemstones.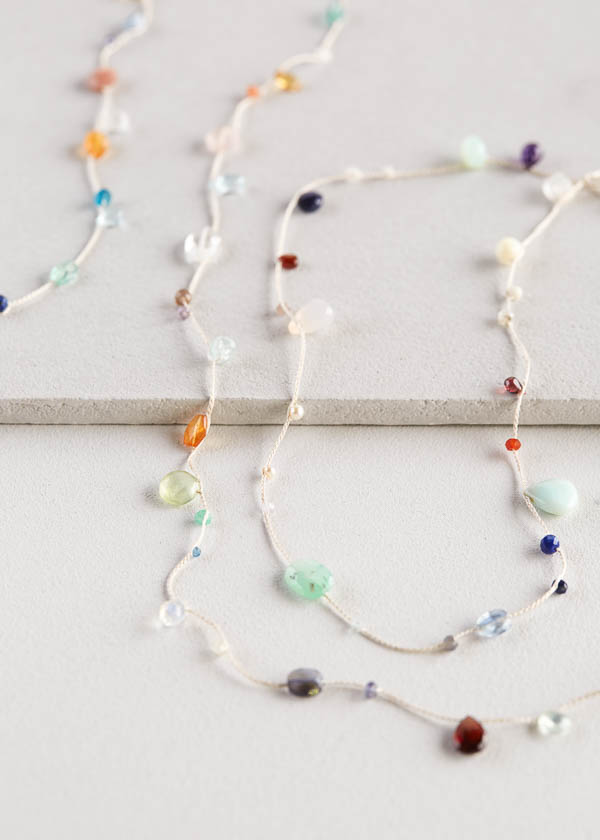 Our new Floating Gemstones Necklace celebrates these creations, delving into the beauty of topaz and opals, carnelians and moonstones, pearls and more. Braided onto a pretty silk cord, these semi-precious stones seem to levitate like morning dewdrops on autumn spider webs.
We chose each stone not just for its color and depth, but also its shape and cut. The world of gemology is a wonderland of faceted or smooth, roundel, oval, drop, cube… The iridescence of faceted marquise-cut citrine (see the glowing yellow teardrop above?) versus the dense opacity of faceted roundel-cut sleeping beauty turquoise (yes, that's a thing! It's the little aqua-colored one below).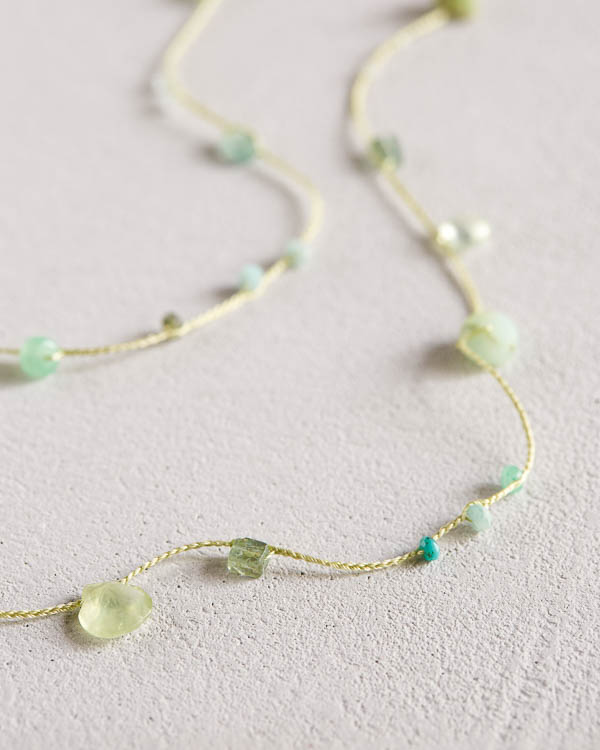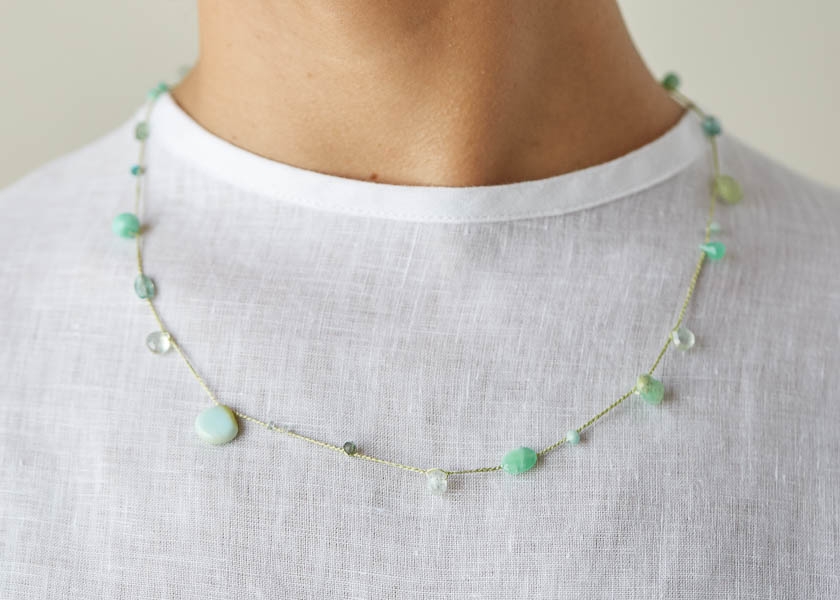 Each Floating Gemstones Necklace Kit is organized by color family and comes with 80 gorgeous gemstones. The six palettes are shown below and are, left to right, blooming Iris, fiery Ginger, soothing Aloe, eclectic Market (one of each bead from all the other kits), pure Magnolia, and deep blue Lake.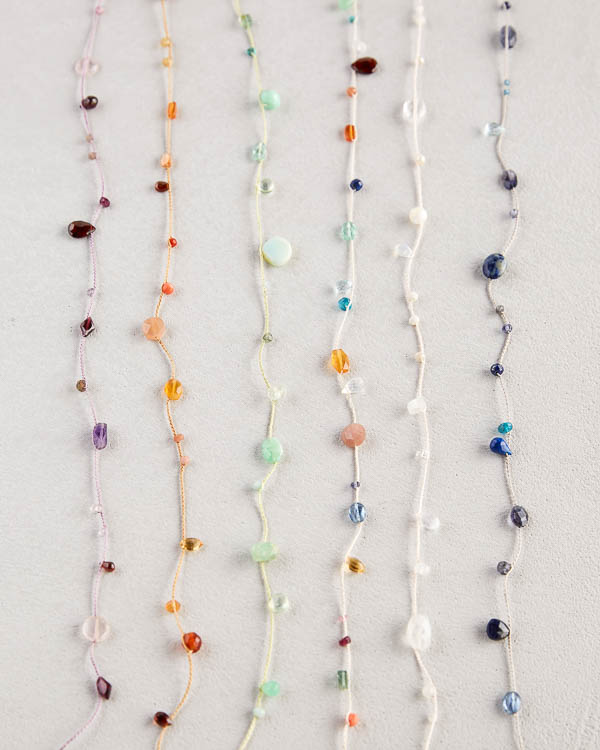 Making these necklaces is pie: Just a 3-ply braid, the very type most of us have made in our own hair or in someone else's, and a bead on one of the silk cords every now and then. The whole thing comes together with a closure made by slipping a bead through a braided loop. The final touch is two little braided tails finished with bitty beads (because details are everything!).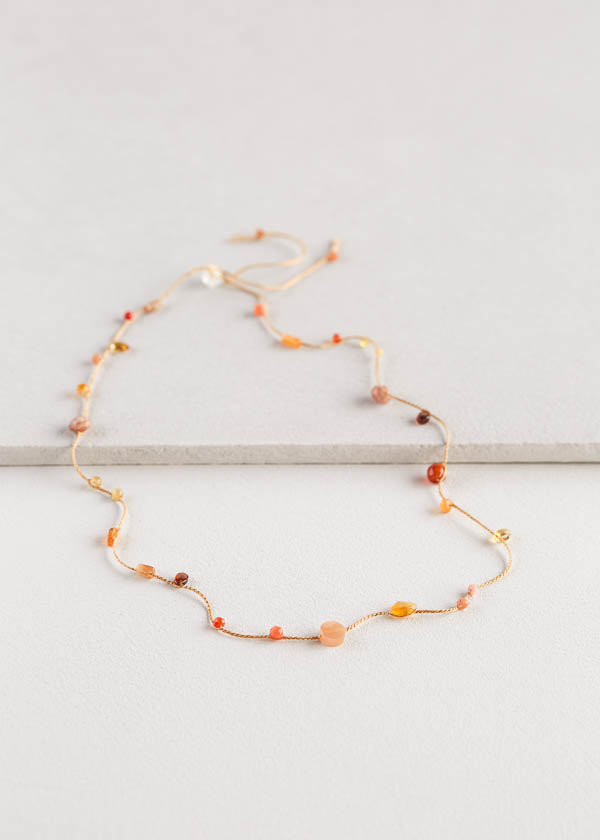 One Floating Gemstone Necklace Kit includes enough materials to make one, two, or three necklaces: one 60-inch necklace, two 30-inch necklaces, three 20-inch necklaces, or a combination of a 20- and 40-inch necklace. Short or long, solo or together, we love the playful elegance, the scientific inquiry, and the natural beauty.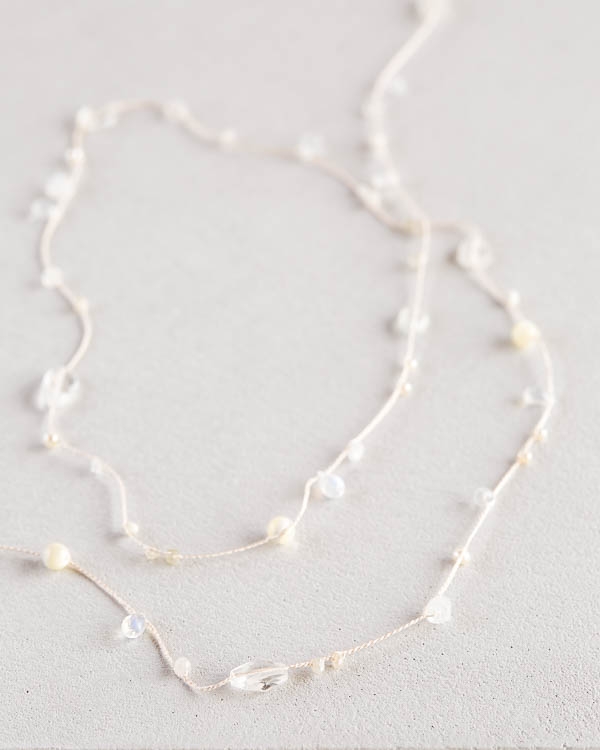 As far as gift-giving goes, these necklaces are seriously special. Spread one kit out by making three necklaces for three lucky recipients, or pour all the love on one person, with one very long necklace or several shorter ones.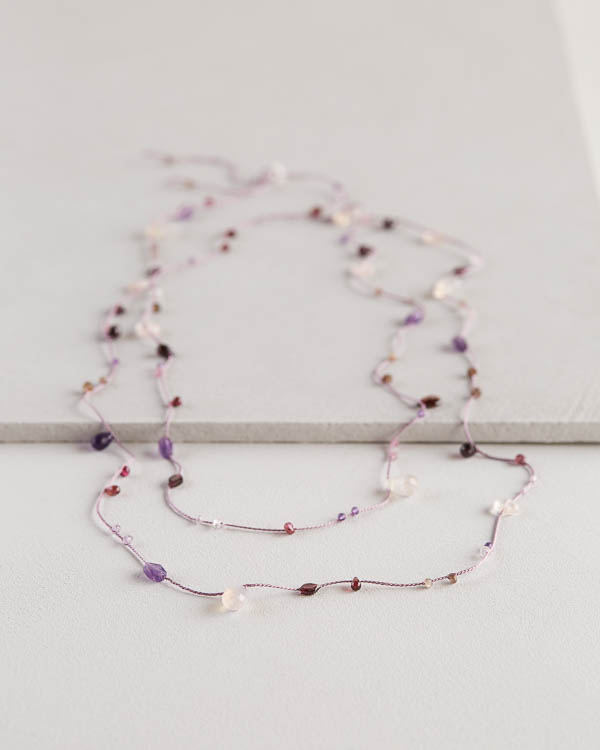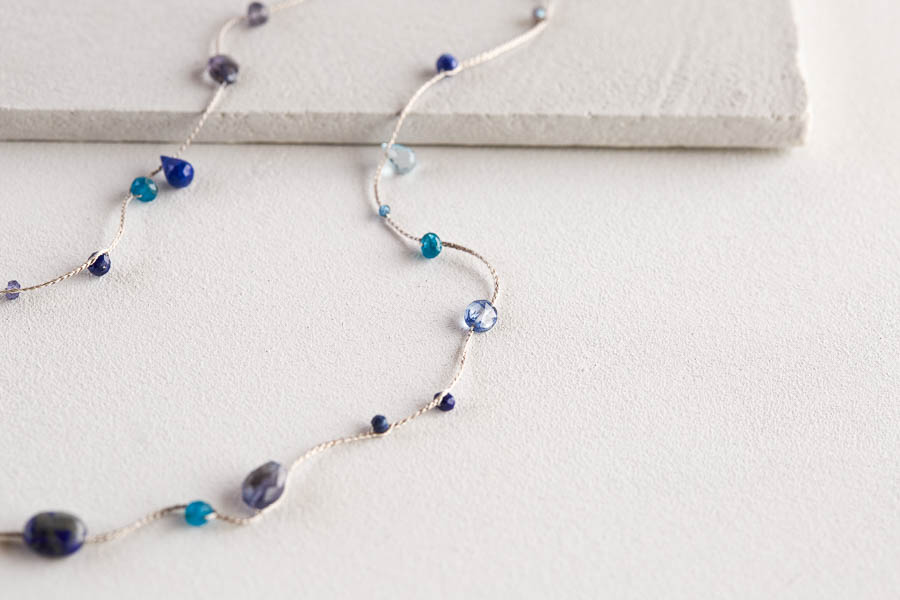 And what about the crafty people in your life who want to get in on the pleasure of making? Giving them a beautiful kit will not disappoint! Each kit is thoughtfully assembled in a pretty pink box and includes a test tube filled with 80 gemstone beads, nestled alongside silk beading cord, beading needles, and semi-precious closure beads. They'll also find complete instructions, as well as a Gemstone Identification Sheet for the curious!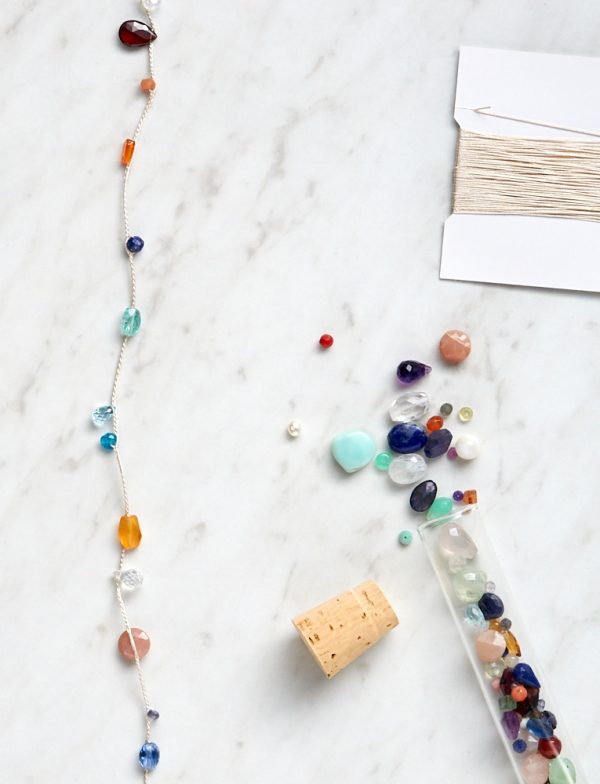 Designed for Purl Soho by Carrie Laing.
MATERIALS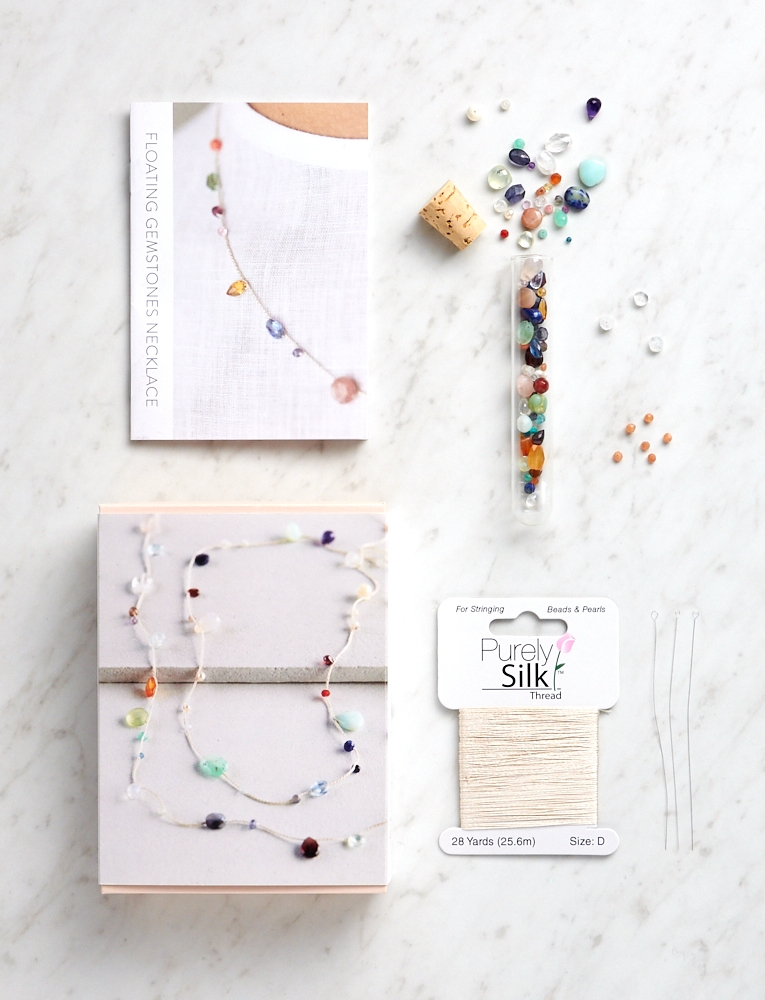 Each Floating Gemstones Necklace Kit includes…..
Update: This Kit is no longer available but the materials needed may be purchased individually. Please note that the Closure Beads may be substituted with Small and Large Gemstone Beads.
An Assortment Of Gemstone Beads, or 80 semi-precious gemstone beads in a variety of sizes, shapes, and colors. We used some of Purl Soho's Small, Medium, and Large Gemstone Beads.
6 Small semi-precious Closure Beads, measuring about 2-4mm in diameter (two for each necklace)
3 Large semi-precious Closure Beads, measuring about 7-9mm (one for each necklace)
A package of 3-ply bead cord, size D, 100% silk. We used Purely Silk's.
Beading needles
A Gemstone Identification Sheet (included with Pattern purchase)
Our Floating Gemstones Necklace Kit comes in six palettes, they are…
Top Row: Magnolia, Aloe, Lake
Bottom Row: Iris, Ginger, Market
GEMSTONE IDENTIFICATION
Here are the exact beads you can expect in each kit. All include different amounts of each bead listed, except for the Market palette, which includes one of each.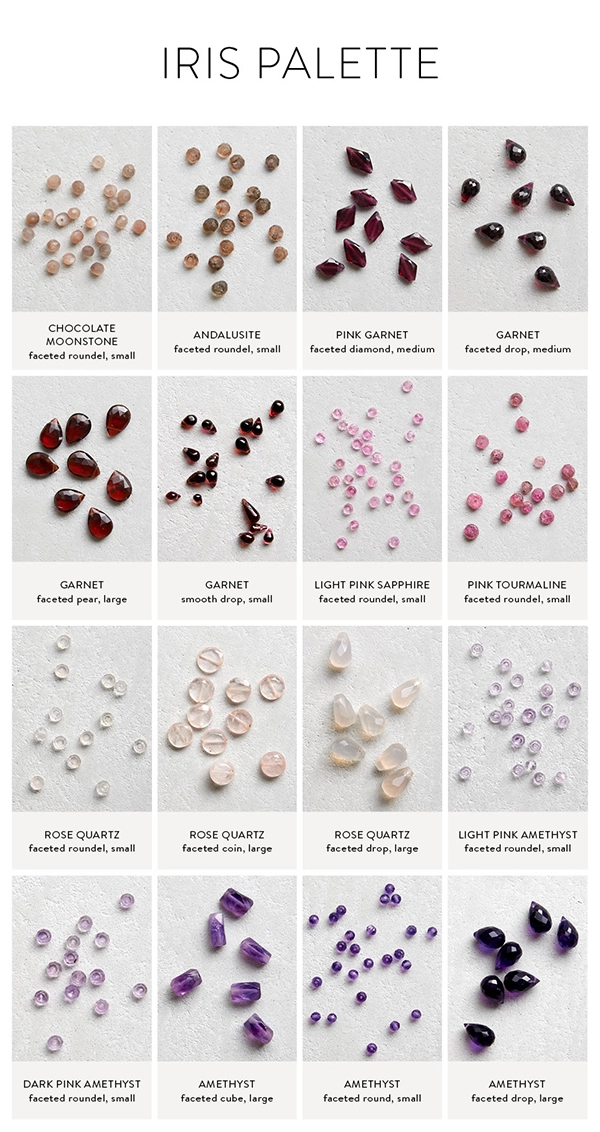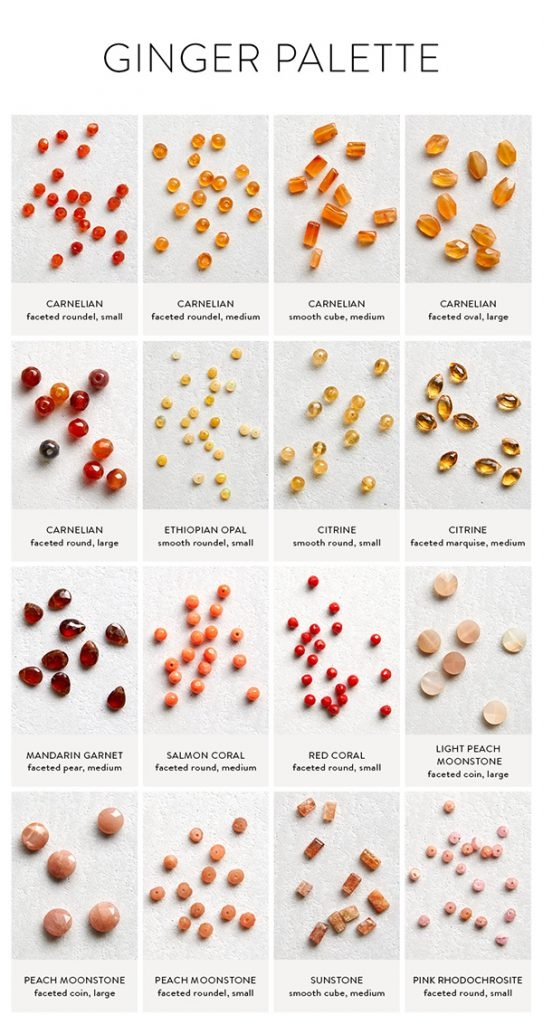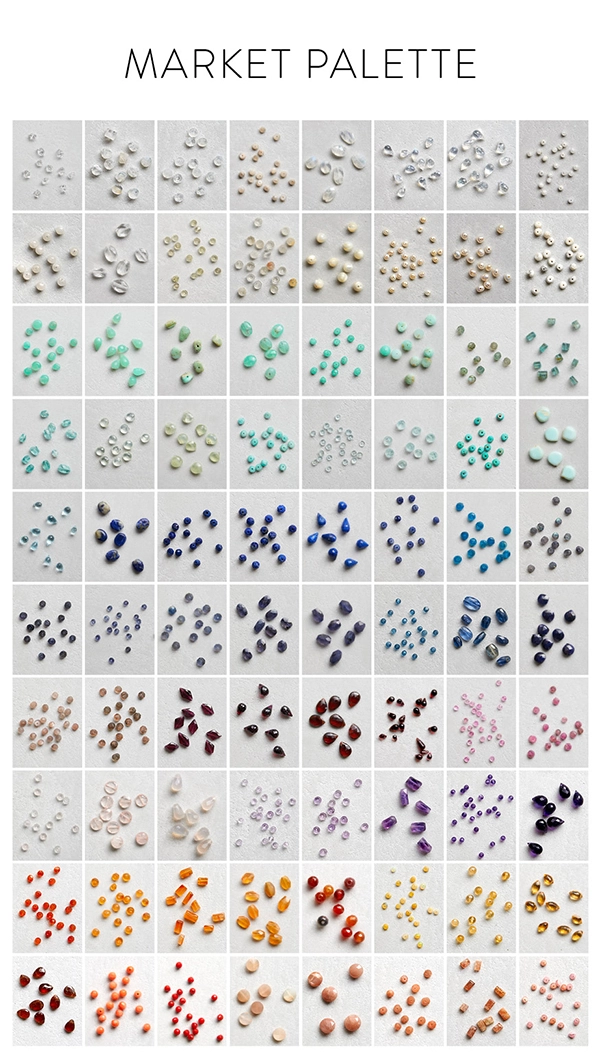 SIZES
With the Floating Gemstones Necklace Kit you can make…..
or
or
or
One 20-inch and one 40-inch necklace
PATTERN
Have your own beads? Pick up our Floating Gemstones Necklace Pattern all on its own!