Floating Gemstones Necklaces Pattern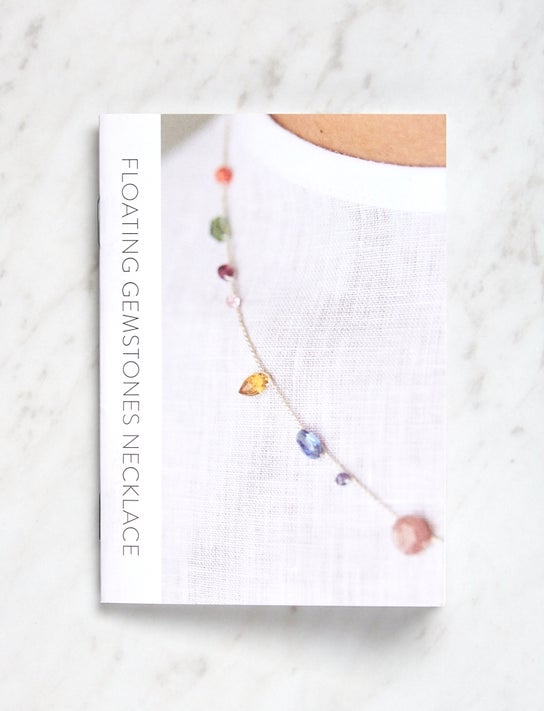 Floating Gemstones Necklaces Pattern
Our Floating Gemstones Necklaces celebrate earth's creations, delving into the beauty of topaz and opals, carnelians and moonstones, pearls and more. Simply braided onto a pretty silk cord, semi-precious stones seem to levitate like morning dewdrops on autumn spider webs. Our Floating Gemstones Necklace Pattern walks you through the steps of creating these ephemeral beauties, from threading and spacing the beads to creating a braided loop closure. Use an Assortment Of Gemstone Beads plus Purely Silk's Silk Beading Thread to create your own. View Product Details, below, for more information.
Product Details
Materials
To make 1-3 Floating Gemstones Necklaces (depending on lengths), you'll need...
An Assortment Of Gemstone Beads, 80 semi-precious beads in a variety of sizes, shapes, and colors. 
6 Small Closure Beads, measuring about 2-4mm in diameter (two for each necklace)
3 Large Closure Beads, measuring about 7-9mm (one for each necklace)
Please Note: the Closure Beads needed for this Pattern can be pulled from the Small and Large Gemstone Beads.
A package of 3-ply bead cord, size D, 100% silk. We used Purely Silk's.
SIZES
or
or
or
One 20-inch and one 40-inch necklace
PLEASE NOTE: If you have purchased a hard copy of this pattern and would also like to receive a downloadable PDF, please email us at customerservice@purlsoho.com.