These Hand Sewn Puzzle Balls will definitely get you in the holiday spirit! Bright and cheerful, soft and cushy, they just make us smile.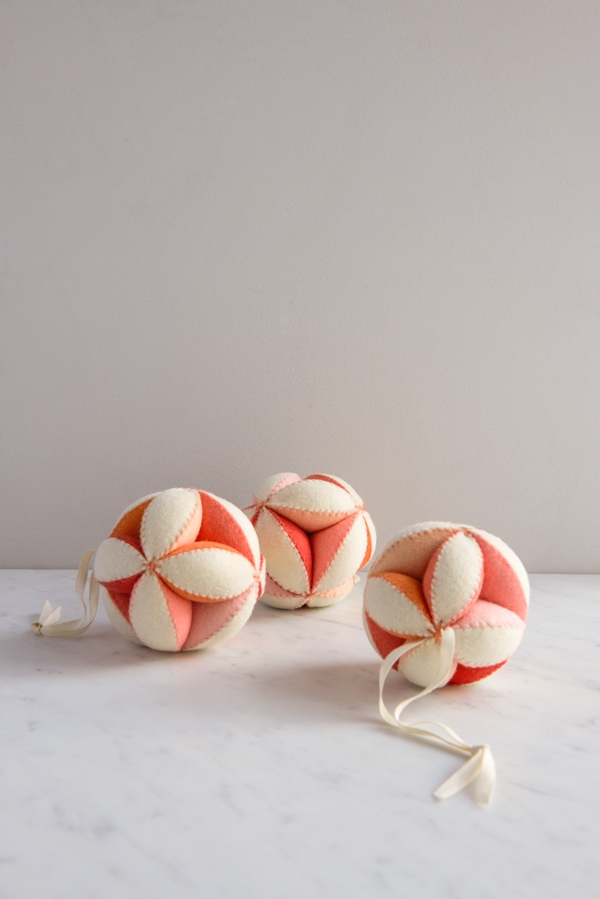 Puzzle balls are commonly thought of as a traditional Amish handcraft, usually constructed from fabric scraps. For our version, we use 100% wool felt instead, making these Puzzle Balls super simple to hand sew without worrying about seams or fraying.
They may look complicated, but these little guys couldn't be simpler to make. From a couple of traced circles, you cut two simple shapes that you stitch together into a stuffed wedge. Twelve stuffed wedges later, you embroider them in six spots and voila, a beautiful and very clever Puzzle Ball!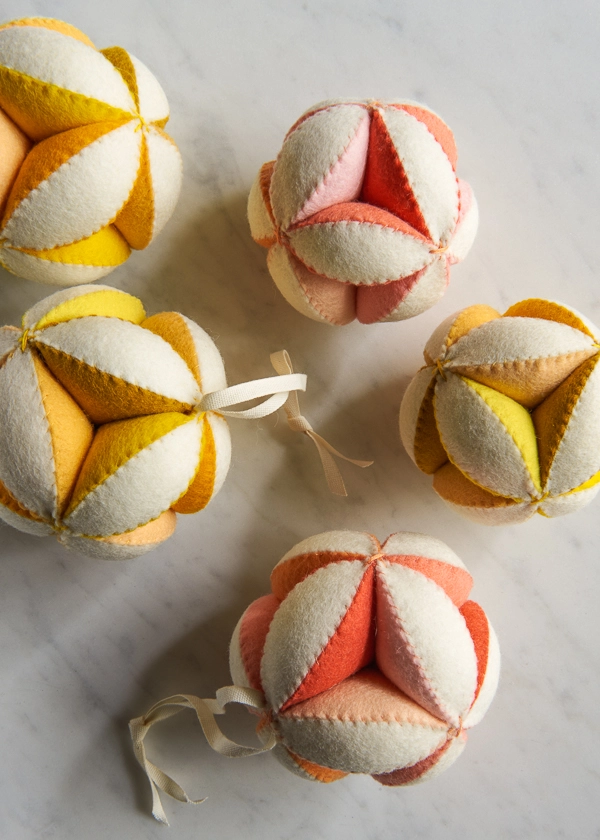 For festive holiday ornaments hang your Puzzle Balls on doors, Christmas trees, and garlands, or pile them in a bowl as centerpieces on tables and mantles. They're also wonderful toys for babies and toddlers, who wonder at their shapes and bright colors and who love their tactility and movement.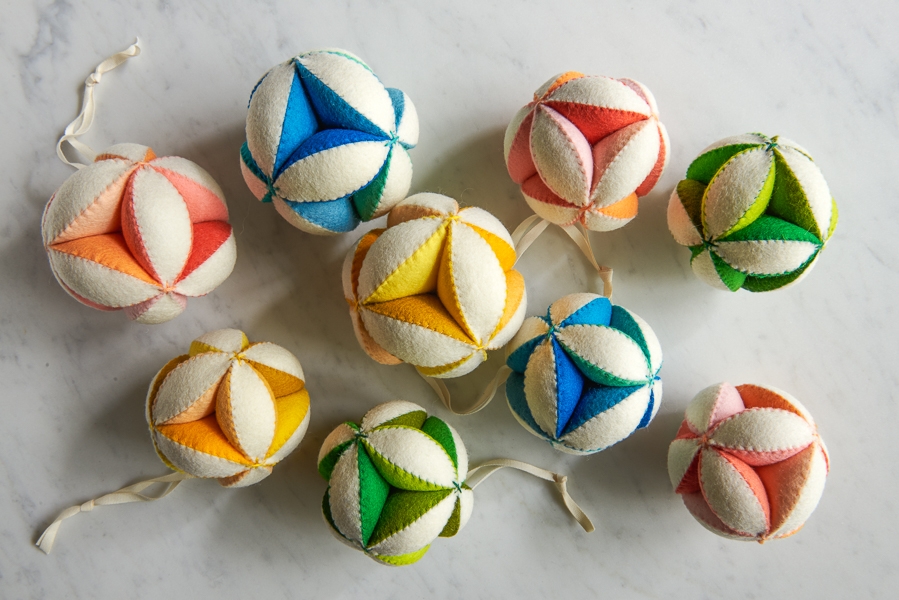 To make your own set of Puzzle Balls, start with a Hand Sewn Puzzle Ball Kit. It comes in four colors: Petal, Goldfinch, Grasshopper, and Lagoon, and each Kit includes all the materials you'll need to make four Balls: two baseball-size and two softball-size ones. Have a ton of fun making your collection of Hand Sewn Puzzle Balls, and may they add lots of merriment to your holidays!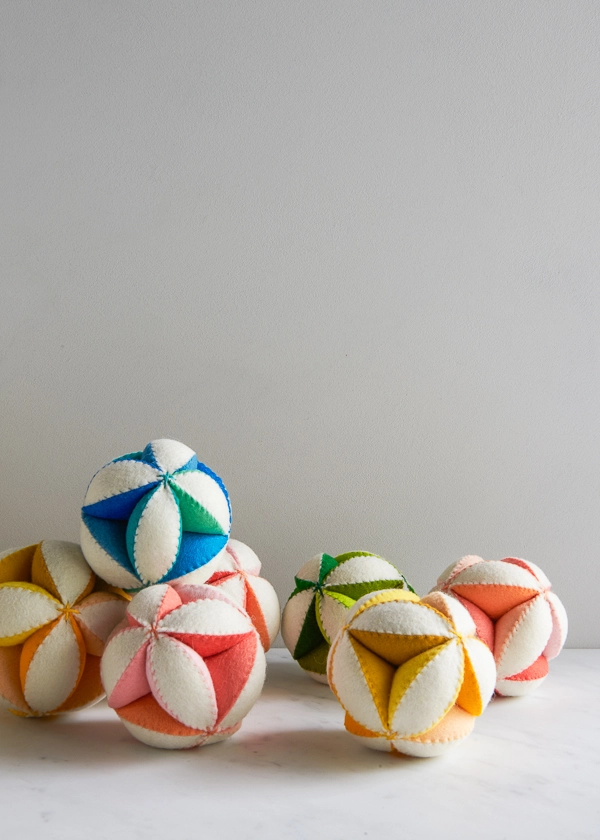 Materials
Our Hand Sewn Puzzle Ball Kits come in four pretty palettes, shown above, clockwise from top left, Petal, Goldfinch, Grasshopper, and Lagoon. Each Kit includes…
These are enough materials to make two small and two large Puzzle Balls.
Size
Small Ball: Approximately 9¾ inches in circumference
Large Ball: Approximately 11¼ inches in circumference
Also Available Separately
Many components of the Hand Sewn Puzzle Ball Kits are also available separately. In particular…
The Pattern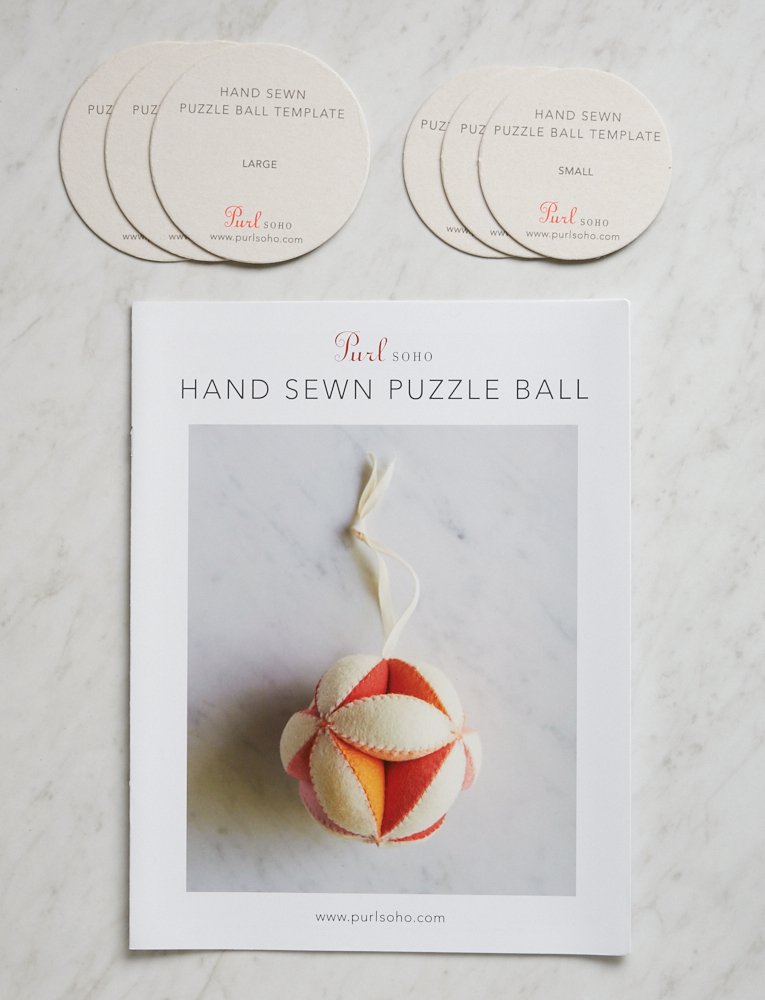 The Hand Sewn Puzzle Ball Pattern is available separately, as either a hard copy or PDF download. The hard copy includes six sturdy circular templates, while the download includes a diagram of them that you print and cut out.
The Felt
Our Wool Felt Bundles include the eight pieces of 100% wool felt you'll need to make a set of Hand Sewn Puzzle Balls.  Choose from our four Puzzle Ball palettes, as well as from dozens of other beautiful color combinations!