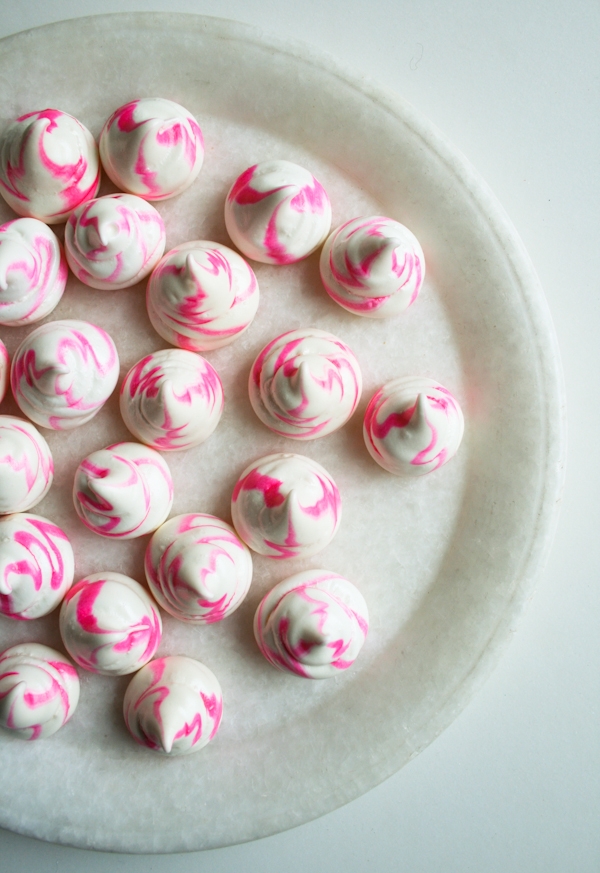 Making cookies together is a holiday tradition that many families share, and it's become a Purl Bee "family" tradition as well! (Click here, here, and here to check out our cookie posts from years past.) This year we're thrilled that Joelle and Jen's little sister, Sara Hoverson Espina, is getting in on the fun with her beautiful New Year Meringues.
Sara is the chef behind Three Blondes and a Tomas, a food blog where Sara shares her (mostly) gluten-free recipes, along with tales of life with her husband Tomas and their two dogs. Since meringues are, by nature, gluten free, we knew Sara was the right person to help us make these holiday favorites. Gluten-free or not, your friends and family will love these festive and tasty New Year Meringues!
From the Purl Bee family to yours, we wish you very happy holidays!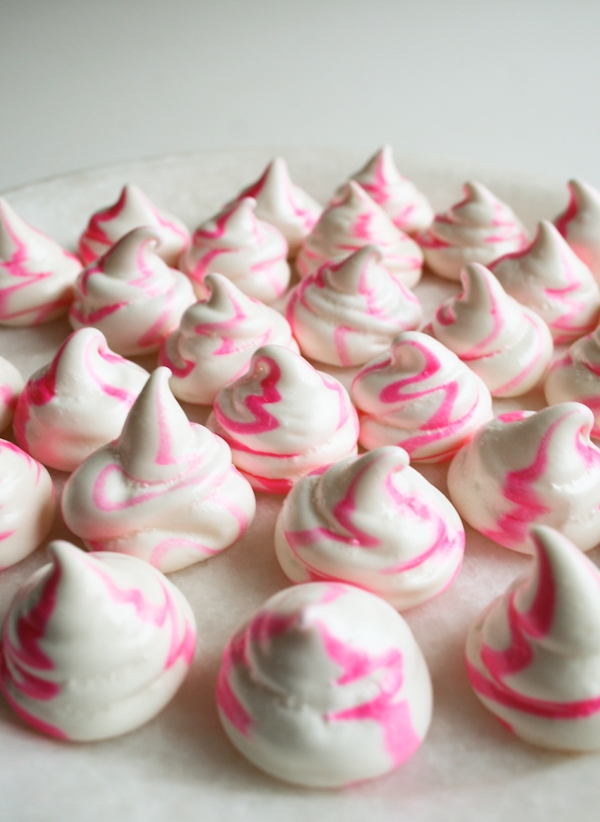 Sara's New Year Meringues
Meringues are both easy and painstaking to make. They often have no more than three or four ingredients and only take minutes to whip up and pipe out, but there are so many variables that can affect their outcome: the weather, the measurements, your tools… you name it! Meringues are sensitive little cookies, but never fear, I have included lots of easy tips within the recipe to help you master the ins and outs of meringues. I hope you enjoy the recipe and that your New Year Meringues turn out beautiful and delicious!
Ingredients:
3 egg whites, room temperature (

Egg whites that are still cold from the fridge have too much surface tension for good foam formation, so be sure that yours really are at room temperature!)
1 1/2 cups of confectioner's sugar (or 1/2 cup per egg white)
1 teaspoon vanilla extract (or try 1/2 teaspoon peppermint and 1/2 teaspoon vanilla for the holidays!)
Gel food coloring in assorted holiday colors
Tools:
Electric mixer, whisk attachment
Metal mixing bowl (if you don't have a metal bowl, use glass)
Parchment paper
Piping bag and round tip (size 802 or approximately 1/4 inch diameter)
Small paint brush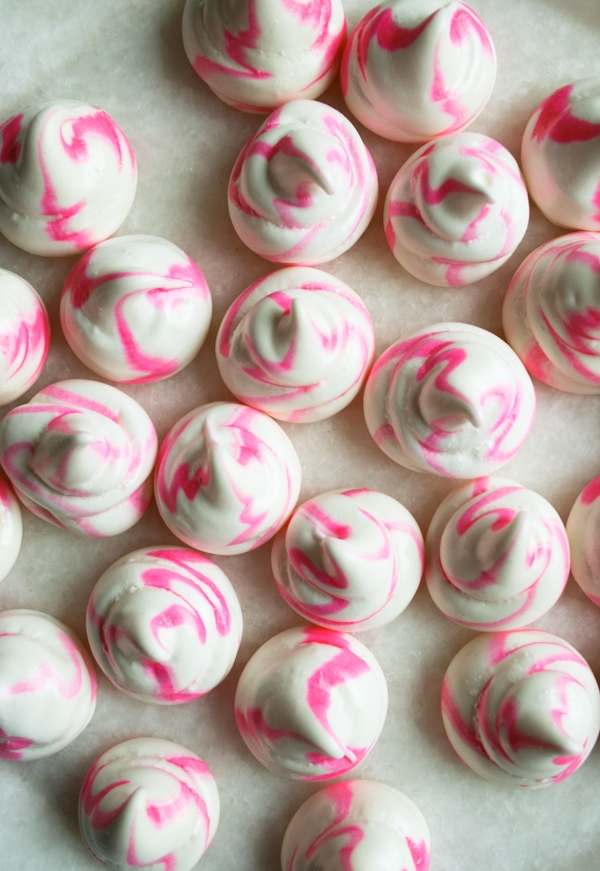 Preheat oven to 200° F.
Separate the egg whites straight into your metal mixing bowl.
NOTE: Using a metal, rather than plastic, bowl is key here. Since plastic is molecularly similar to fat, trace amounts of fat can remain on plastic bowls even after cleaning.  The fat left behind can coat the proteins in the egg whites, preventing them from forming a proper foam.
With the speed set to high on your mixer, whip the egg whites until soft peaks form.  Slowly add in the sugar. I lightly and steadily tap the sugar bowl on the edge of the mixing bowl until all the sugar has been added in a slow and steady stream.
Now add the vanilla (or peppermint) extract.
Continue to whip until there are firm, shiny peaks. This shouldn't take much longer, so keep a close eye on it!
Place a piece of parchment on a baking sheet.  Fit the piping tip into the piping bag.  With a small paint brush, paint a line or two of gel food coloring up the side of the inside of the piping bag.  Fill the piping bag about half way full with the meringue mixture. In a small circular motion, pipe the meringue mixture onto the parchment, forming "mini-beehives" about the width of a silver dollar. Use a new piping bag and a clean tip for each color you make.
Bake for 1 hour and 15 minutes at 200° F.  When your New Year Meringues are done, they should lift easily off the parchment and be "lighter than air"!
ONE LAST NOTE: For those of you who live in more humid climates, keeping your meringue stable is a challenge. When I tested this recipe in Seattle, my meringue quickly lost its stable structure, but I was still able to pipe them out, and in the end, they came out perfectly. So, if you are in a humid climate and your meringue quickly loses its structure, don't drive yourself crazy trying to figure out what you did wrong!
Happy munching and happy holidays! – Sara