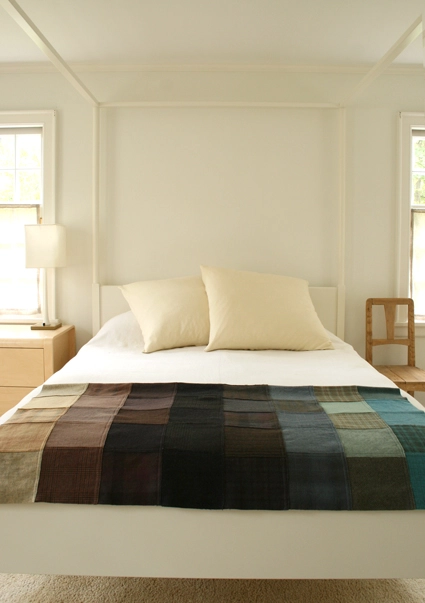 Our Felted Wool Patchwork Quillow has been a favorite Bee project ever since we posted it last winter. And no wonder! It's quick, practical and totally gorgeous!  The Quillow's rich beauty comes from Mary Flanagan's incredibly soft Felted Wool, which is hand dyed in a spectrum of warm, earthy colors. We're thrilled that this wonderful wool now comes in bundles of smaller, 7-inch by 8-inch pieces. Inspired by these little stacks of sumptuous fabric gems, we decided to revisit Mary Flanagan and her perfectly patchwork-able Felted Wool!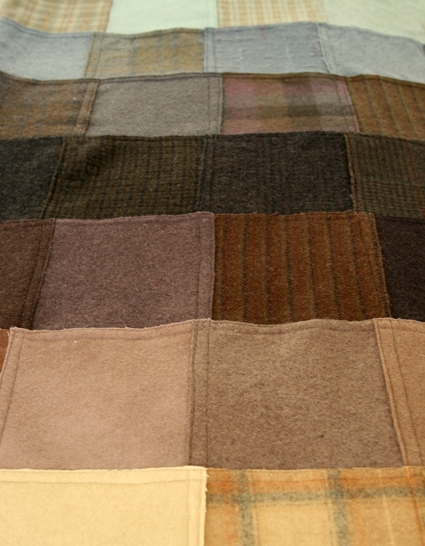 This time around, instead of a quillow, we decided to make a simple throw . We picked out eight lovely bundles ranging from the soft golden palette of "Straw" to the deep purple tones of "Blackberry". The effect is like a walk through the countryside, with each bundle evoking its own special place: a grassy hill, a plowed field, a bubbling stream.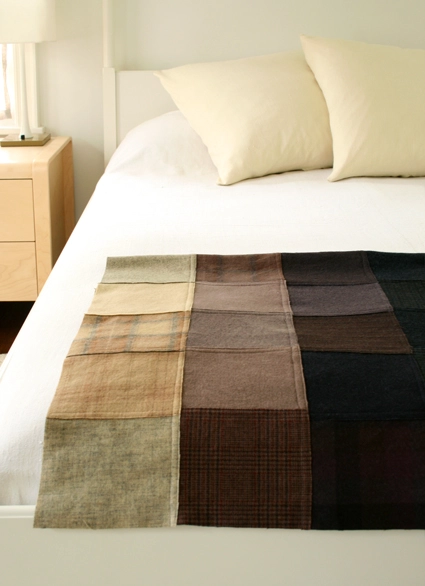 Expanding on Page's original detailed instructions and ingenious construction, the Felted Wool Patchwork Throw is a snap to make. It's amazing to be able to sew such a substantial throw (53-inches by 56 inches!) in a weekend! Best of all, because it's made from such special material in such a cozy palette, it comes out looking absolutely beautiful!
Materials

Eight Small Mary Flanagan Textured Felted Wool Bundles. We used Straw, Wagon Trail, Blackberry, Jax Blacks, Old Crow, Old Denim, Spring Rain, and Blue Spark
100% cotton machine sewing thread in a light, medium and dark to match your felt. We used colors 3170, 3756, and 9500.
For best results, use a walking foot on your sewing machine.
Cutting
Cut each piece of every bundle to be 6-inches by 7-inches. Keep the bundles grouped together. You might want to put each cut bundle into it's own ziplock to keep it neat and separated.
The original Felted Wool Patchwork Quilllow that this project is based on has some great instructions on how to cut the wool in the neatest possible manner. You can see them by clicking here and scrolling down to the "Squaring Up" section.
Pinning and Sewing the Strips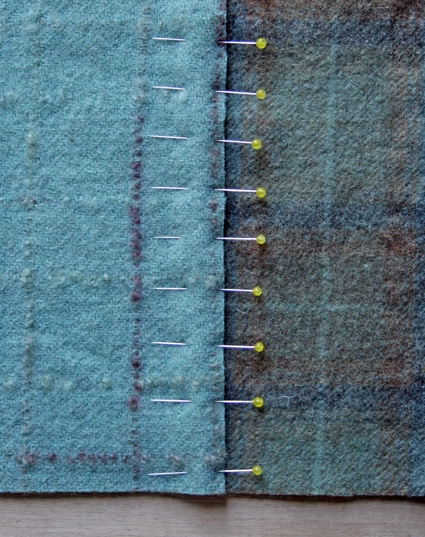 You will be sewing this throw together by first sewing each bundle into a long strip and then sewing these eight strips together. Arrange the ten pieces of each bundle into a pleasing order.
Pin together each strip as follows:
Pin along the 7-inch sides
Overlap the pieces by a half inch
Use ample pins since the fabric stretches as you are sewing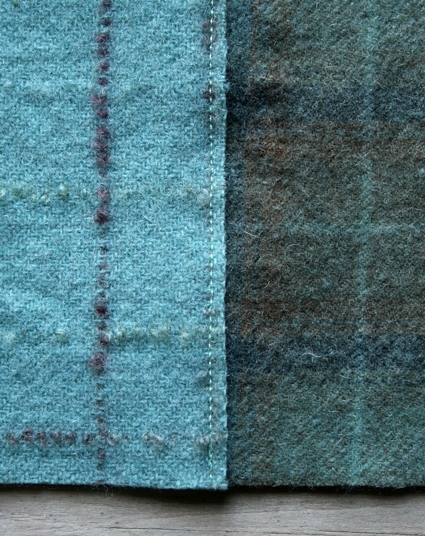 Using a walking foot on your machine, sew along the pinned edges using a 1/16-inch seam allowance.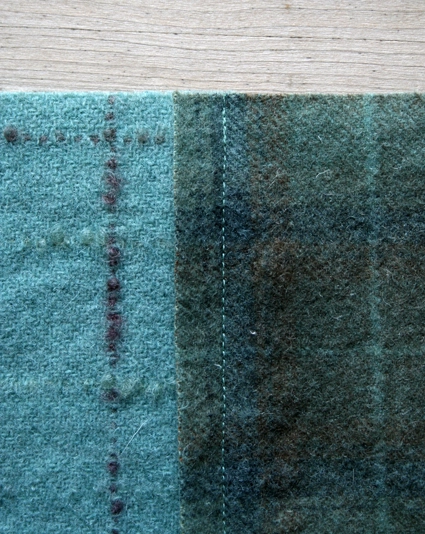 Flip the strip over and you will see that you have a half-inch flap where the two pieces of wool overlap as shown above.  Using a 1/16-inch seam allowance, sew this flap down just as you did on the reverse side.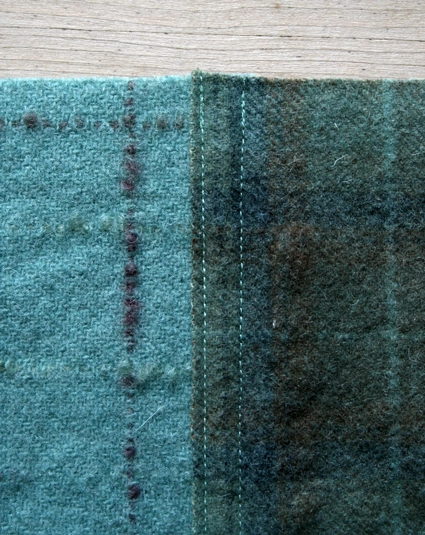 You will have two parallel seams running along the overlapped felt which creates a finished seam on both sides. Repeat this step for all pinned seams along the length of the strip.
Repeat this for each cut bundle. You will have eight strips.
Piecing the Strips Together
Lay out your strips into a pleasing order.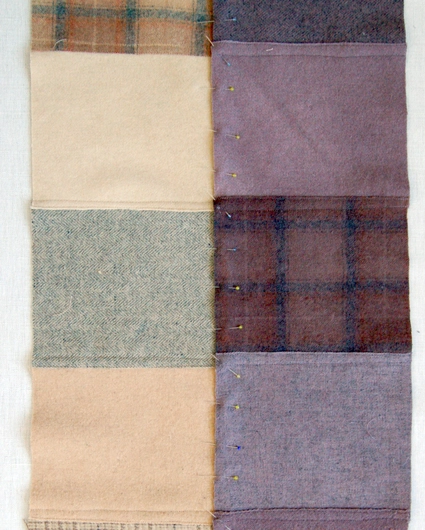 Pin a long edge of the  first strip to a long edge of the second strip with the second strip overlapping the first by a 1/2-inch.  Their seams should be facing opposite directions as in the photo above (the seams on the lighter strip are facing down and the seams on the darker strips are facing up.) Take care to pin very carefully and make sure that the strips and the pieces line up neatly.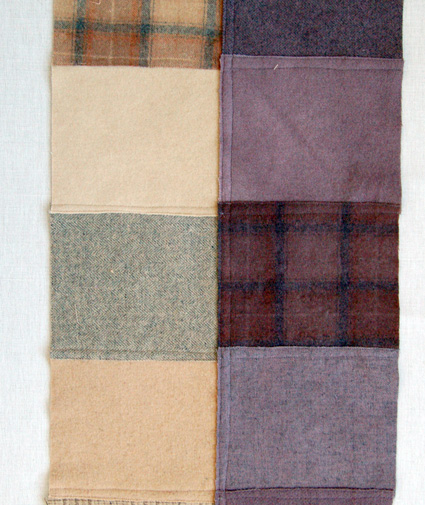 Sew the strips to one another in the same manner you sewed the pieces together sewing 1/16-inch from the raw pinned edge and then flipping it over and sewing 1/6-inch from the 1/2-inch flap on the back.
Piece the remaining strips to each other in this manner, always making sure the new strip's seams are facing the opposite direction as the previous strip and overlapping the new strip on top of the previous one.
Trim the excess threads from the front and back and you're all done!