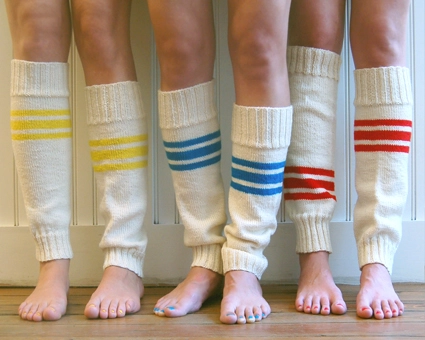 In my mind tube socks were always the territory of my older brother. Although tube socks factor prominently in some of my least favorite olfactory memories, I do have a deep fondness for the image of my gonzo brother bushwacking his way through adolescence in his always-mismatched tube socks.
I'm pretty sure that every American who lived through the seventies and eighties has a similar nostalgic feeling for tube socks. It seems that when such a humble object becomes so iconic to a whole generation then the power of design must be at work. The classic white tube sock with the three bright stripes under the knee is crisp and clean, but it also conveys a sporty confidence that is hard to resist.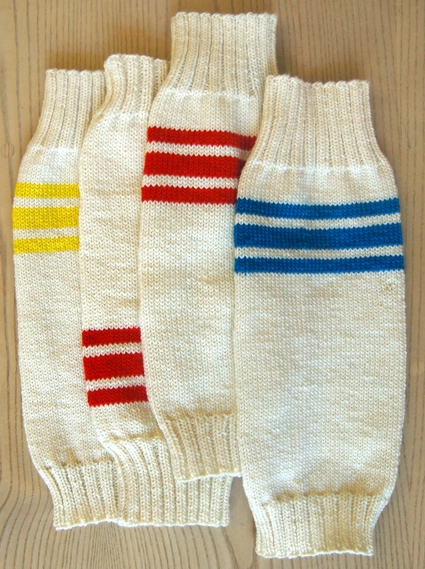 And so in homage to timeless design and to my brother, who, in his forties, still sometimes shows up in two different tube socks, I decided to knit up a contemporary version of the classic tube sock. Instead of a replica pair of tube socks, I thought I'd shake things up a bit and make a pair of sassy little leg warmers. Perfect for young fashionistas and, why not?, even for us fogies who just have a really tender spot in our hearts for tube socks!
For this job I turned to Koigu's classic sportweight Kersti. Crepe spun for a clean finish and hand dyed for beautifully deep color, Kersti is as good as merino gets, durable and amazingly soft too! -Whitney
Materials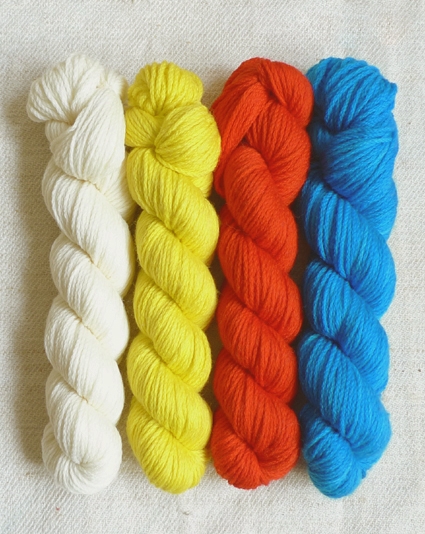 4 total skeins of Koigu's Kersti, 100% Merino Wool. You will need 3 skeins of the Main Yarn (I used #0000) and 1 skein of the Contrast Color (these colors, from the left, are: #2100, #2229, and #2130).
A US #5, 12 inch circular needle.
A US #6, 12 inch circular needle.
Gauge
6 1/4 stitches = 1 inch in stockinette stitch
Finished Size
One size fits many: 12 inches around (stretching to approximately 18 inches around), and 16 1/4 inches long.
To adjust the sizing, just cast on any multiple of four stitches. For example, for smaller sizes you would cast on 64, 68, or 72 stitches and for bigger sizes, 80, 84, or 88 stitches. (For much bigger sizes you may want to purchase one extra skein of the Main Yarn, unless you plan to make your leg warmers shorter than 16 1/4 inches.)
Pattern
With the Main Yarn and the smaller needle, cast on 76 stitches.
Place a marker and join to work in the round, being careful to not twist your stitches.
Round 1: *K2, p2, repeat from * to end of round.
Repeat Round 1 until piece measures 3 inches from cast on edge.
Change to larger needle and knit 10 rounds.
With the Contrast Yarn, knit 4 rounds.
With the Main Yarn, knit 3 rounds.
With the Contrast Yarn, knit 6 rounds.
With the Main Yarn, knit 3 rounds.
With the Contrast Yarn, knit 4 rounds. Cut the Contrast Yarn.
With the Main Yarn, knit another 7 1/2 inches.
Change to the smaller needle.
Next Round: *K2, p2, repeat from * to end of round.
Repeat the last round until bottom cuff measures 2 inches.
Bind off in the 2 x 2 rib pattern.
Cut the yarn and weave in ends.
Then make another!