I love to knit for babies. Not just for the usual reasons of it being fast and immediately gratifying, but because I love while I'm knitting to think about the baby herself, her budding life and the amazing road ahead of her. I love to think about the explosion of feelings the baby's parents are experiencing and the cocoon of love they are busy creating for their little one. And I love to think that all of these thoughts and good wishes are soaking right into the gift I'm knitting!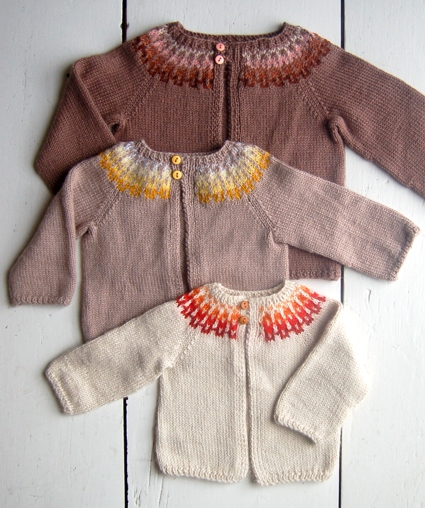 I wanted to design a sweater that would reflect these thoughts, that would feel almost as precious as the baby herself.  I wanted it to be delicate and pretty, but practical too, a small version of something that I would want to wear. In short, I wanted to design a super special baby sweater!
Of course a super special baby sweater would have to be made out of something incredibly soft and beautiful and so I turned to Blue Sky's Royal Alpaca. Spun from a very rare quality of luxury alpaca fiber, this yarn is as sumptuous as cashmere and as singular as the baby herself! Royal Alpaca comes in a vintage palette of gentle colors, from petal pink to warm cocoa, perfect for heirloom baby gear. (You'll only need one skein for the newborn or 6 month size and two skeins for the 12 month size.)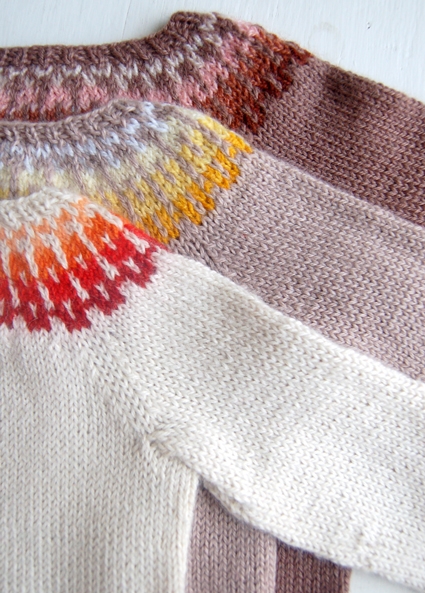 So things didn't get too serious, I decided to add a burst of happy color around the yoke in a simple fair isle pattern. When just a little bit of yarn is needed, we love to use mini skeins of embroidery or needlepoint yarn, like Gumnut's Blossoms crewel yarn or Koigu's KPM Needlepoint Yarn. It's 100% wool and comes in such a huge array of rich and sophisticated colors that choosing four is a real pleasure.
Our Baby Girl Fair Isle Cardigan is sized for newborns, 6 and 12 month olds. Included in the pattern is a complete list of materials, detailed finished measurements, beautiful photographs and thorough instructions for making your own very special sweater.
Materials
In addition to a Baby Girl Fair Isle Cardigan pattern, you'll need…
Gauge
7 stitches = 1 inch in stockinette stitch on larger needle
Sizes
Newborn (6 months, 12 months)
Pattern