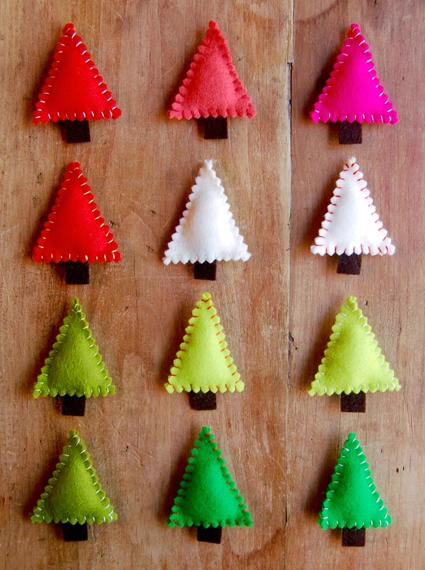 Christmas Tree pins are a really fun tradition.  I love seeing people walking around New York with a miniature tree pinned to lapels of their heavy winter coats. I really love everything about Christmas Trees actually, their simple shape, decorations, lights, and wonderful smell.  I decided to make these sweet, and totally easy Christmas Tree pins as a celebration of the holidays and as something very simple that would usher in the holiday spirit.  I can't wait to hand them out to everyone I know.
My go-to material when making something quick, easy and graphic like this is 100% wool felt.  It's such a dream to work with and it comes in our color coordinated bundles of eight 8-inch x 12-inch pieces including the bright and fun Holiday Bundle I used. I love the contrast of the vibrant pink and fresh green with the warm white and chocolate brown.  It says Christmas without being too traditional.  Plus, since it's felt, it is unbelievably easy to work with since it needs no hemming.
I used the same easy technique that I used for my Valentine Pins. It's so simple, satisfying, and addictive.  Every time I make a pin like this I want to make a thousand of them!  It's the perfect project for a holiday season weekend at home with family and friends.
Materials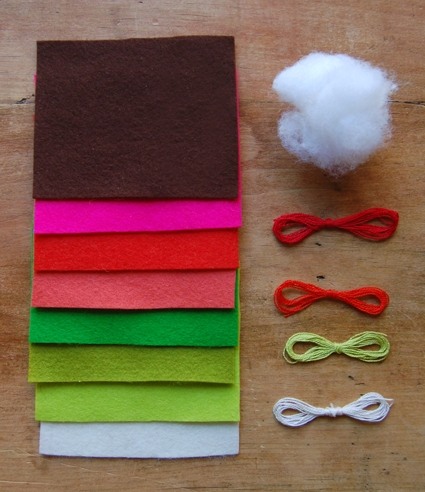 To make 16 (or more) Christmas Tree Pins:
Special equiptment:
Pattern
Cutting
Making the Templates:
To make your tree template cut a triangle with a  1½-inch base and 2-inch sides out of the scrap paper.
For the stump template cut a rectangle that is ½-inch wide by ¾-inch tall.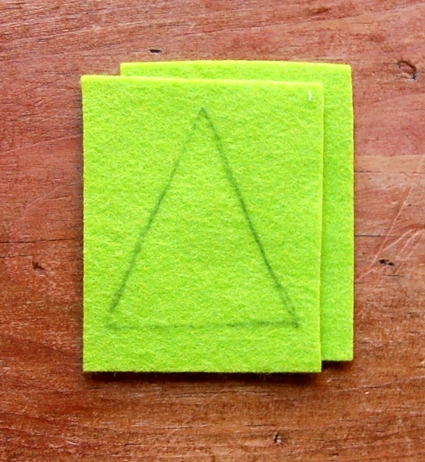 Cut two 2-inch by 2 ½-inch pieces from a non-brown piece of felt and place them on top of one another.
Trace the tree template on the top piece.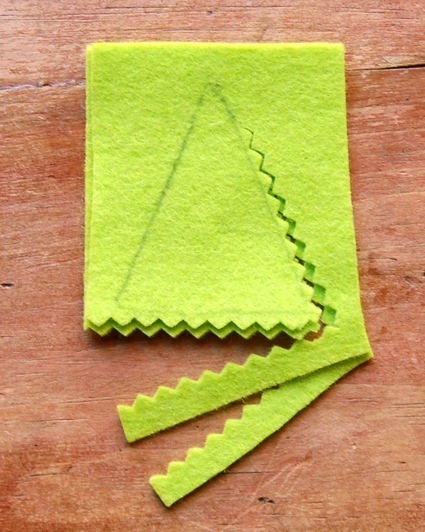 Using your pinking shears cut neatly around the traced tree shape through both layers of felt.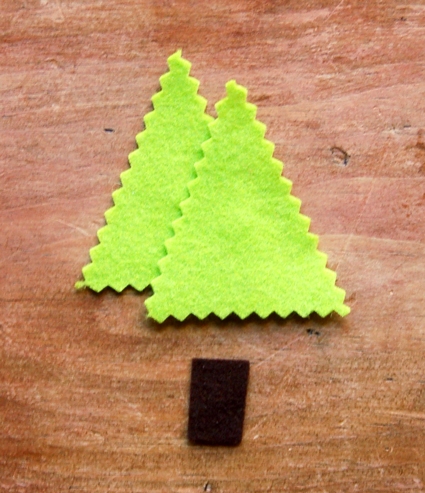 You will now have two identical tree shapes.  Flip them over so the pencil makings are on the back.
Also cut out one stump from the brown felt using your stump template.
Sewing and Stuffing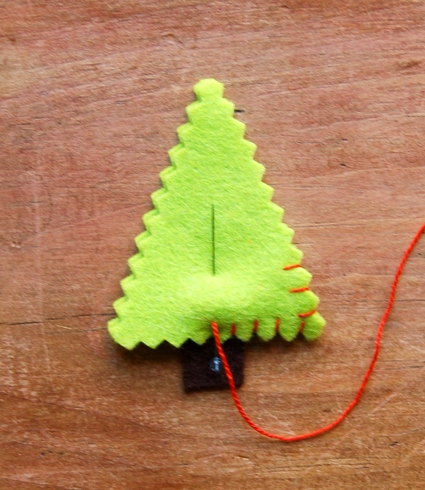 Pin the stump piece in between the two tree pieces in the middle of the short bottom side of the tree.  The stump should stick out ½-inch.
Using a contrasting color of embroidery thread stitch around the edge of the tree pieces, in the zig zag dips of the pinked edge as shown above. When you get to the bottom you will sew in the stump as you do this.
Sew all around the edge of the tree in this manner but pause when you are 1-inch from your first stitches so there is a gap for stuffing.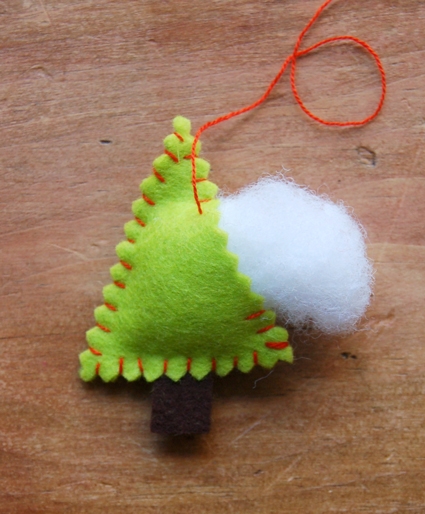 Take a walnut sized ball of stuffing and stuff it into the 1-inch gap. You might want to use a sharp object like a knitting needle or pencil to get all the stuffing firmly inside of the tree.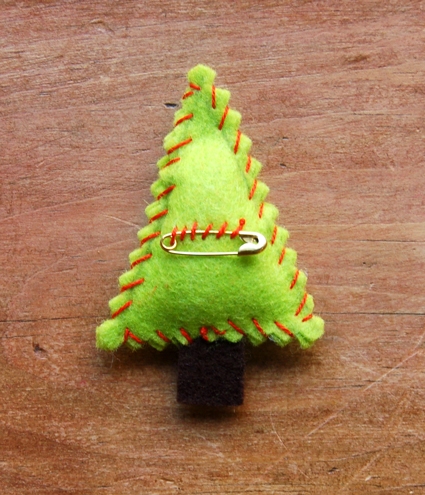 Once all the stuffing is neatly inside continue sewing around the tree's edge until it's totally closed. Tie a knot at the back of the piece to keep the edge stitches in place and then pull your thread out in the middle of the back of the tree shape, where you want to place your pin.
Sew on your safety pin along the pin's stationary arm and you'll be all done.