Lotta Jansdotter is a super talented author and designer known for her beautifully modern sense of style. We recently got in her new Lotta's Printing Studio Kit and I knew I wanted to use it as soon as it come out of the box. It comes with a pretty and informative book that explains different printing techniques all of which are fun and do-able. It also comes with some beautiful stencils that make printing on fabric quick and easy.
I wanted to make something colorful and useful with this new (for me) stencil technique so I decided on some simple cocktail napkins.  I picked some cheery colors for my fabric paint the lovely Robert Kaufman Essex, in Natural, as the background so the colors would really pop. The napkins themselves were a breeze to sew. I didn't even use pins, which really cut down on the time factor. I love how they came out and I love the idea of having them all spread out on the food table welcoming guests to a summer party.
Designed by Purl Soho designer, Molly Schnick. Click here to see even more of Molly's work!
Materials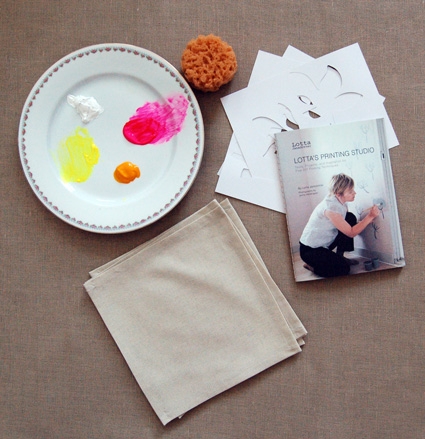 To make twelve 8 1/2-inch square napkins:
Lotta's Studio Print Kit. The kit includes stencils, an instruction book, linoleum cutters (which you won't need for this project) and two sponges.
1 yard of Essex in Natural
4 colors of Fabric Paint or Silk Screen Ink. I used Jacquard Textile Color in 151 Fluorescent Yellow, 220 Opaque White, 102 Goldenrod, and 154 Fluorescent Red. You can most likely find something similar at your local art supply store or you can find a full selection online here.
Making the Napkins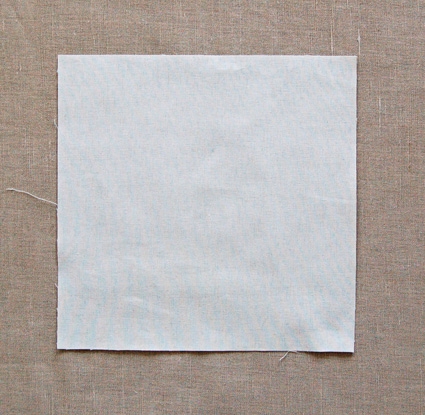 Cut  a 10-inch square from your fabric.
Iron all four sides 1/4-inch to the wrong side of the fabric.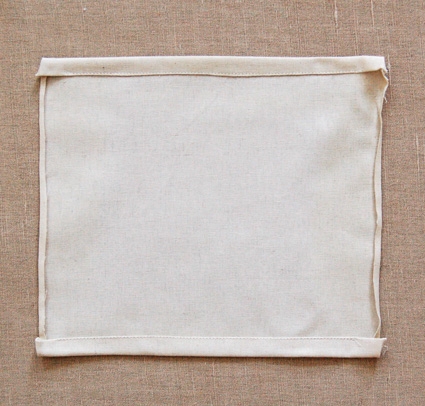 Iron the top and bottom sides down 1/2-inch to the wrong side and edge stitch the folds down starting and stopping 1/2 inch from the left and right sides. Backstitch at the beginning and end of these seams.
I found that if I ironed the sides down thoroughly enough I did not need to use pins for the sewing. You might want to try this method, or you can always use pins if you're hesitant.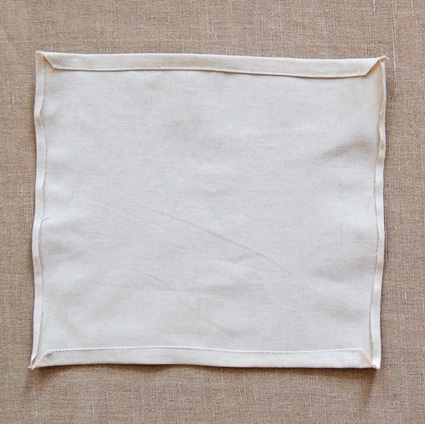 Snip off the excess from the 1/2-inch you left unsewn on each seam at a roughly 45-degree angle as shown above.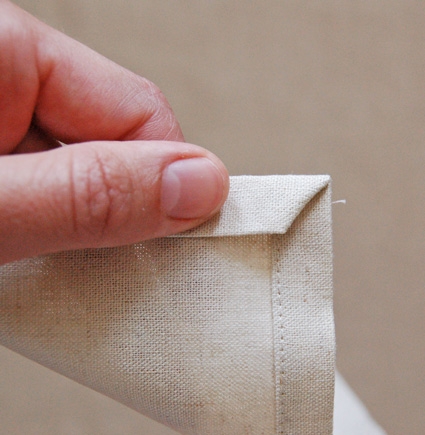 Now fold the remaining sides of the square a 1/2-inch over to the wrong side of the napkin. Tuck each corner of this fold under itself at a 45-degree angle as shown above. The excess that you cut out in the previous step should make this pretty easy.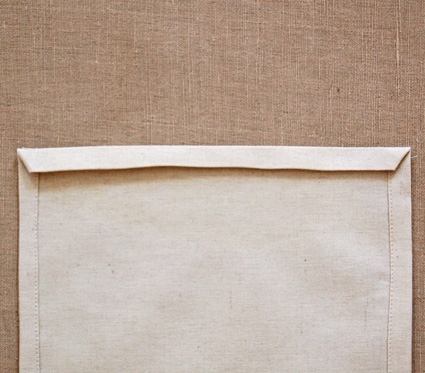 Press the sides down with these folds at the corners.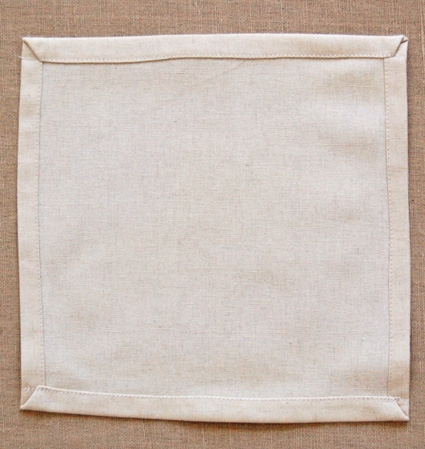 Edge stitch these folded sides down starting from the edges of the napkin.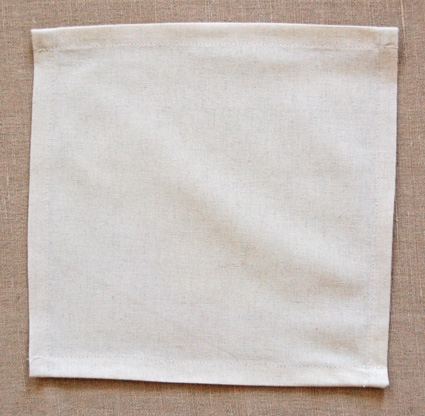 Trim any threads and repeat eleven more times.
Printing Tips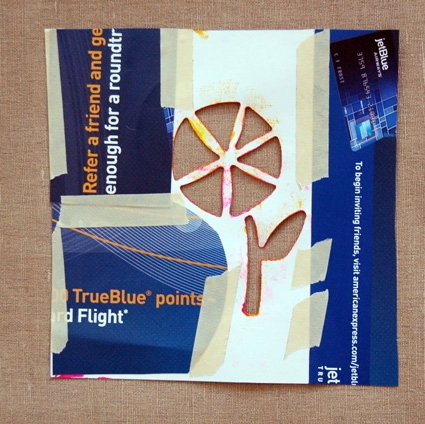 The instructions for printing can be found in Lotta's Studio Printing Kit but I thought I'd pass on a few tips:
In order to print each shape clearly I extended each stencil a bit and covered the shape next to it (each stencil has 2 shapes on it). For the stencil above I cut up a heavy piece of junk mail and taped over the adjacent shape and along the edge of the stencil to give myself a bigger area to sponge over without going over the edge.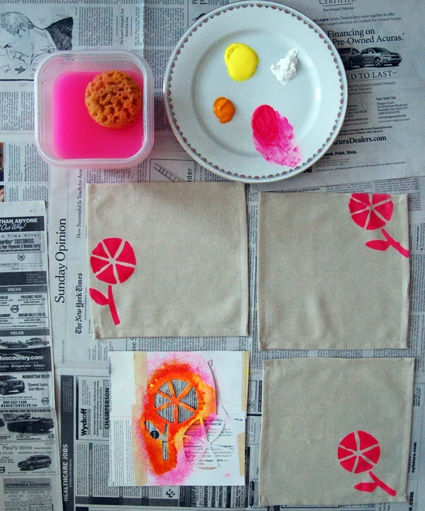 I printed each napkin with one color first. It gets a bit messy switching between colors so it's best to print all that you want of one color at one time and them move on to a second color.
In between different colors it's best to wipe off the stencil and let it dry for a few minutes before moving on to another color.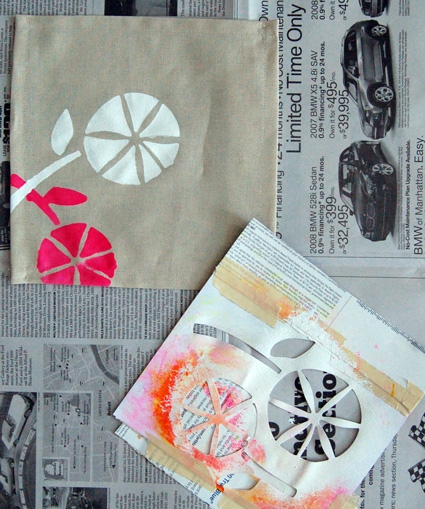 And then, after printing the first flower on each napkin, I printed the next one. I used the larger flower shape, on the other side of the stencil for the second color of each napkin, which means that I taped over the smaller stencil shape this time.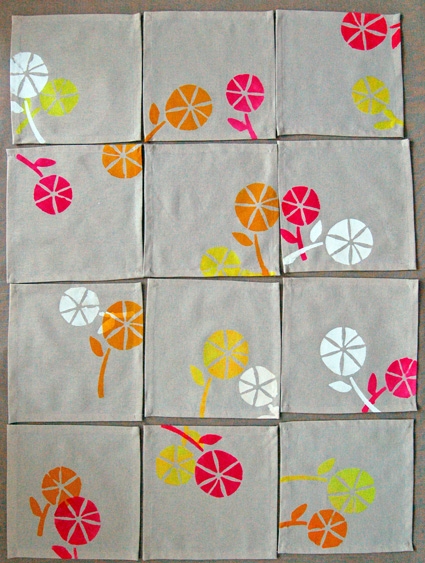 I had a great time placing the stencils at different angles and using the different colors and I hope you do, too! –Molly