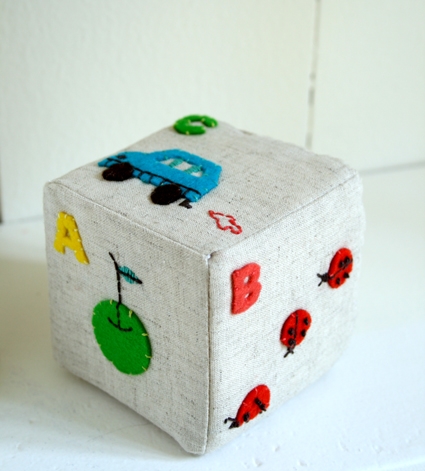 With the arrival of Jen and Ray's new baby girl this week (welcome Bobbie Rae!) as well as the early arrival of our designer Brooke's new baby 2 weeks ago (welcome Baby M!), we've been taking a fresh look at some of our favorite baby toy kits.  It feels really nice to make something by hand for a newborn, but there's not always time to come up with an original idea and gather all the materials in addition to making it, especially if the baby comes early like Brooke's did. We've decided that from now on we're going to have a kit or two on hand so that we can make something unique and timeless even if the special day comes sooner than expected or at a time when we can't escape to buy all the materials.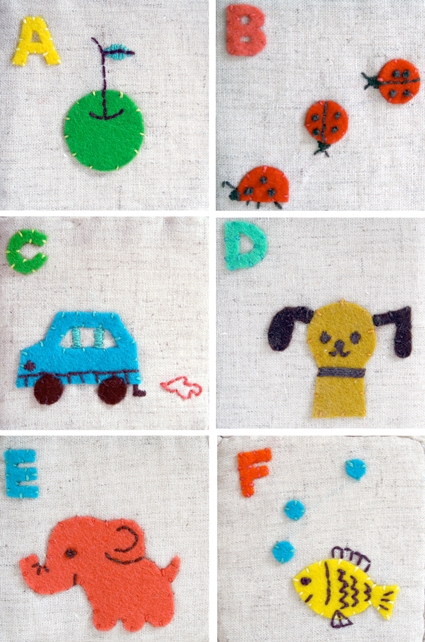 One of our favorite kits is this Me-in Baby Alphabet Block with six sides of letters and fun icons that start with the corresponding letter.  Babies tend to love anything soft and colorful so we think this will be a big hit for any newborn in our life.  It's a lot of fun to applique all the cute shapes and then embellish each shape using different embroidery stitches.  The more stitches you know, the more creative you can get with the embroidered details.  Check out a few of these fun embroidery stitch books that we love.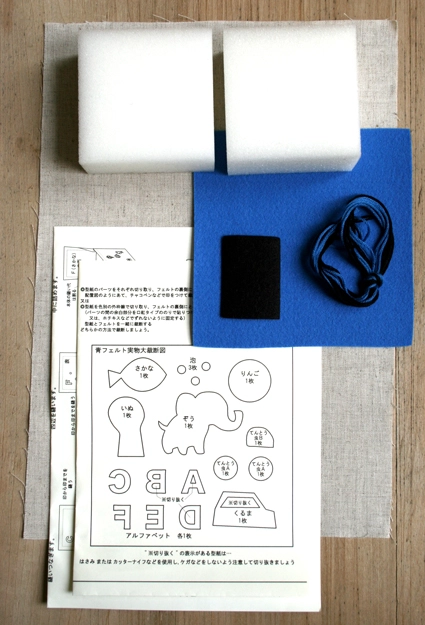 We chose to mix it up a bit and make ours super colorful by using some of our 100% wool felt that we had lying around, but the blue and black felt and embroidery thread that comes in the kit is equally cute for a more monochromatic look.  This project has inspired us to get a few more kits going for all of the other babies that are soon to arrive. Like this Mama Bear and Baby Bear Felting Kit if you're into felting.  Or these super soft Bunny Baby Rattles that are irresistible.  How about these cute Pair of Cats that the baby will love to play with for years to come.  We can see we are going to be very busy, but enjoying every moment of it!  Congratulations Jen and Brooke (and the dad's too)!
–The Purl Bee