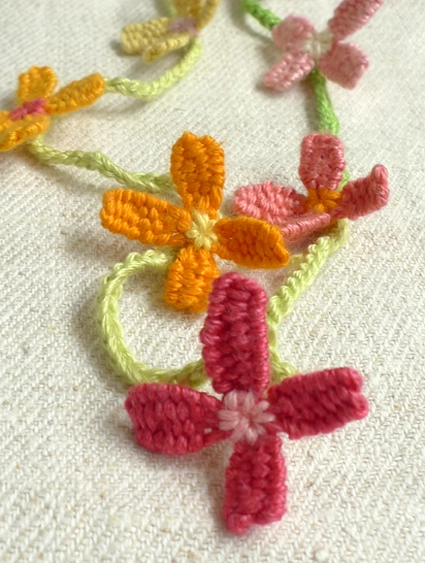 I recently spent some time experimenting with Purl's newest craft accessory, the Hana Ami Flower Loom, and the result is this charming chain of flowers. It was a real joy to make, combining simple weaving techniques with some basic needlework. I love these flowers with their quirky little personalities and bright dispositions. They really bring a smile!
The Materials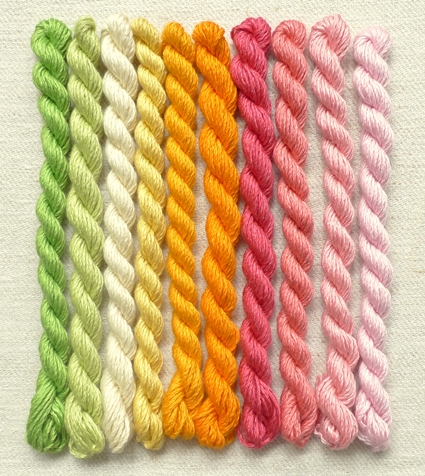 10 skeins of Brown Paper Packages' Trio needlepoint yarn, 50% Silk and 50% Merino Wool. These colors, from the left, are: Margarita, Apple Martini, Candlelight, Citron, Quince, Clementine, Watermelon, Salmon, Shrimp, and Taffy. This is enough yarn to make at least three necklaces.
A Hana Ami Flower Loom from Clover. (The loom comes with a plastic tapestry needle, but I used a metal one.)
A size E crochet hook.
The Loom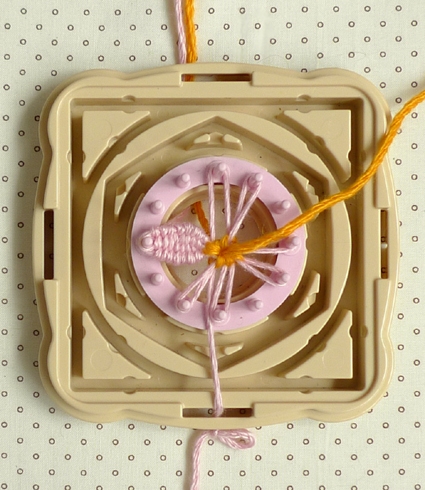 The Hana Ami Flower Loom comes with six attachments and multilingual instructions for all of the different ways to use them. When you think about combining attachments and mixing techniques, the possibilities are endless. Playing around with the loom, I made these two flowers…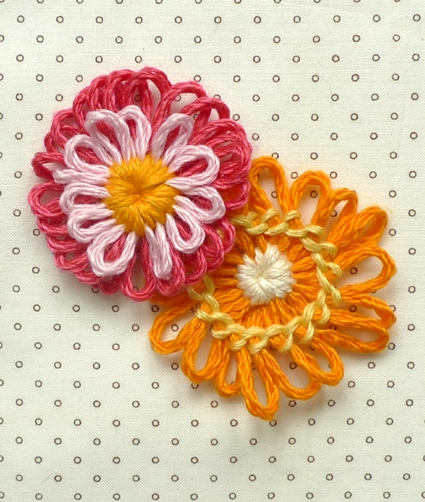 …but decided to make my necklace with these flowers.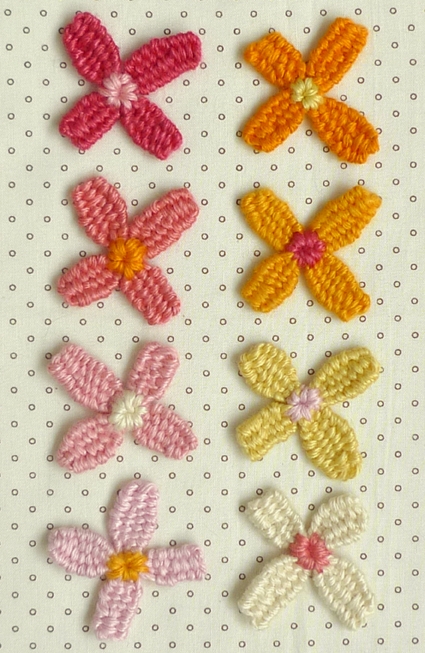 They were made on the smallest circular loom, and each one is about an inch and half in diameter. The Trio yarn comes in so many subtle shades and with such a beautiful shine that I really felt like I was making beautiful little jewels!
Making the Necklace
Once I had woven all eight flowers, I crocheted them together using a simple chain stitch. To attach the flowers, I brought the hook under a couple of strands at the center of the flower and made a slip stitch. I used the Margarita color to attach the first three flowers and then switched to the Apple Martini for the next five, chaining 20 stitches between each flower. The final necklace is 28 inches around, but you can easily
customize yours by adding or subtracting flowers and/or chain stitches.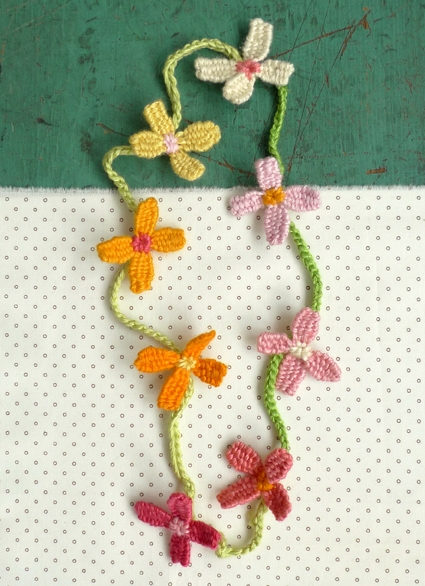 This is really just one of a million ideas that come to mind with the Flower Loom. Crochet flowers together for an amazing curtain or even bedspread, sew a pin to the back for a sweet brooch, or assemble a whole bouquet. Let us know where your imagination takes you! Thanks! – Whitney