We are big fans of the wonderfully creative products made by the super talented Sharilyn Wright of Lovely Design (you can find tons of great gifts on her site).  In fact, we've used her beautiful rolodexes in our shops for years. Recently, Joelle came across an incredibly sweet yet modern Christmas Tree Quilt on Sharilyn's Flickr page (while you're there, you may want to look around at her photostream a bit, it is filled with amazing, inspring ideas!).  We loved it so much and knew that you would, too! We asked Sharilyn if she would be willing to share her pattern with our Purl Bee readers and she generously agreed.  We think you'll agree that her quilt is charming, graphic, modern, and very, very lovely.
Since not everyone has a lot of time to make a quilt before the holidays (including us), we made a small version that went very quickly.  The beauty of Sharilyn's pattern is that you can make it as small or large as time allows! Joelle and I made this quilt together while sitting in front of a cozy fire.  We hope you'll find the time to enjoy making one of your own.   Thanks Sharilyn!!  –Page and Joelle
Materials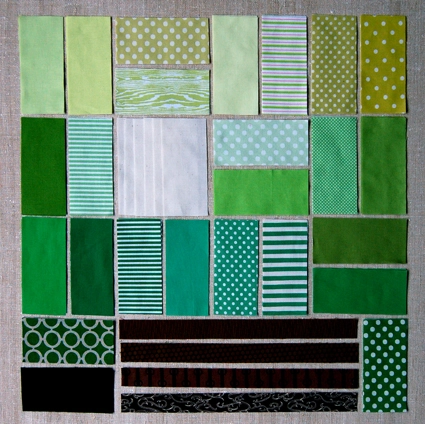 For our trees we used solids from our Christmas Tree Spectrum Bundle, as well as small amounts of printed fabric (each tree piece must be at least 4.5-inches x 5-inches pre-cutting, or 1/4-yard is plenty).
For our printed tree fabrics we used prints from the following collections:
Joel Dewberry Ginseng
Lecien Dot
Lecien Stripes
For our tree trunks and binding we used printed fabrics in browns from the Cake Rock Beach Collection (for trunks you will need the piece to be at least 1 inch wide x as many inches long as the amount of trunks you want to make).
For the binding of our quilt we used Cake Rock Beach Earth Honeycomb.  If you make your quilt the same size as ours you will need approximately 3/4-yards of fabric.  If your quilt is going to be larger (or smaller!) than ours you can find our Binding Fabric Yardage Formula at this link (scroll down to the midde of post) for complete instructions on how to figure out how much binding fabric you need.  For this quilt, binding strips should be cut to 2 1/4-inch wide
For the hanging tabs we used the same fabric as the binding.  You will need two pieces that measure 4-inches wide x 7-inches long for hanging tabs.
We used Kona Cotton, Snow for the background of our quilt. You will need 1-yard of white background fabric to make a quilt the same size as ours.
You will also need 1 1/4-yards of fabric for the back of your quilt to make a quilt the same size as ours.
Finished Measurements
Approximately 27-inches long x 14 3/4-inches wide
Tools and Notions
100% Cotton Sewing Thread (we used off white)
Crib Size Batting (or appropriate size for your quilt), we used wool, but you can use whatever type you prefer.
Sewing needles (for hand sewing binding)
Non-Slip Ruler
Rotary Cutter
Download and print the Forest Block pattern cutting instructions and sewing instructions here: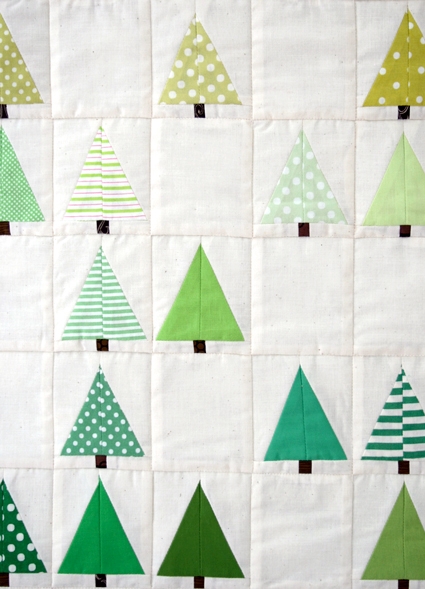 The Pattern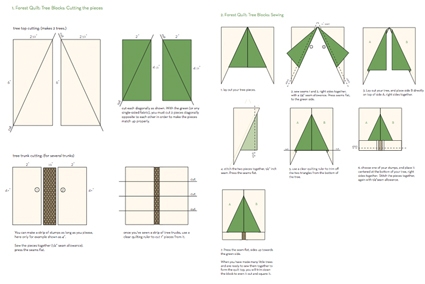 Assemble Forest Blocks:
Follow directions from the Cutting and Sewing PDF's (find links to these files above) to make your Forest Blocks. We made 25 Forest Blocks for our quilt.
Once you have assembled all of your blocks, cut them down to 3.5-inches wide x 4-inches tall.
Cut plain rectangles of your background fabric to 3.5-inches wide x 4-inches to fill the spots between the trees.  We used 15 plain blocks for our quilt.
Lay out your quilt blocks in a pleasing arrangement.  We arranged ours like Sharilyn's, light greens at the top and dark greens at the bottom.
Sew blocks together with a 1/4 inch seam allowance.
Baste quilt, batting and backing fabric, find complete instructions at this link (following "Make a Quilt Sandwich if you scroll down).
Quilt your Little Forest Quilt however you'd like! We machine quilted ours in the ditch between the blocks.
Cut off excess batting and backing fabric.
Bind quilt, find complete instructions for a Double Fold Binding at this link.
Make hanging loops by folding the two long sides of each 4-inch x 7-inch rectangle to the center of the fabric, right side out, press folds. Fold the raw edges to the inside of the strip 1/2-inch on each end and press into place. Attach hanging loops by hand to the back edge of the binding at the top of the quilt.
Slip a long knitting needle or a rustic branch into the loops and hang on some small nails or tacks.