I had Rickie's pillow at my house for a good two months before this photo was taken.  I gave her many reasons for the delay, my camera battery was dead, I didn't get home in time to catch the good light, I needed to change my bedding, it was raining…the list goes on and on. The truth is, every time I looked at the pillow it made me smile, I didn't want to give it back!
To create this charming pillow Rickie started with our Olympus Sashiko Sampler, White Hana-Zashi, but when it came to choosing thread she decided to forgo tradition (which would call for navy blue) and instead used 6 cheerful and vibrant colors.  She framed the finished stitching in a pillowcase of Tencel Linen from Robert Kauffman and closed it up with a 12-inch, Turquoise non-separating nylon zipper.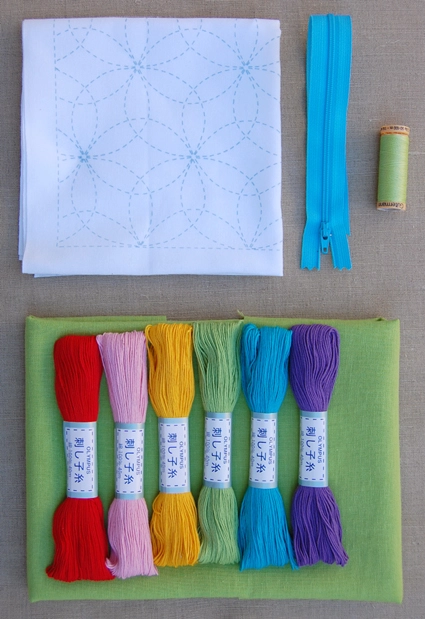 Materials
One Olympus Sashiko Sampler, White Hana-Zashi
Sashiko Thread (one each, from left to right in the photo above): Red – 15, Pink – 14, Yellow – 16, Green – 6, Turquoise – 17, Purple – 19
Turquoise 12-inch nylon non-separating zipper
1/2-yard Robert Kaufman Tencel Linen in color Lime
14-inch Bamboo pillow form
Before she got started, Rickie checked out Mari's Sashiko Tutorial. She followed Mari's tutorial starting at the bottom right corner of the sampler and followed the curvey lines with one color to the next corner. She stitched the next curvy line with another color, and then another, and another, and another…you get the idea.  Once Rickie finished her stitching, she cut 1 1/2-inch strips from the Tencel Linen and made a frame around all 4 sides of the sampler using a 1/4-inch seam allowance. Then she cut a 14 1/2-inch square of Tencel Linen for the back of the pillow.  Following directions from Mari's Bias Tape Purse with Zipper, she sewed in her zipper and then and sewed the pillow case closed with a 1/4-inch seam allowance.
Rickie's pillow was a welcome addition to my house for the time it was here – I'll be making my own soon! –Jen