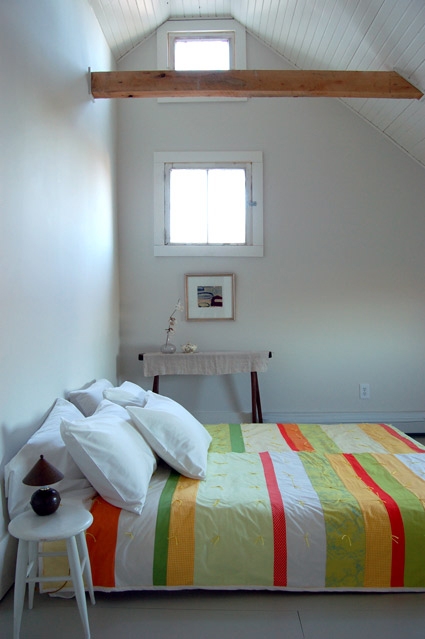 Tying is a quick and easy way to quilt a quilt. This technique was used in our Sunny Tied Quilt pictured above.
Cut the backing to be several inches larger than the quilt top.
To make the quilt sandwich place the backing fabric on a clean patch of floor and tape the backing down pulling it taut as you tape.
Place batting in the center of the taped down muslin. Unfold the batting on top of the muslin and smooth it down gently from the center out. Trim it so that it's about 2-inches from the edge of the muslin backing all the way around.
Fold quilt top into fourths, right sides together. Place folded corner in the center of the batting and then unfold the top, right side up, onto the batting. Smooth it out gently from the center.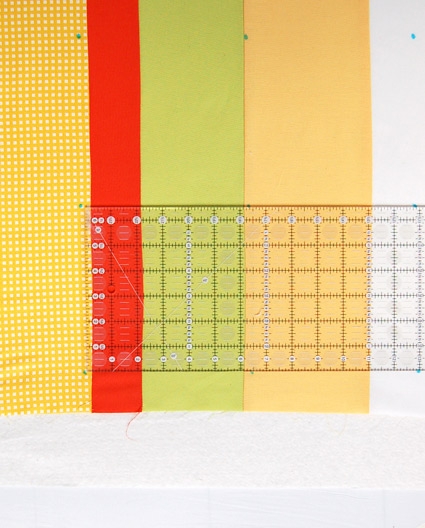 Using an erasable fabric marker where you would like your ties to be along a straight across the quilt. Make sure there is a mark at least every eight inches across the area of the quilt.  The quilt in the example was marked every 6 1/2-inches vertically and horizontally.
Thread a Ribbon Embroidery Needle with some non-super wash wool yarn. Use the smallest, sharpest needle you can thread. There is no need to tie a knot or cut the yarn. Sew a 1/4-inch stitch through the first marked point on the edge. then pull the yarn through and take another stitch at the next marked point. Sew across an entire row of marked points in this manner, leaving slack in between each stitch as shown above. At the end of the row cut the yarn, leaving a long tail at each end. Sew every row of marked points in the manner.
It's very important that you sew through all three layers (the back, the batting, and the top) during this step.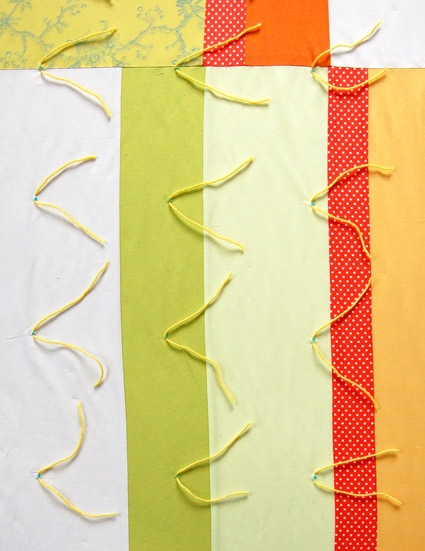 Cut the midpoints of all your stitches as shown above and then tie each stitch tightly with a square knot. A square knot is a simple double knot: twist the right side over the left side and then the left side over the right side.
Trim all of the ties to be 1 1/2 inches long. You can get rid of the marks by machine washing the quilt when you're done with the binding or by using the pen's erasable tip.