The insouciant beauty of poppies is nothing if not uplifting! Our Poppy Garden Embroidery Kit taps into the wild whimsy of these wonderful flowers with two totally different Samplers, each based on the same beautiful design.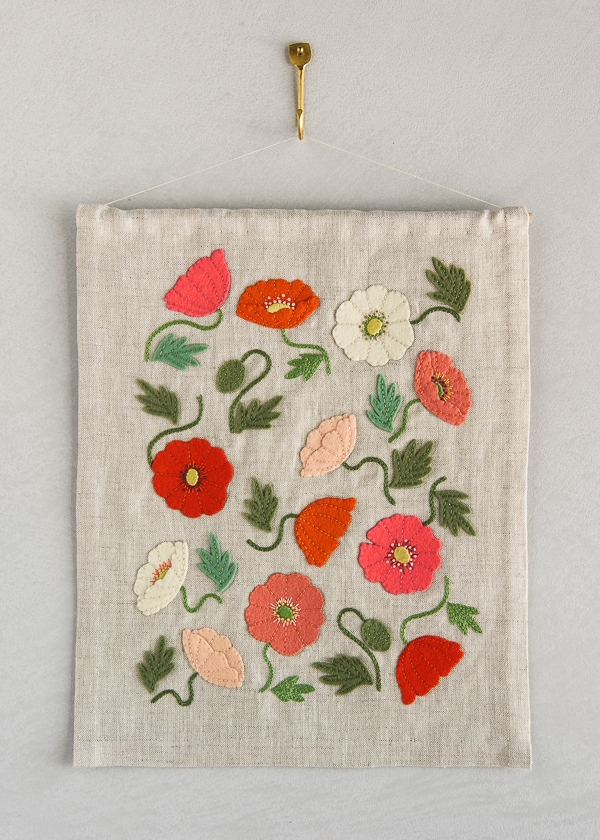 The Appliqué Sampler (above) captures the rambunctiousness of poppies with colorful wool felt blooms and embroidered details. Like a handful of freshly picked poppies thrown into the breeze, this version is full of energy and merriment!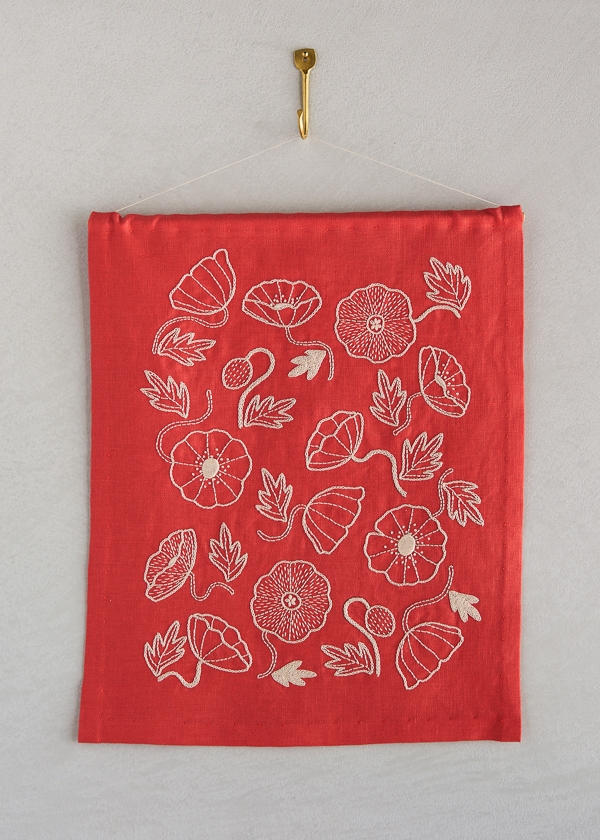 The Embroidery Sampler (above) uses basic embroidery stitches in exquisite detail to convey the paper-thin delicacy of poppies. In ecru floss on a rich coral linen background, this version uses traditional embroidery techniques to create a thoroughly modern work of art.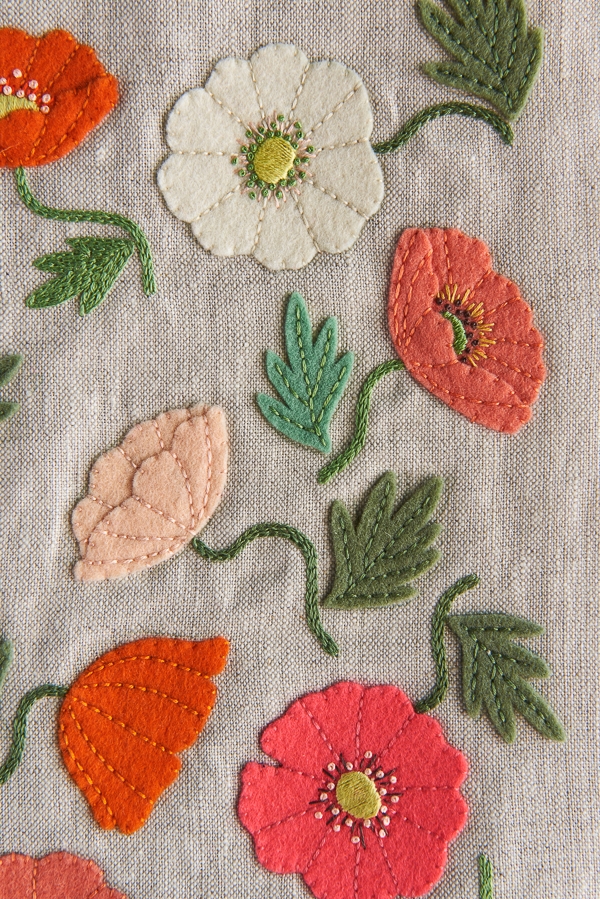 It's a fascinating study to use the same transfer design to make two entirely different pieces. And although they are so different, they're really happy hanging out together, each enriching the other.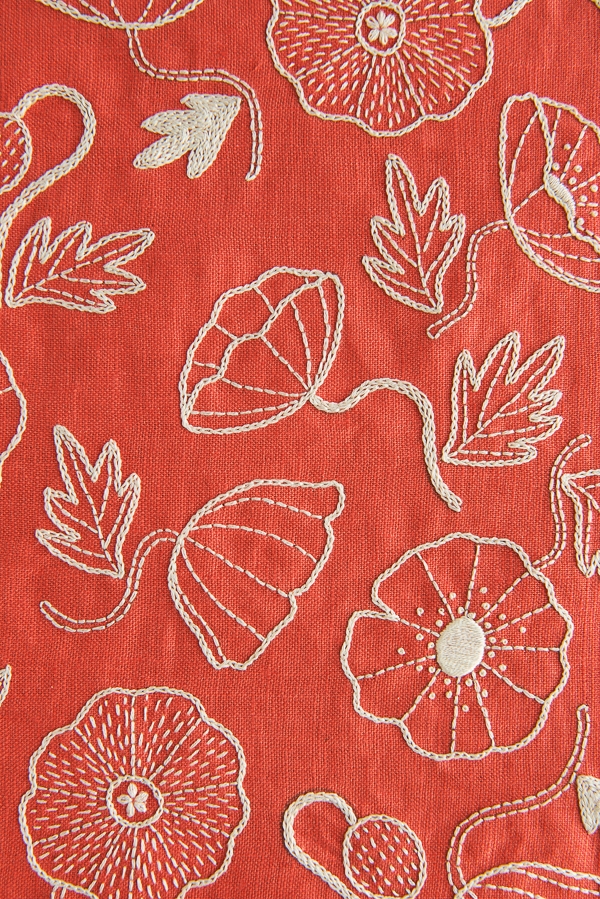 Our Poppy Garden Embroidery Kit includes all the materials and instructions you'll need to make both Samplers and to dive deep into some of embroidery's loveliest techniques. You may be surprised by the beauty your own hands create!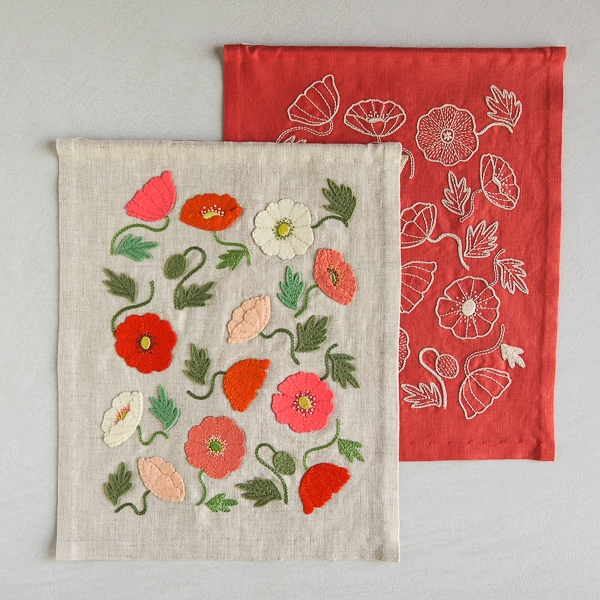 Kit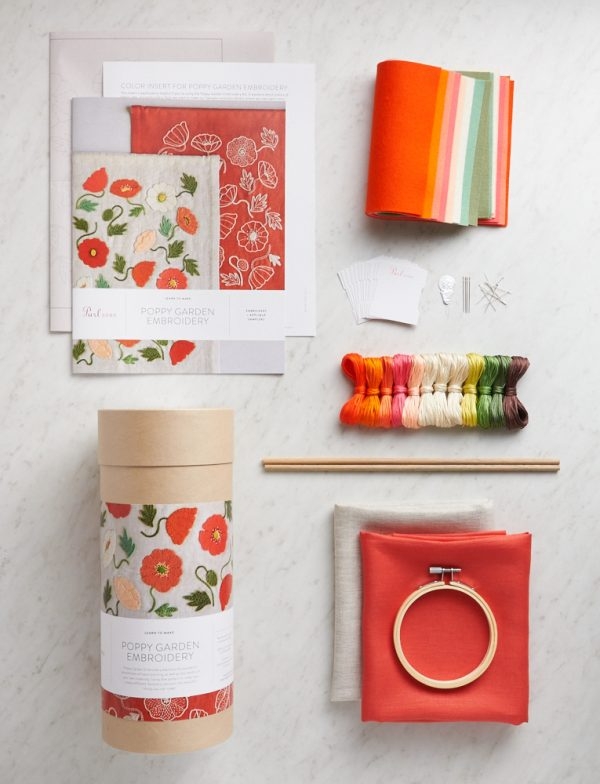 Our Poppy Garden Embroidery Kit includes…
Two 18 x 26-inch pieces of Purl Soho's Daily Linen, in Natural Flax and Goji Berry
Eight 6 x 9-inch pieces of 100% wool felt
12 skeins of DMC's 100% cotton Embroidery Floss in 10 colors
12 paper bobbin cards
4 embroidery needles
A needle threader
Straight pins
A 4-inch embroidery hoop
Two 12-inch wooden dowels (for hanging)
Poppy Garden Embroidery Pattern + Transfers, with step-by-step instructions and 3 sheets of iron-on transfers, including extra transfers for sowing poppies everywhere!
These are enough materials to make two finished Samplers (one Appliqué and one Embroidery), each measuring 15 x 12-inches.
Pattern + Transfers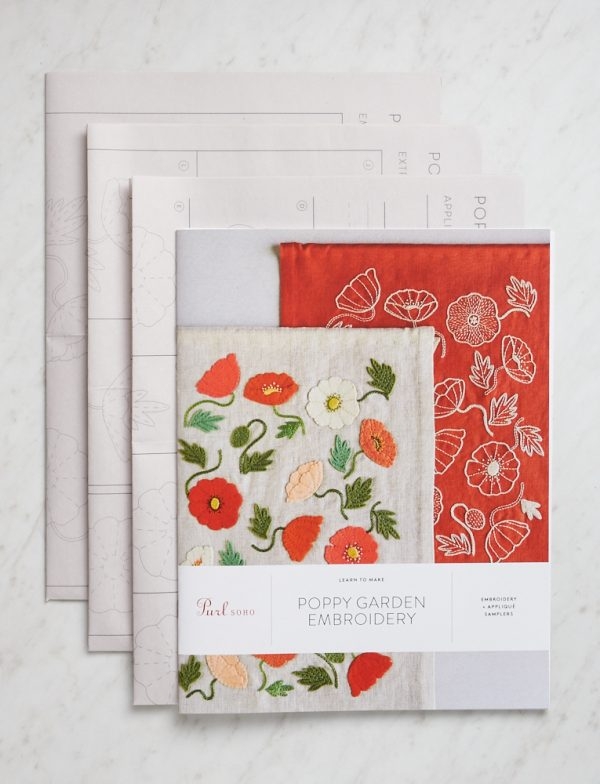 If you already have what you need or want to create your own color story, pick up just the Poppy Garden Embroidery Pattern + Transfers, which includes thorough how-to instructions and three sheets of iron-on transfers.
Other Materials
The materials here are all included in the Kit, but if you're embarking on your own palette, they may come in handy!
For more felt color ideas, browse our collection of Wool Felt Bundles. (Please note that these pieces of felt are slightly bigger than the ones in the Kit.)
Pick up our Embroidery Floss Bundle in Poppy Garden. (Note that only this particular Bundle has enough colors to follow the Kit's instructions, but you can create your own Bundle by buying individual skeins of DMC's Embroidery Floss. You'll need twelve skeins, including three that are the same color.)
And to choose your own color fabric, look through our collection of Daily Linen and pick your favorite!