Whether stolen, borrowed or inherited, sporting a garment that once belonged to someone special brings a certain comfort or strength to your day. Maybe it's because of the smell or the attached sentimentality. Whatever the reason, it's why kids love to sleep in their dad's shirts; why women wear the same oversized man's sweater day in and day out; and it's why I cherish my grandmother's old clothes.
The Cardigan Coat + Vest was undeniably inspired by this phenomenon. If my grandmother had had this sweater, I would most definitely and most shamelessly have stolen it! This piece is meant to be worn a lot and by many, even by those who aren't its original owner. Its timeless design makes it an insta-hand-me-down.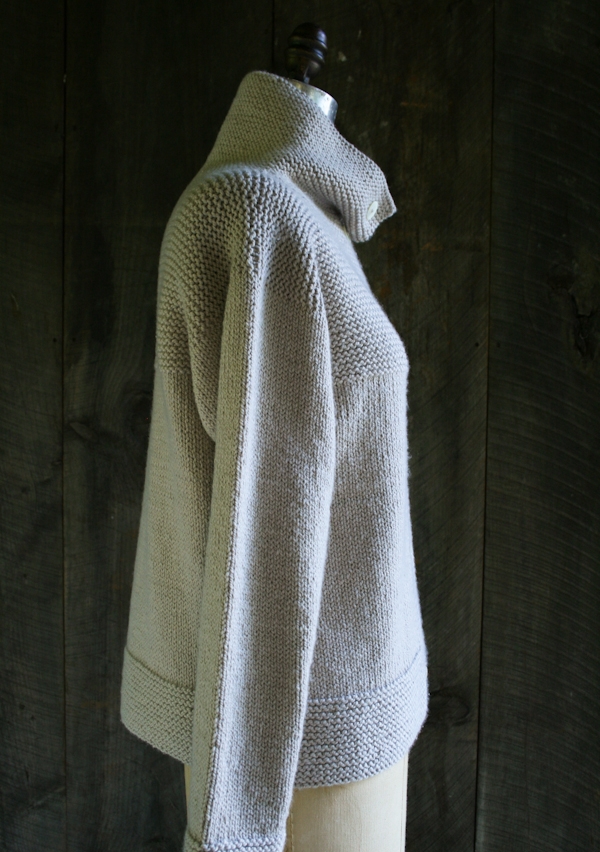 This simple sweater is knit in Purl Soho's new Worsted Twist, a yarn-lover's merino,  classic and hearty, but with an elegant loft and touch. Designing this Coat, I channeled my admiration for Elizabeth Zimmermann to create a modular vibe and a thoughtful construction. I strategically combined stockinette and garter stitches to add a graphic and modern edge to a seemingly vintage cut.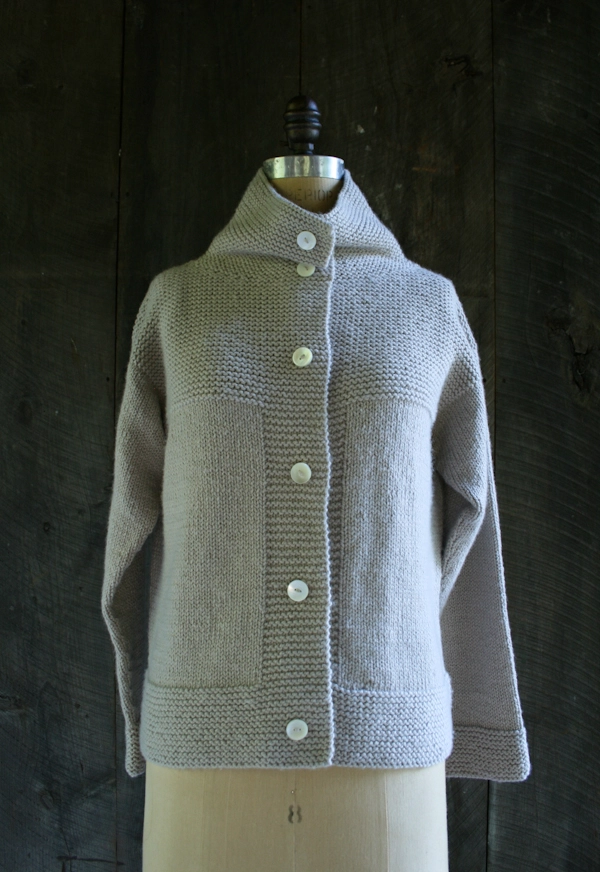 You can pick up the Cardigan Coat + Vest Pattern right here! I hope you enjoy knitting this sweater as much as I did, daydreaming all the while of who will wear it after me. I have a feeling it won't be in my grips for long! -Laura
Materials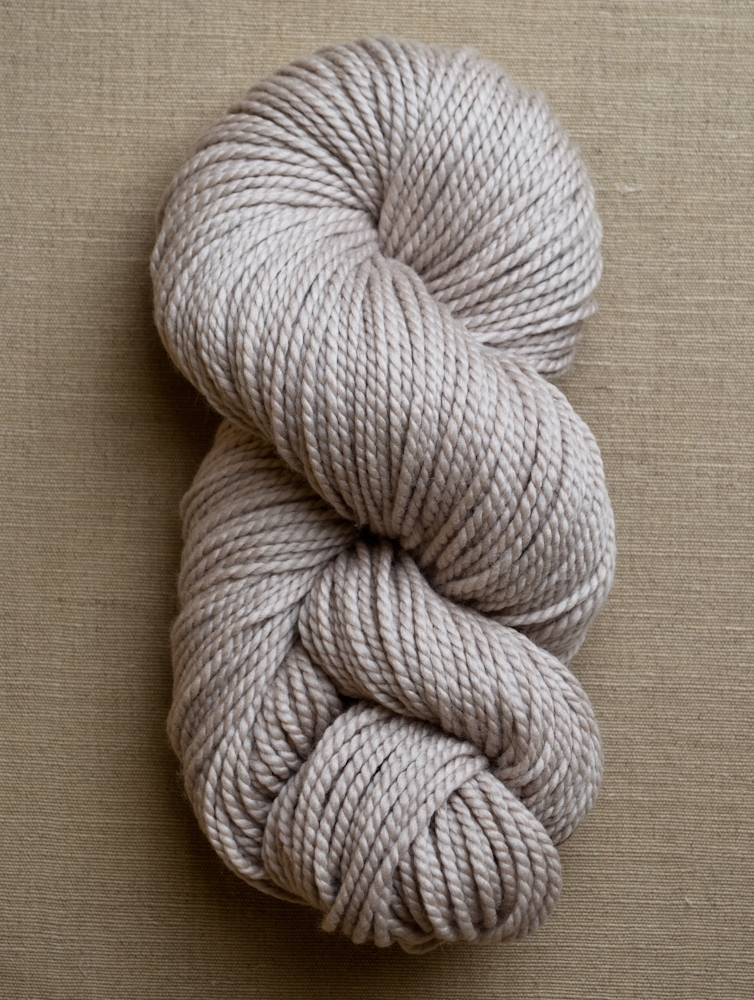 In addition to a Cardigan Coat + Vest pattern, you'll need…
Gauge
4 1/2 stitches and 6 rows = 1 inch in stockinette stitch, using larger needle
Sizes
Child's 2 (4, 6, 8, 10, 12, Women's X-Small, Small, Medium, Large, 1X-Large)
Finished Chest Circumference: 25 3/4 (28, 29 3/4, 32, 34 1/4, 36, 36, 37 3/4, 42 1/4, 46 1/4, 50 1/4) inches, buttoned
Finished Length from Shoulder to Bottom Edge: 14 (14 1/4, 15 1/2, 18, 19, 21, 21 1/4, 22, 22, 23 1/4, 24) inches
Finished Length from Underarm to Bottom Edge: 8 1/2 (8 3/4, 9, 11, 12, 13 1/2, 13 3/4, 14, 13 1/2, 14 1/4, 15) inches
Ease: designed with 2 to 4 inches of ease.
Pattern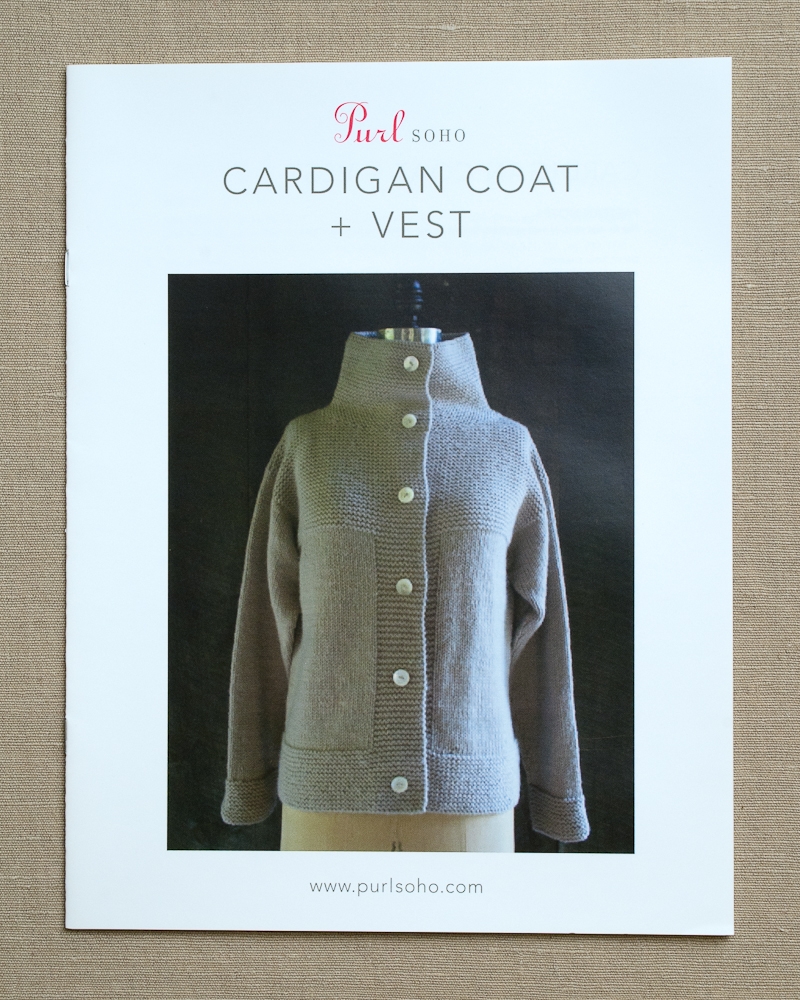 The Cardigan Coat + Vest pattern is available for purchase as a downloadable PDF.