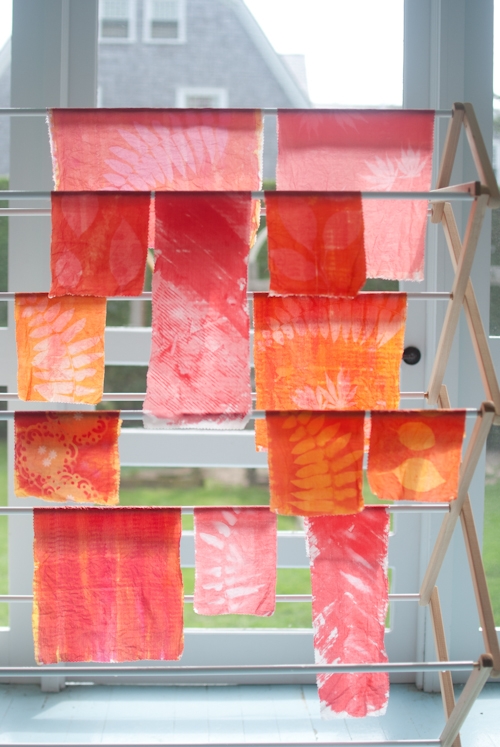 As a child I loved making sun prints, and as a mom I have bought sunprint paper many times for my kids. So when I discovered Inkodye Light Sensitive Dyes, I couldn't wait to try them! Instead of paper, Inkodye harnesses the power of the sun to create images on fabric. For me this is definitely an exciting development!
I knew my kids would enjoy trying Inkodye too, so we set up a big table, gathered our supplies, and got ready to experiment. I cut a yard of Moda's Muslin into about 16 small pieces, knowing that I would probably patchwork them back together again. Having a lot of scraps to work with eliminated the pressure to get it "right" on the first try and kept us all loose and creative.
We started out by testing Inkodye's colors with a few simple stripes. It was magical to watch the very pale dyes come alive the moment we stepped out into the sun. I really responded to the warm red tones that we got doing this first test, so I used red and orange dyes for my project. Sometimes I mixed the two together or added a little water to get a variety of shades. (For a similar sun bleached look, Purl Soho also suggests Inkodye's Color Extender. It lightens the dye's color while preserving its thick consistency, and it also gives you a whole lot more dye to work with!)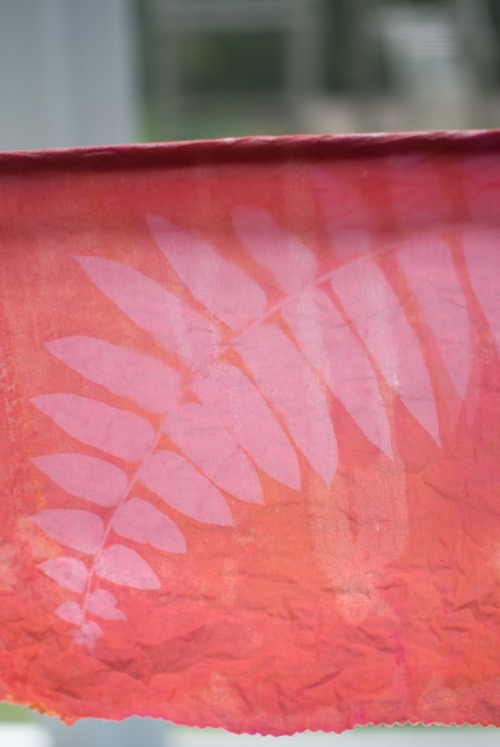 The next step was to get printing! We knew we wanted to play with botanicals and so snipped a few blossoms, leaves, and stems from our garden. Ferns and Japanese maple leaves made particularly nice prints, but we also tried hydrangea leaves, a clematis vine, and some other flowers too. We all loved watching as each print evolved in the light, surprising us every time!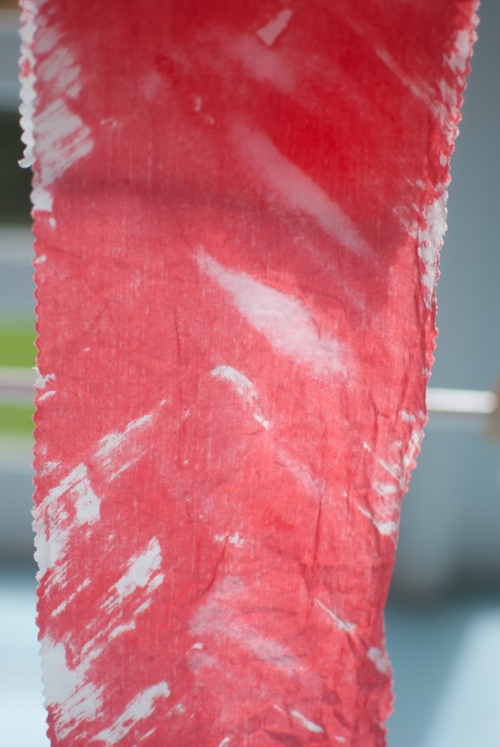 Some designs I started by brushing on a color and exposing it before adding any leaves. After letting the fabric expose for ten minutes I brushed on a second color and placed the leaves for a second exposure. Even layering a lighter dye over a darker one created some pretty, subtle prints. For a few pieces I did not use any leaves but instead just experimented with brush strokes and pattern using a special comb (above).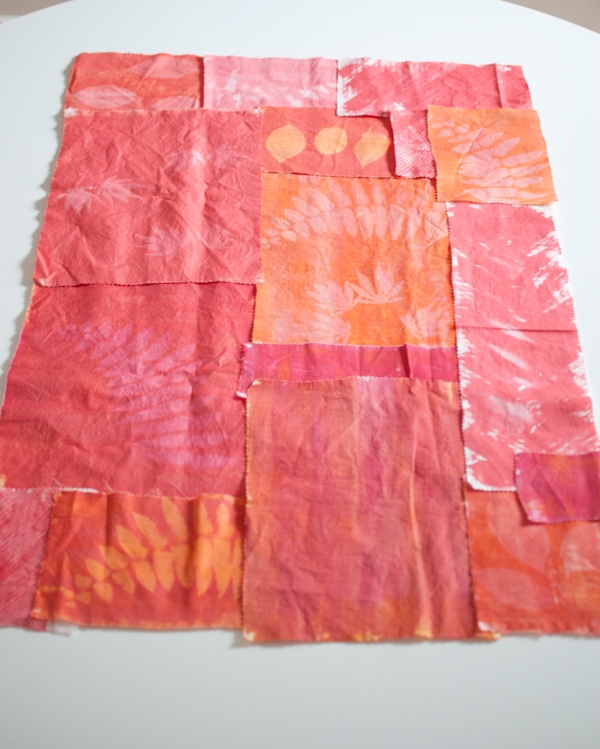 When we were finished dyeing, I started to think about what I could make with our fabric. I had plenty of fabric for a quilted bag and so with some Quilters Dream Cotton Batting, I got busy. To read all about my piecing and quilting process, just visit my blog, Eclectic Mom!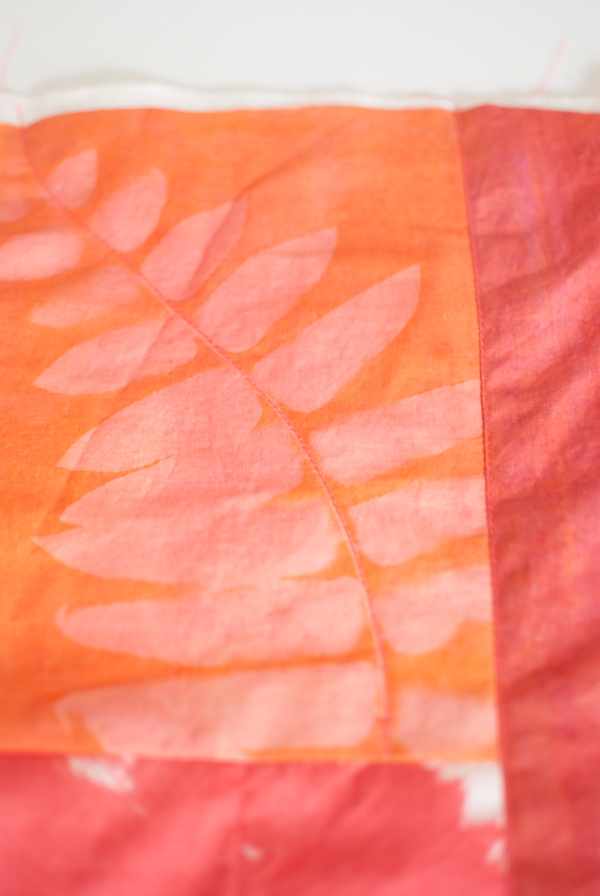 Once I had created a lovely piece of quilted fabric, I turned to Molly's fabulous 40 Minute Tote pattern. I used my own fabric for the outer layer, 3/4 yard of Shot Cotton in Watermelon to line the bag, and Gutermann's Cotton Thread in color 4930 to sew it.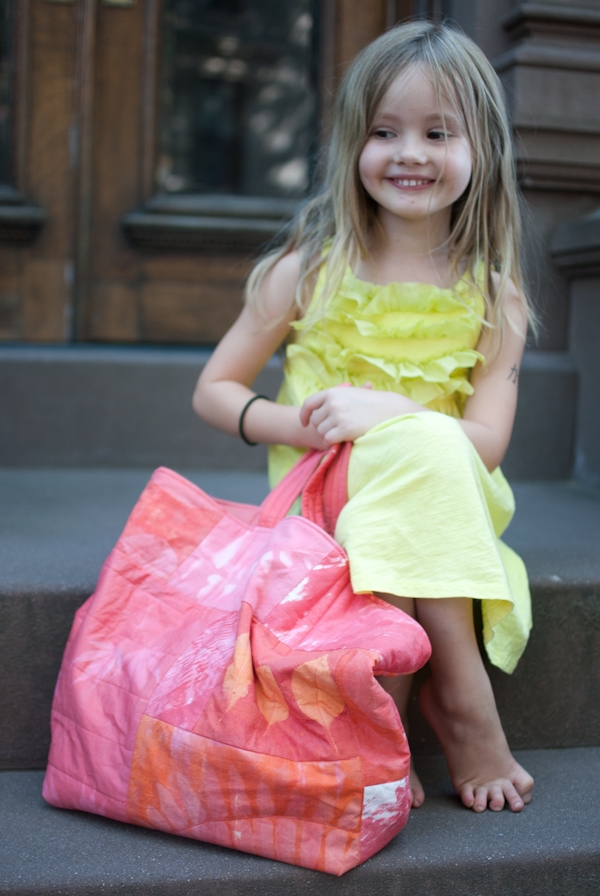 Get the whole scoop, including more construction details and a few modifications, at my blog, Eclectic Mom. Just click right here! Thanks, Purl Bee, for hosting me this week! Can't wait for next time! – Amy